Free NHL Picks: St. Louis Blues vs. Dallas Stars Second Round Preview
by Chris Vasile - 4/28/2016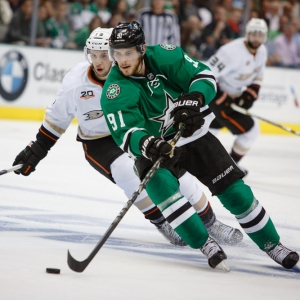 In my opinion, the St. Louis Blues and Dallas Stars are on opposite ends of the spectrum in terms of the playoff success window despite what has transpired in the last handful of seasons.
St. Louis is definitely the more experienced team that has been down this road before. This year they finally managed to make it out of the first round and exercised some demons. It was a gruelling seven-game battle with Chicago, which could come back to haunt them in the second round.
Dallas, on the other hand, has been knocking on the door of postseason success for some time now, and after winning the West (courtesy of Jamie Benn, Tyler Seguin and Jason Spezza), the time appears to be now for this core group of players to produce when it will matter the most.
The Blues entered the postseason 49-24-9, which was good enough for the second spot in the Central Division. Their reward for such a great regular season? A date with the defending Cup champions. Blues Nation was able to finally rejoice as the team was able to prevail in a dramatic Game 7 and knock off their playoff rival. It was a higher-scoring series than the Blues are used to. However, thanks to some timely goaltending by Brian Elliot, they were able to capitalize on Blackhawks' mistakes. Up next is a showdown with the high-scoring Stars.
Dallas is the team that led the league in scoring all season long. They averaged a league-high 3.23 goals per game on 32 shots per game, which was good enough for a 10.1 shooting percentage. Lighting the lamp is what they are going to need to continue to do in order to be successful in the second round, but it won't come easy. St. Louis is a stingy team and is great at taking away time and space. The Stars had the best record in the Western Conference after going 50-23-9 and were able to fend off the Minnesota Wild in six games in the first round of the postseason. It's a tough matchup for the Stars in this one, so I've officially put them on upset alert.
The season series favors the Blues 4-1. Two games went to overtime with the third decided via shootout.
As of this writing,5Dimes favors the Blues to win the series at -135.That's surprising considering Dallas is the home team with home-ice advantage. You can also get the Blues at +215 to win the West and +475 to capture the Cup. Alternatively, you can look to the Stars to win the series at +115, +215 to win the West or +500 to capture their first Cup since 1999.
But before you make up your mind, let me help you understand who should have the edge in terms of goaltending, offensive production, defensive resilience and everyone's favorite category - special teams.
Goaltending
Once thought of as an afterthought, Brian Elliot was able to stand sturdy for most of the first round. With no viable option to back him up, the Blues are hopeful that his resurgence can last for another month and a half.
Elliot was able to turn in a .929 save percentage during the first round of the playoffs. He also saw more shots than any other goalie, so that number is much more impressive than it seems. If there is any cause for concern with Elliot, it's the fact that during Games 4, 5, and 6 he surrendered 12 goals. That could be a big issue should it happen again against the high-scoring Stars.
However, if anyone should be concerned about their goaltending situation, I would argue that the Stars are that team. They have two viable No. 1 options, who should (key word being should) be able to hold the fort when called upon. Antti Niemi was a starter in San Jose for a while and Kari Lehtonen has been with the Stars for the last handful of years.
One thing is for certain, the Stars will need better goaltending than they got in the first round. Kari Lehtonen won three games, but a .911 save percentage won't cut it against the Blues. Antti Niemi sports a .870 save percentage in his two playoff games, so both will have to be much better against St. Louis or this will be a short series.
I would give the advantage to St. Louis, not based on goaltending play but based on their ability to play better defense.
Edge: St. Louis
Defense
The better defensive team in this series will probably move on to the Wester Conference Finals. As obvious and logical as that sounds, these teams have a corps of defensemen than could be good but will need to be great in order to ensure their respective team's success.
The Blues will be led by Alex Pieterangelo, who played very well in the first round. He was able to log more than 30 minutes a night against the best competition while tallying six points - second most among all defensemen. Since he plays on the right side of the ice he will play against left-winger Jamie Benn most shifts. The reigning Art Ross trophy winner should give Pieterangelo all he can handle, and the winner of this battle that could decide the series.
Further down the depth chart, players like Colton Parayko and Jay Bouwmeester need to play smarter and more composed than they did in round one.
On the flip side, the Stars already showed the world that they have a suspect defensive corps and must score in bunches in order to avoid defeat. We saw them careless with the puck and unable to deal with a very low-scoring team in the Minnesota Wild.
With St. Louis being a much more physical and well-rounded offensive team, the Stars, and in particular veteran players like Alex Goligoski, Jason Demers and Johnny Oduya, need to be much better and much more composed with the puck in order to be successful.
Shoddy defense is a weakness the Stars have been masking with offense all season long, but it's a weakness that is always exposed come playoff team.
Edge: St. Louis
Offense
The Blues are going to want to turn this series into a bar fight rather than a skills competition. While the Blues definitely have some skilled players in Valdimir Tarasenko, Alex Steen and David Backes, to name a few , the success they will have hinges on how physical they are.
Getting secondary scoring is something the Blues got plenty of in the first round, and that is going to be crucial going forward. Dallas allowed only 26 shots per game in the first round but conceded 17 goals. If the Blues get balanced scoring and the likes of Paul Stastny, Robby Fabbri and Trow Brower continue to pitch in and be physical, Dallas could be in for a world of hurt.
Quite the opposite can be said for Dallas. This is a team who wants to run-and-gun and turn this into a first-one-to-five-goals-wins kind of game.
The stars led the league in goals scored per game and are led by Jamie Benn and Spezza. Seguin is close to a return for the Stars and that will only boost their production and puck control level.
Dallas has terrific depth, and the entire roster is going to get credit for this series should they pull off a small upset in the second round.
Edge: Tie
It's a series of contrasting styles - one with many uncertainties regarding who will dictate how the game is played.
I do believethis series will come down to home-ice advantage, thus giving the Stars the upper hand.
However, the deeper you get into the postseason the harder it gets to win and the more you must be willing to sacrifice for the team.
I think St. Louis has more of those guys who will go the extra mile and block the extra shot needed to secure a trip to the Western Conference Finals.
St. Louis in 6
Want free NHL betting picks? Doc's Sports is offering $60 worth of picks - any handicapper from Doc's Sports expert stable of NHL hockey experts - and this offer contains no hidden fees and no credit card is required. Just sign up for a free account and start using your free $60 credit today ! Also, for a limited time get three hockey handicappers for the price of one! Click here for our 3-for-1 NHL picks offer.