2016 Golden State Warriors Predictions and NBA Futures Betting Odds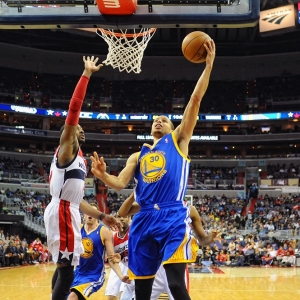 The Warriors. A truly great team that had two bad weeks to finish off the playoffs last year. Some teams would regroup, lick their wounds, make some minor tweaks, and hope for better next time out. That's what Cleveland did, and they wound up with a title last year. Not Golden State, though. Not at all. Instead, they went out and added one of the three or four best players in the NBA to what was already the best roster in the league. Talk about making a statement. And ratcheting up expectations to a truly impossible level. For Golden State now they have just one choice - win the title. If they do then they will merely have done what was expected of them. If they don't then it will be a crushing disappointment. No pressure, Steph.
2016 Golden State Warriors Betting Storylines
It's hard to say a whole lot here. Kevin Durant is really good at basketball. Steph Curry is the best shooter in the league. Klay Thompson is a close second. Draymond Green is among the best defenders in the sport. There is only one ball, still - Golden State doesn't get more - so there are some concerns about finding ways to keep everyone happy. This is a collection not just of massive talents, though, but of team-first types of guys. Anything can happen, and Cleveland has illustrated how tough it can be to merge two superstars on one team, but I like the chances of things working out here. Besides, the Warriors are already used to playing on a virtual all-star team every night. They know to handle this. All they have done is replace Harrison Barnes with a guy so much better than Harrison Barnes in every possible way that it's ridiculous. So, it comes down to Durant. He didn't make the easiest or most popular move here. He wouldn't have done this if he didn't want just one thing - to win, and win a lot. He's a smart guy, so I just can't imagine him choosing to join this team and then doing anything less than everything possible to fit in and maximize his impact. Bottom line - these very good players are very likely to be very good together.
The offense gets all the focus on this team, and that is deserving. In the case of Durant, though, it's important to note that his contributions defensively are just as significant as his freakish scoring prowess. He does everything defensively better than Barnes. It's yet another reason why his addition to this team is unfair for the rest of the league. He's also another very good passer added to the team, so their pick and roll capabilities are going to be just silly.
It can't all be sweetness and roses, can it? There must be a vulnerability or two. There are. First, obviously, we have injuries. The team could probably handle one injury for a while to the big stars, but two would really hurt. Durant has a long history of injury issues, and others have been banged up. Second, the one position that isn't at a superhuman level is center. They have a patchwork collection of veterans. They could falter or they could get hurt. Poor play there puts more pressure on Green to play center, and that will wear him down. The team seemed to get worn down last year later on, and that made all the difference. So there are concerns. Just not major ones.
2016 Golden State Warriors Additions and Departures
Durant, obviously, is the headline here. He's not alone, though. They added David West and Zaza Pachulia as a committee to replace the departed Andrew Bogut at center, and they are experimenting with the talented-but-very-high-risk JaVale McGee as well. None of those guys are better than Bogut right now, but Bogut has struggled to stay healthy, and the committee approach should offer some quality and depth. It's a sound approach - and one necessitated by the salary situation. In the draft they added yet another center, Damian Jones, from Vanderbilt. Beyond that the moves aren't dramatic - reshuffling rather than remaking. Barnes, Festus Ezeli, Marreese Speights, Leandro Barbosa and others are gone, and a couple of guys are fighting to fill out the bench.
2016 Golden State Warriors Futures Odds and Trends
There was nothing the Warriors couldn't do last year. They were an impressive 45-35-2 ATS last year -- the best mark in the league. Given how public they are, that's remarkable. The "over" on the total was 45-36, so they were very profitable on the over as well. The profits continued in the playoffs - at 14-10 ATS they were the second-best team to bet on behind only Cleveland. There was a profit to be made on the total, too, but with a twist - the "under" was the right side this time at 14-9.
Golden State Warriors Futures Odds (from Bovada)
NBA title odds : -125
Western Conference title odds : -250
Steph Curry MVP Odds : +400 (second best)
Kevin Durant MVP Odds : +1000 (fourth best)
Draymond Green MVP Odds : +5000
Season win total (from Westgate): 66.5
2016 Golden State Warriors Predictions and Futures Odds Picks
This team will be the NBA champion. They will win a whole lot of games - probably not quite as many as last year because they don't need to, but a whole lot. The MVP will play for them.
We would like to offer you $60 of member's predictions free - no obligation, no sales people - you don't even have to enter credit card information. Click Here for $60 in free NBA predictions. Also, for a limited time only, you can get three handicappers NBA picks for the price of one! Click Here for more details!
Read more articles by Trevor Whenham