Horses that Can Win the Preakness Stakes in 2016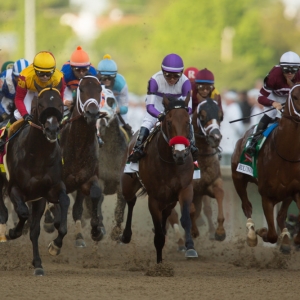 It's too early to know what the final Preakness Stakes field is going to look like. Based on early indications, though, we have the possibility of seeing a full field of 14 in the starting gate. As in any race, though, the number of horses that reasonably have a chance of winning the Preakness is quite a bit smaller than the number of horses likely to enter. As things stand now, here are the seven potential entrants who are the horses that can win the Preakness:
Nyquist: This one goes without saying. The Derby favorite almost always has at least a decent chance of winning the Preakness. Nyquist has a better chance than many have had - he has never lost, he beat the Derby field fairly handily, the slightly shorter Preakness distance is to his advantage, his jockey won this race in his only try at it, and on and on. He's clearly the best three year old male right now, and the gap is quite wide. He absolutely can win the Preakness, and will be the heavy favorite to do so.
Exaggerator: He was very game in finishing second in the Derby, and though he has struggled to beat Nyquist so far in his career he's the second-best horse in this field. He's a closer who was up against a strong speed bias at Churchill Downs, and he faced some traffic issues in the Derby - though they weren't nearly as bad as jockey Kent Desormeaux wanted us to believe. There is a decent chance that he could have a better trip here - especially if there are more speed horses to force things early on. The biggest challenge here, though, is that Derby runner-ups have long struggled in the Preakness - just two have won the Preakness since 1962.
Suddenbreakingnews: This horse isn't confirmed for the Preakness yet, but if he were pointed to this race he would be very interesting. He was absolutely flying in the last quarter mile of the Derby. He wound up fifth but would have been third if he had just two more strides. With a better trip and some luck he could be a factor.
Lani: The Japanese winner of the UAE Derby in Dubai was just ninth in the Derby, so that won't get him much attention. He had a lousy start that doomed his race from the beginning. As the race went along, though, he actually ran very well. He wasn't dominating by any means, but with a better start and some luck he could be more of a factor this time out.
Collected: Bob Baffert was hoping to have three horses in this race, but two bad performances left him with just one. This horse was hoping to get into the Derby but fell short of points. He has won his last two stakes races, though, and has trained well leading into this race. He'd have to have the best day of his life, but he can't be ruled out.
Stradivari: yet again Todd Pletcher had a disastrous day in the Derby - his two entrants were total non-factors. Neither of those two are slated to return in the Preakness, but Pletcher has a very intriguing horse to take their place. This horse has run only three times in his career, and just one was in 2016. That lack of experience is a major concern in this class of race - especially since he hasn't appeared in a stakes race of any kind. It's not much, but the last race was so impressive that it has people overlooking the shortcomings. In an allowance race at Keeneland on April 17 he took the lead on the final turn and then exploded to a 14.5-length win. It was as easy and impressive as a win can be. Now he faces a massive step up in class, though. Can he build on that performance, or does he crash back to earth against stronger competition?
Gun Runner: This is another Derby runner who could head to the Belmont - though he isn't confirmed, and it seems as likely as not that he'll look elsewhere. If he does run, though, he'll be a factor. He was part of the early pace, held on nicely, and briefly led in the stretch before giving way to Nyquist and dropping to third. Still, a nice outing and one he could build on. Like Nyquist, though, he benefitted from a speed bias on Derby day that isn't likely to be as pronounced next time out.
Free Preakness picks? Doc's Sports has been a leader in Triple Crown handicapping for more than four decades, and we are offering new clients $60 in Preakness Stakes picks - there is no obligation for this offer. Click here for more details and to get your $60 in free picks.
Read more articles by Trevor Whenham