How to Bet the Preakness Stakes in 2016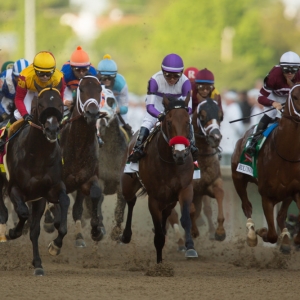 The Preakness Stakes is a different animal than the other two legs of the Triple Crown. In the Derby we have to deal with the massive field and the challenging distance. The Belmont features a crippling distance, often tired horses, and a stretch that goes on forever. They are both very tough races to handicap. The Preakness is gentler for handicappers, though - easier to predict, and less prone to upsets.
That doesn't make it a slam dunk, though. The winner often doesn't pay too much, so you have to be more strategic in your bet construction here than in the other two. It's the easiest of the three races overall to bet but far from a holiday.
To maximize your chances of coming out ahead, here are three tips for how to bet the Preakness in 2016:
With Nyquist or against him?: Ultimately, there is one decision above all others to be made here. Do you believe that Nyquist is going to win this race, or are you looking for him to lose? You can't have it both ways.
He is almost certain to go off at well below even money at post time. There are ways you can deal with those odds and still make some decent money, but only if you are betting on one horse to win. You can't afford to hedge him with other horses atop exotics or to play large numbers of exotic combinations. If you think he is going to win then you have to bet that opinion aggressively and singularly.
If, on the other hand, you think he is vulnerable then the options you have increase substantially. The nice thing about having one horse very heavily bet is the rest of the prices tend to be fat. In this race where Exaggerator will also draw a lot of betting attention, you will see some very nice prices for other horses, and outside of Stradivari, who could intrigue bettors, there is a strong chance that the odds will be well above what they probably should be.
If you aren't betting Nyquist to win then you will have all sorts of flexibility to go deep and include plenty of horses in your bets. Your opinion of one horse, then, will strongly shape your betting decisions in the race - just as it did last year with American Pharoah and the year before with California Chrome.
Throw horses out ruthlessly - to win, at least: The Preakness tends to be a chalky race. Ten of the last 19 editions of the race have been won by the winner of the Kentucky Derby.
Most of those other nine winners have been very impressive, predictable horses, too. Afleet Alex and Point Given were Triple Crown-caliber horses who had bad days in Kentucky. Curlin and Rachel Alexandra are all-time legends. Bernardini was a freaky superhorse who skipped the Derby. Oxbow, Shackleford, and Lookin at Lucky were coming off solid performances in the Derby. Red Bullet had run a strong prep schedule and despite skipping the Derby was the second betting choice in the Preakness. Not a long shot or a real big surprise among them.
The Derby and the Belmont both deliver shocking results at times, but the Preakness tends to run pretty true to form. That's not the case when it comes to second- or third-place finishers, though. Last year the longest morning line shot on the board, Tale of Verve, finished second. He is far from the only horse at mega-odds to earn a spot on the podium.
The general rule for success in handicapping this race, then, seems to be to stick to the class up top but to broaden your reach and use your imagination a bit more when it comes to the second- or third-place finishers.
Get exotic: It's always a good idea to look at the exotics when betting big races like this - the trifecta or superfecta are favorites of mine. It's especially important, though, when you are faced with a very heavy favorite like we are sure to have here with Nyquist. His payoffs by himself are going to be very low, so it's tough to justify betting him to win - never mind to place or show.
By using the exotics strategically we can increase the potential payoff much more than we increase the risk. You can use Nyquist as a single in those exotics if you are a believer, so the bets become both simpler and less expensive than if there were multiple horses you liked to win. If you don't believe in Nyquist and don't expect him to win then the exotics can also be a great way to amplify your potential payoff - if he doesn't wind up in the trifecta then the payoff is sure to be massive.
Doc's Sports wants you to try out our expert horse racing handicappers free of charge and is offering new clients $60 worth of free picks that can be used for any Triple Crown race. Click here for more details on this free $60 offer.
Read more articles by Trevor Whenham