2016 Milwaukee Bucks Predictions and NBA Futures Betting Odds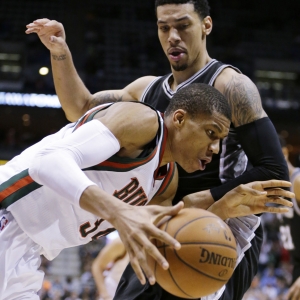 Two years ago the Bucks won 41 games and were the sixth seed in the playoffs. It seemed like they were a team on the rise, and they had plenty of momentum heading into last season. Then they crashed into a wall. They won just 33 games last year and spent much of the season floundering. Is it even remotely possible that just maybe having Jason Kidd as your coach isn't a great idea? Who could possibly have seen that coming?
2016 Milwaukee Bucks Betting Storylines
The biggest knock against Kidd as a head coach is that he was a great point guard for a long time in the league, yet he doesn't get good point guard play on his teams. Michael Carter-Williams has taken big steps back under Kidd's wing. Now, to be fair some of that doesn't land on Kidd's shoulders - the fact that the Sixers were willing to ditch Carter-Williams when they did is a good sign that he wasn't the player that many thought he was growing into. The Bucks have brought in Matthew Dellavedova to shore up the point and to push Carter-Williams or take over for him. I like Dellavedova's game fine, but he sure feels more like a good backup option for a contender than a big contributor for a building squad. The struggles on the point put a bigger burden on Giannis Antetokounmpo to produce. The Greek Freak is a spectacular guard coming off an excellent season, but he's so versatile and dangerous in so many ways that burdening him with a guy who can't make his own shot as a backcourt partner is a waste.
The team showed they struggle badly to carry momentum. If the core of the squad can play like they did late last year, though, then this could be a nice year for the team. The Greek Freak closed very strong last season and is poised to break into superstar territory. Jabari Parker played his best ball of his career in the last 30 games of the season and could take a huge step forward. It's important to remember with Parker that while it feels like he was drafted eons ago, injuries mean he is still early in his career. And Khris Middleton is quietly a very strong player who had a good year. His shooting numbers fell, but he shot a lot more so that is to be expected. He ruptured his hamstring and will miss most of the season, but long term he's a keeper. Those three are quite a group for a young team to have - at least potentially. On top of that, Miles Plumlee finished really strong after the all-star break last year, and the team paid him in a big way this offseason so they obviously feel like it wasn't a fluke.
The potential is high, but the flipside is that they are young. Really young. None of that core is an established veteran who has proven they can consistently contribute at a high level. Antetokounmpo is destined to be an all-star, and Parker could be as well. You have to wonder, though, if they can get there and where the veteran leadership is to lead them there. There are some older guys - Jason Terry is about a million years old, and Steve Novak is no baby - but they aren't the type of guys who can lead on the court. All five starters could have four or fewer years of pro experience.
2016 Milwaukee Bucks Additions and Departures
Aside from Dellavedova, the Bucks added Jason Terry from Houston and Mirza Teletovic, who was brought in to address shooting woes, from Phoenix. None of those moves are difference making, but they are solid. O.J. Mayo is gone and won't be missed, and Jerryd Bayless and Greivis Vasquez also departed. I'm not sure how many of their biggest needs they addressed, but they certainly didn't get worse.
They picked up two projects in the draft. Thon Maker was most recently playing in prep school in Canada, and no one knows how old he is. Like everyone else on this team, he is long and athletic, but he's very raw, and it will be a while before he is a useful contributor at center. In the second round they added Malcolm Brogdon from Virginia, a point guard who adds some depth but likely little immediate impact.
2016 Milwaukee Bucks Futures Odds and Trends
Milwaukee struggled to win games last year and was only slightly better at covering spreads. They were 38-43-1 ATS - sadly, not enough to make a lot of money betting against them.
Milwaukee Bucks Futures Odds (from Bovada)
NBA title odds : +10000
Eastern Conference title odds : +4000
Giannis Antetokounmpo MVP Odds : +3300
Thon Maker ROY Odds : +2000
Season win total (from Westgate): 39.5
2016 Milwaukee Bucks Predictions and Futures Odds Picks
I love the core this team has. I just wish they had better leadership to guide the core and a coach who I trusted more. That being said, they are in the playoff mix. Beyond the top four or five teams in the East there are a group of seven or eight teams that could just as easily make the playoffs as not. I don't see this team winning more than 42 games, but they should win more than last year. That puts them right on the playoff bubble. I tend to lean towards them falling just short, but nothing would surprise me. They will get crushed by a contender in the opening round of the playoffs if they do make it, though. There is still a long way to go in Milwaukee.
Doc's Sports has a great offer for new clients. You can get $60 worth of picks from any Advisory Board handicapper for any sport he handicaps. All with no obligation and no credit card needed. Claim your free picks today .
Read more articles by Trevor Whenham