2016 NBA 3-Point Contest Odds and Expert Betting Picks
by Chris Vasile - 2/12/2016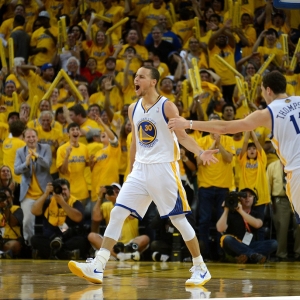 With all due respect to NBA All-Star Game on Sunday, the 3-point contest is usually the best event of the weekend. While everyone clamors about the excitement that is the Slam Dunk Contest, this event is when the superstars come out and shine.
A field of eight sharpshooters enter this year's contest, highlighted by none other than reigning champion Steph Curry. He is going to need another stellar performance if he wants to remain champion of this event. Last year he made 13 straight shots in the championship round to defeat teammate Klay Thompson. Given the season he is having this year, and the fact we have seen him pull up from anywhere over the half court line and nail a jumper, Curry looks like the contest's best bet.
The field for this event is comprised of Curry (-110), Thompson (+400), J.J Redick (+500), Kyle Lowry (+1000), Devin Booker (+1100), James Harden (+1500), Khris Middleton (+1800), Chris Bosh (+4000)
Steph Curry (-110)
Curry dominated this event last year. And with the season he is having, he enters the contest as the favorite, and rightly so. He has a ridiculous 45.4 percent three-point field goal percentage, and his ability to get his shot off in a hurry (with accuracy) will bode well for him in this timed competition. He sinks three's in bunches during a chaotic game. If he gets in a rhythm early, this contest might be no contest.
Klay Thompson (+400)
While Curry may dominate the headlines across the NBA, his teammate and other half of the "Splash Brothers" is still a force to be reckoned with. Thompson is a sharpshooter. He is hitting a shade over 42 percent of his three-point attempts this season and is second on the team with 3.2 triples per game. He was impressive in last year's contest with 24 points in the first round, (the most amongst the field), but he eventually fizzled out and with 14 points was no match for the hot-stroking Curry.
J.J Redick (+500)
Redick is one of the savvy veterans set to do battle in this event. He is one of the league leaders in three-point percentages this season with a remarkable 47.8 percent. That is a better percentage than Curry, but nobody is talking about Redick winning this contest.
He is a definite sleeper pick here, but the price is a little to short for my liking. I hope that come event night, the Curry money pours in and we can get a better price on J.J.
Kyle Lowry (+1000)
Can Kyle Lowry steal the show behind the encouragement of his hometown crowd?
He is ranked fourth in the league in three-pointers made per game with 2.8 and shoots much better at home compared to on the road (41 percent vs. 38 percent). One reason Lowry might find him self in the winners circle is that has nailed 26 of his last 50 three-point attempts in his last seven home games. If the crowd gets behind him (which I am sure they will), the little bulldog out of Villanova can find himself a three-point champion come Saturday night.
Devin Booker (+1100)
Booker enters Saturday as the youngest player ever to compete in the three-point contest. He is only 19 years old. He will have an unenviable task of competing against the game's biggest stars in Curry, Thompson and Harden. His stat line says he has a puncher's chance in this one, clocking in at 41 percent from beyond the arc. There could be some rookie jitters, but with no expectations to do well, he might just find himself living in the moment and shocking the world. If not this year, he will definitely be back for more in the future.
James Harden (+1500)
"Fear the Beard". More like, "fear my shooting percentage". It's going to take a gargantuan effort from the southpaw Harden here to keep up with the four previous players mentioned. He is shooting almost a career low 35 percent from three-point land this season but should be motivated enough to not record the low score two years in a row. While this may be an individual competition, Houston is in shambles currently, and trying to predict how Harden will perform Saturday and Sunday is a bigger mystery than the whereabouts of Houston's defense. Pass
Khris Middleton (+1800)
While Middleton enters the contest as the unknown quantity to most NBA fans, Milwaukee fans know him just fine. He leads the Bucks with 17.7 points per game on the strength of 1.9 three-pointers made per contest. His checks in with a healthy 41 percent from downtown and could get hot if he gets some bounces. There won't be too many wagered tickets with Middleton's name on them, and probably rightfully so against this field.
Chris Bosh (+4000)
One of these players is not like the others. Can you guess which one I'm referring to? That would be Chris Bosh. While he has been on the record as saying he is baffled at his inclusion, it should be noted that he has six games this year with four or more triples.
Not bad for the lanky southpaw forward out of Georgia Tech. As the longest shot on the board, the former Raptor will have no fans in his corner despite his deep ties with the Raptors organization. He should not get out of the first round.
Pick: Hard to pick against Curry (-110), but the value is a little low. Let's go with the rookie Booker (+1100) as a flyer and hope beginner's luck is kind to the product of Kentucky.
Doc's Sports has had a winning tradition for more than four decades. Don't believe us? Try us out for free, and we are convinced you will be a believer. Get $60 worth of free sports picks - members' picks just like our paying clients get - here .