NBA Betting Advice and Handicapping: Wagering on the Golden State Warriors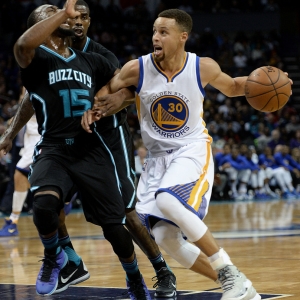 We don't often see something like the spectacle of the Golden State Warriors. They are dominant, but not alone - they are barreling towards a showdown with the Spurs that everyone expects and everyone anticipates wildly. The talent of this team is historic - no team has won more games. That success means that the public loves the team like no other. The more public attention a team gets, the more challenging it is to assess how the lines are set, how they move, and where the value is. That means that the Warriors are a very challenging and interesting team to bet on.
Things will change as the playoffs advance, but at this minute there are four questions to consider how to bet the Warriors:
When will Steph be fully back?: The most exciting and loved player on the planet missed Game 2 with an ankle injury, and it was bad enough to require an MRI. Steve Kerr has been very careful to set expectations and let people know that Curry will not come back one second before he is ready. It's quite possible that he could play in Game 3 - or at least it seems that way as I write this. It is also possible that he might not even play a game the rest of this series. There are two factors to consider on this front - what impact the loss of Curry will be to the team, and what the perception of that loss will be to the public. It's a fair bet that the actual impact of his absence - at least as long as it doesn't last very long - will be far less than the public will perceive it to be. We also need to consider the possibility that Curry could return yet not be at his best. He could potentially only play part of the game as the team attempts to manage his injury, or he could start a game and be unable to finish it. We can't assume, then, that because he is going to play that Steph will be Steph right away.
When will it actually matter if he is or not?: At this point it really doesn't matter if Curry comes back for the rest of the Houston series or not. The Rockets are going to lose this series, and they are very likely to do it in four games. They were no match at all for the team even without Curry. If worse came to worse then the Warriors could likely get past their second-round opponent - the Clippers or Trail Blazers - without Curry, too. It's not until the third round against San Antonio that Curry is absolutely vital. It would obviously be better if he were around, and it is very likely that he will be, but it's not time to panic just yet no matter what.
Do they look tired?: Other than broken limbs for Curry, Green and Thompson, the biggest threat to this team is themselves - if they get tired they could stumble on the road to greatness. They had a long season last year, and they didn't have a chance to rest down the stretch like other teams because of the race for 73 wins. If the team has one game in which they don't look great then that is something to look at. If they were to look uncharacteristically tired two games in a row then it would be a real concern.
Is the public faltering?: There are obviously no shortage of things about this team that were impressive this year. One, though, is their ability to deliver betting profits despite the overwhelming attention they have gotten all year. Everyone with a pulse and a desire to bet on basketball were betting on them all year, yet at 45-35-2 ATS they were still the most profitable team in the entire league. The oddsmakers could only shift lines so far, and when a team outscores their opponents by an average of 10.8 points per game and wins 73 times they are going to cover their share of spreads
That success, and the incredibly likeable and entertaining way this team plays, has made them as public a team as we have seen in a long time. That isn't likely to waver in a hurry. If the public were to start getting nervous about where the team is at or how they are performing, though, then it would be a sign of reasons to be concerned - or at least reasons to take a much closer look at things. It is very worthwhile, then, to look at bet distribution in their games. If the percentage of bets on the Warriors were to fall then something would be going on - or at least the seemingly unshakeable faith of the public would have been shaken.
Get free picks from any of Doc's Sports Advisory Board of expert handicappers - and with no obligation or credit card. You can use these free picks for any sport, and you will never deal with a salesman. Click here for your free Doc's Sports picks.
Read more articles by Trevor Whenham