NBA Betting Advice: Lessons Learned About Contenders in First Round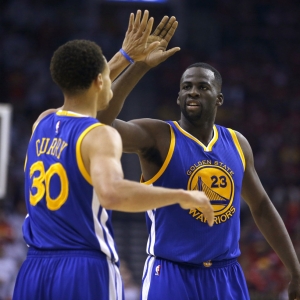 The NBA Playoffs have really just begun. Three teams have already advanced to the second round, but there is still a lot to be determined in this first round. It's never too early to evaluate how the top contenders are doing, though - especially when a league is as top-heavy as this one.
We have learned a fair bit so far - most significantly, perhaps, that the basketball gods really, really hate the Clippers. Heading into the playoffs it seemed like there were only three legitimate contenders in the West, and one and maybe two if you are being very generous in the East - and neither in the East had a real chance of winning it all unless something catastrophic happened. A lot has happened already, so it makes sense to check in with those five contenders to see where they are at and what we have learned so far.
Golden State Warriors: The biggest lesson learned is that Steph Curry is mortal. Two different injuries have not only cost him much of the first-round series but will likely cost him all of the second-round series, too. The key here, though, is not to panic. He's going to be back at some point - likely for the conference finals. More significantly, the team is spectacular with him but still has the tools to be very good without him. It's not like he carries this team on his back - that can't happen in basketball. His two partners in crime are very good as well, and the supporting cast is strong. The coaching is also excellent, obviously. Oddsmakers aren't panicking - the Warriors are still the solid +1300 favorites to win the title. That is up from where it was, but still reasonable. Draymond Green has repeatedly said since the injury that they still have no shortage of confidence without Curry, and that they have no intention of feeling sorry for themselves and throwing away all they accomplished in the regular season. We will find out a whole lot more about what this team is made of going forward. As it stands now, though, the second round should be no tougher than the first, so the negative impact won't be extreme. Don't be a lemming and jump off a cliff because of this injury. Just relax and watch things unfold.
San Antonio Spurs: The most boringly excellent team in the history of sports is off to a boringly excellent start to the playoffs. They don't take missteps or show emotion. They just win. And win they have. Their opening-round series was even more of a joke than seemed likely, and they have everything left in the tank going forward. So, what have we learned about the Spurs so far? Nothing. In a good way.
Oklahoma City Thunder: These boys are angry. Oddly angry. Charlie Villanueva and Mark Cuban took it upon themselves to get under their skin, and it was surprisingly effective. Cuban was particularly striking, In a transparent attempt to make something happen in a totally desperate situation, Cuban took shots at Russell Westbrook leading into what turned out to be the last game of the season. He suggested that Durant was the only superstar on the Thunder. It was worth a shot - especially for a WWE-level entertainer like Cuban - but it backfired. Westbrook scored a million points and the Mavericks were headed home. In post-game interviews, though, both Westbrook and Durant unleashed on Cuban. It was odd because it was an irrelevant comment - everyone, including Cuban, knows it isn't true - and because the Thunder had already won the series. If they are that emotional about this then you have to wonder what will happen now that their opponent is dramatically better - and definitely won't let their emotions get in the way. I wasn't optimistic about the Thunder anyway, but the little saga was enough to damn any hopes of an upset I may have had.
Cleveland Cavaliers: The Cavs swept the Pistons, but they sure didn't look great doing it. Detroit never really threatened, but they made every game a contest - or at least more of one than it should have been. Kevin Love is playing well. Kyrie Irving really isn't. LeBron is LeBron - a whinier, flakier version, but still himself. I don't think there was anyone outside of Ohio who, heading into these playoffs, thought the Cavs could beat the best of the West. I can't imagine how anyone could have watched that first round series and changed that opinion even slightly. They are the third choice to win the title at +325 at BetOnline. I can't imagine a bet I would want to make less than that one.
Toronto Raptors: Before the playoffs it was a stretch to consider that the Raptors were really a contender. The only reason you could pretend they belonged was because they had clearly finished second in the East, solidly ahead of the logjam behind them. They are up 3-2 against the Pacers and should win the series, but despite that success these playoffs have only solidified that this team isn't winning anything. Their two best players have been wildly inconsistent. You never know which team is going to show up, and no matter what starting lineup they use they have been lousy early on. I could go on, but all that matters is this - with apologies to Drake, this is not a contender.
Read more articles by Trevor Whenham