NBA Betting Trends: Hot and Cold Teams Against the Point Spread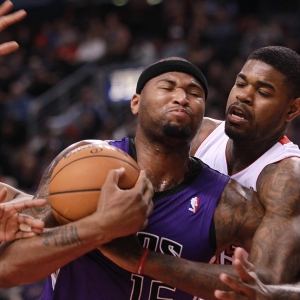 The final week of the regular season is here. The NBA Playoffs begin on April 16. It looks like the top seeds will be Cleveland and Golden State. There are three interesting races to follow in the last week of the regular season. The first is the NBA Southeast Division, where Atlanta, Miami, and Charlotte are all battling it out for first. The second is the race for the final spots in the Eastern Conference. Indiana and Detroit are two games ahead of Chicago for the final spot right now. In the Western Conference, Houston is chasing four teams in hopes of getting another chance at a playoff run.
Doc's Sports has done an NBA ATS Hot and Cold report in the past, and we'll be doing it again this year. We'll highlight the Top 5 hot teams and the Bottom 5 cold teams in each article. This will allow people to see which teams are streaking and which teams are slumping. In a league that is unquestionably a momentum-driven league, that can be extremely important. This report will be offered on a bi-weekly basis throughout the NBA regular season. The statistics listed for this article are for all games played March 21 and April 3.
Top Five Hot Teams
1. Sacramento Kings (7-1 ATS) Sacramento has covered the spread in six straight games. The Kings have won four of those six games straight up. I don't think many people saw this run coming. It was announced this weekend that DeMarcus Cousins will be sitting out the Kings road games the rest of the way. Sacramento plays their next three games in a row before finishing with two road contests.
2. New York Knicks (5-2 ATS) Kristaps Porzingis has missed the last three games for the Knicks. They have covered all of those games. That doesn't mean they are a better team without their rookie star, but the Knicks are at least continuing to play hard. New York has allowed 94 points or less in five of their last eight games. It's been their defense that has helped them cover the spread of late.
3. Utah Jazz (5-2 ATS) Utah is 5-2 ATS in their last seven games, and one of those spread losses was a brutal overtime loss to Golden State. Utah led nearly the entire game before allowing Golden State to put the game into overtime. In overtime, Utah couldn't get their shots to fall, and Golden State ended up covering the four point spread. Utah has a great home-court advantage, and the Jazz are definitely playing their best basketball of the season right now.
4. Dallas Mavericks (5-2 ATS) A couple weeks ago, it looked like Dallas was going to have trouble making the playoffs. Dallas is still only one game up on Houston, but the Mavericks have righted the ship with some much better defensive performances of late. Dallas hasn't allowed more than 89 points in any of their last four games! The crazy part about that statistic is Dallas allowed 120 points or more in four of their five games before this current strong defensive period began. Will the Mavericks make the playoffs? It depends on their defensive effort.
5. New Orleans Pelicans (5-2 ATS) It's funny how New Orleans is covering the spread better now than they were at any point when the team was healthy. This appears to be a case of the oddsmakers simply overreacting. New Orleans lost a bunch of stars, but in the NBA even the backups are solid players. New Orleans has covered four straight games, and I've been very impressed by their effort in those games. New Orleans plays a relatively weak schedule in their last five games.
Bottom Five Cold Teams
1. Denver Nuggets (2-6 ATS) Denver had been a mainstay on the other side of this report lately, but things have flipped the other way. The Nuggets have surprisingly not performed well at home this year. Denver has typically had one of the better home-court advantages in the league. The Nuggets play three of their last four games at home, but every one of them is against a very good team.
2. San Antonio Spurs (2-5 ATS) This one shouldn't surprise anyone. What do the Spurs have to play for now? Gregg Poppovich is the best coach in the NBA, and he knows when to rest players and when to get them ready for the postseason. San Antonio has had a remarkable season, and they are locked into the No. 2 spot in the Western Conference. I would either pass or look to fade San Antonio in their last five regular-season games.
3. Brooklyn Nets (3-5 ATS) Brooklyn has shut down Brook Lopez and Thaddeus Young for the rest of the season. The Nets are playing out the string, and it has shown in recent games. The extremely short-handed Pelicans drilled a lifeless Nets team on Sunday afternoon. Brooklyn will be playing some quality teams down the stretch, and the Nets are going to be massive underdogs in these games.
4. Golden State Warriors (3-5 ATS) Should anything be made of the Warriors slightly less dominant play of late? I certainly don't think so. This team has been a well-oiled machine all year, and despite the oddsmakers best efforts they weren't able to catch up to Golden State until the last two weeks. Golden State plays San Antonio twice in the last week of the regular season, but it's hard to get too excited about those games when neither team is going to want to show their hand until the playoffs arrive at this point.
5. Indiana Pacers (3-5 ATS) Indiana has been great on defensive in the second half of the season, but the Pacers offense is wildly inconsistent. Paul George rarely gets enough help for the Pacers to be good enough to beat high-quality teams. Can anyone step up as a reliable second option for the Pacers? Monta Ellis is probably the best bet, but he has largely been a disappointment so far this season.
Read more articles by Aaron Smith