NBA Handicapping: How to bet the Phoenix Suns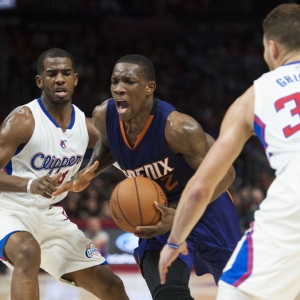 The Suns blew everything up and went really, really young. The storyline is supposed to be a happy one - they land a few budding stars, play tough basketball, and start their climb into contention. So far, though, that just hasn't been the case this year. They get scored on at will and have managed just four wins through 15 games. Only the Mavericks have fewer wins with 2, and Dallas is a special kind of awful this year. It certainly isn't time to panic with Phoenix or write off what they are trying to do, but the climb back to relevance obviously isn't going to be as easy as it seemed it could be for the squad.
So, what should we expect from the team the rest of the way this year? And what does it mean for bettors? In short, I'm not at all optimistic about a turnaround in the short term. Here are three big reasons why:
Defensive incompetence: The Suns are so bad defensively that it's almost incomprehensible. They have allowed 114.3 points per game, which is solidly the worst in the league and a stunning 17.8 points worse than league-best Memphis. They are so bad without the ball that despite having the third most productive offense in the West they have the second biggest negative point differential in the conference behind only Dallas, and the Mavericks have a truly awful offense. They just plain cannot defend.
There are three big issues here, and sadly only two of them can reasonably be addressed. First, core contributors Devin Booker and Brandon Knight are defensive liabilities, and even though they try hard every time out they are very likely to be that way throughout their careers. That means that the team has to find defense elsewhere to make up for those guys when they are on the court - and the team needs them on the court for what they bring in other ways. Second, one of those ways to get defense - Eric Bledsoe - just can't do what he once did anymore. He makes up the backcourt with Booker and Knight, but he has dealt with knee injuries throughout his career, and it is really catching up to him. He's a solid defender still, but not the elite force he was. Barring the discovery of a time machine, that isn't likely to change dramatically, either. The third area provides some hope, though. Tyson Chandler has sadly missed seven games so far this year due to the death of his mother, and he isn't returning for their next game. He's an elite interior defender, and his role on this team is to cover up as many of the shortcomings of this squad as he humanly can. He can only do so much, but the team is dramatically better when he is on the court, so when he is gone there is little hope for the team.
Coaching: Let's not beat around the bush here - the Suns made a horrible coaching decision, and now they are paying for it. Earl Watson, who is just 37, retired as a player in October of 2014 when he didn't make a roster and became a D-League assistant. Last season he joined the Suns as an assistant. He took over on an interim basis when Jeff Hornacek was fired, and despite his 9-24 record the braintrust thought he deserved the job full-time. I have no issue with the guy and his potential, but the last thing a young team needs is a young coach trying to learn his job as the players are trying to learn theirs. It is especially unforgivable given the other options out there. Tom Thibodeau and Scott Brooks were available. If you wanted to go young, Luke Walton had tons more experience, and so do plenty of other rising assistants.
Watson was a risk this team couldn't afford to take. He obviously isn't making headway on defense, and his personnel decisions - like the total lack of playing time for Dragan Bender and Tyler Ulis, for example - are often mystifying. Maybe Watson figures it all out eventually, but he was thrown in way over his head, and it was an irresponsible thing for the front office to do when charged with the development of all this young talent. Management obviously really likes Watson, but by rushing him along they have done him, or his team, no favors.
Offensive deception: On the surface the offense is a strength. They score a lot of points, and you would think that maybe they could use that as a building point - allow a few less points and suddenly you are very competitive. When you look closer, though, you see a different story. Watson has taken a lot of guys who need the ball to score, put them out together, and then let them play at a crazy tempo. That produces points, but not the right way - they are right near the bottom of the league in both assists and assist percentage. Watson just lets his young players try to make their own shot. He must have watched too much of the Lakers in the late Kobe era and somehow thought that that was worth emulating. It's not.
Read more articles by Trevor Whenham