NBA Handicapping: Injuries not Only Reason for Bulls Struggles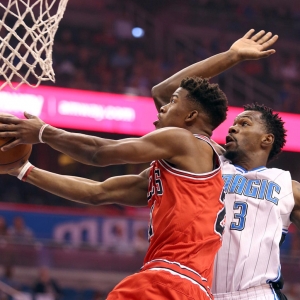 A disaster. That's really all you can say about it. This is a Bulls season that every Bulls fan will want to forget about immediately. It was not long ago that the Bulls were the only team in the East that seemed capable of testing the Heat. When the epicenter of the conference moved to Cleveland, the Bulls should have moved right along with them. Instead, they are at real risk of missing the playoffs entirely. There is basically nothing positive about the team at this point. So, what are the issues? And what does it mean for bettors? Here are five factors to consider when pondering those questions:
Injuries: This is a season that doesn't deserve an excuse - it has been pathetic regardless of what else has happened. You can't ignore, though, that injuries have had a real impact on the squad. Jimmy Butler has missed the last month with a knee injury, and he was often the only ray of light on the court when he was playing. Nikola Mirotic has been out a week longer than Butler. Joakim Noah has missed half the season and has been a shadow of himself when he has played. Derrick Rose has missed 10 games. That is, outside of Pau Gasol, most of the core of this team. It would be tough for a tougher team than this to overcome that without some hiccups.
Effort level sucks: Enough excuses. The sorry fact of the matter is that this team has just not played hard enough to win more than half of their games. In fact, the way they play most nights, they are lucky to have won what they have. Their defensive strategy most often involves imitating a turnstile. Second efforts are unknown. In the last six weeks there are only two teams in the league that are less efficient than they are on a net basis - the 76ers and Suns. The fact that the Bulls are in a conversation with organizations like that is pretty much all you need to know. This is a team that no longer cares what happens to them and seems totally unwilling to do what it takes to improve their fate. It could be a long final quarter of the season barring a miracle.
Offense going in wrong direction: Fred Hoiberg was hired as an offensive guru who was going to get this team working with the ball like they had struggled to. I, like many, was of the opinion that firing Tom Thibodeau was moronic. If they had to do it, though, then I thought Hoiberg was a good choice. He had played for the Bulls, so he understood the organization. He had worked in an NBA front office, so he knew how the league worked. He had done great work at Iowa State. He seemed like the kind of guy who could make the jump to the big time - like Brad Stevens did so well before him. It's early, but man do I ever look like I was wrong. The offensive guru has done little to improve the offense. It started out flat and has declined steadily. In 2016 they have the third-worst offensive efficiency in the league - again living in the gutters with the Suns and Sixers. What a mess.
Hoiberg issue: The offensive is arguably the most concerning of issues with Hoiberg but far from the only on. This team has noticeably and dramatically quit on themselves in the last month. That is not something that should happen in the first year under a new coach when a playoff spot is still there for the taking. Players do not look engaged in the huddle or on the court. Hoiberg consistently tells the media after games that they are practicing hard so he doesn't understand why that isn't translating to games. His game management is suspect. The Chicago Bulls have a huge Fred Hoiberg problem. At this point it seems like the right move could be to cut their losses and move on from him - and hire Thibodeau again before anyone else does.
No moves at the deadline: It seems as if the front office cares as little as the players do at this point. If there was ever a team just crying out for a shakeup at the trade deadline, this was it. All they did, though, was send Kirk Hinrich to Atlanta and bring in Justin Holiday - a guy averaging a stellar 2.6 points per game in 31 games this year. Hardly a needle-moving deal. Management seems content to ride with this roster, which means that they are content to run this thing right into the ground.
Betting performance: The team is a dismal 23-37 ATS on the season. It has, then, been wildly profitable to bet against this band of losers this year. In fact, the only two things that have been more profitable over the course of the season are betting on the Spurs and against the Suns. They have gone "over" the total in 31 of 60 games, so they have been useless to bet against the total.
Read more articles by Trevor Whenham