NBA Handicapping: Lakers a Hot Wager to Start New Season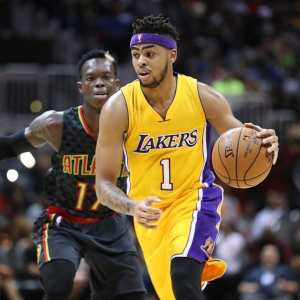 The NBA season is young, but one of the big revelations so far has been the L.A. Lakers. For the last few years they have been almost completely unwatchable. Just plain bad. We knew things were going to be different this year, but only the most optimistic could have expected this - they are one of the most exciting teams to watch in the league. At 7-5 they are in the heart of the Western Conference playoff picture, and it doesn't entirely feel like a fluke. So, what is going on in La La Land? And can they keep it up? Should bettors trust them or be skeptical? Here are five factors to consider when pondering these questions:
The absence of Kobe: We don't need to spend too much time looking back and kicking dead horses. I have to mention this, though, because I am consistently amazed by how different this team looks and feels without Kobe around it. He was obviously a truly great player, but his presence hadn't been particularly positive in totality over the last couple of years. The team seems so much more relaxed, focused, and balanced without him around.
Coach Walton: Hiring Luke Walton was a risk. He's young, and it is always hard to know if a guy did well as an assistant because of his talent or because of the excellent organization he worked in. So far, though, it certainly seems to have been a good choice to hire him. There is a story I have heard several times already this year that I like when it comes to Walton. As you would expect given his age and where he was last working, he is a fan of analytics. One stat in particular he likes is number of passes - he thinks that more than 300 passes in a game is key to success for a team. This team was horrible at distributing the ball last year - thanks for that, Kobe. They still aren't where they need to be this year, but Walton has really stressed this, and he really has the team aware of it, and working hard to get the numbers they need. They look at those numbers after every game, and when they exceed 300 they celebrate. When they don't reach it they redouble efforts in practice. It doesn't mean much by itself, and Walton isn't the only guy - even in the state of California - with this kind of philosophy. It's such a positive change for this team, though, and the stories of the buy-in for this and other things that the players have is a very positive sign. There will be hard times with such a young team at times, but I already believe that the Lakers are in good hands - a much-needed difference after the state of their coaching over the last several years.
The R&R show: This team is, right now at least, built around the duo of Julius Randle and D'Angelo Russell. They are doing what they need to do. Russell is the leading scorer, and it feels like he is running the show whenever he is on the court. Randle has really advanced in his role next year, and the future is very bright. Add in surprisingly excellent play from Louis Williams off the bench and this team is in good hands. It's always a risk when a team looks towards a new generation to take over, but at least early on it seems like the transition is one that is working - more smoothly than in other places like Phoenix or Minnesota, perhaps.
Room to grow for Ingram: The story at the Draft this year was all about Ben Simmons and Brandon Ingram - the class of this draft class. The anticipated fireworks have been dim so far, though. Simmons is out with a foot injury and hasn't played yet, and Ingram has struggled to find his game just yet. It hasn't been problematic - he'll be fine in the long term - but he has really looked liked the rookie he is much more than the superstar he likely will become. That can be viewed as a positive, though. He has proven to be intelligent and seems coachable. The team is doing what he is doing, and he should become more effective and consistent as he gets more comfortable. Ingram in March should be more of an asset than Ingram in November, and that is very good news for this team. What I like most about his game right now is that, at 19, he's already more focused defensively than a lot of veterans, and he's mostly pretty effective, too. Defensive discipline means that he can play a key role even if his offensive contributions aren't there consistently yet. It means that they can give him time to grow on the court without hurting themselves. That helps him get up to speed much faster.
ATS performance: At 8-3-1 ATS they Lakers are the second-best betting team in the NBA right now - only building-mates the Clippers are better. They have gone over the total in eight of 12 games, too, so there is no shortage of ways in which they can deliver profits. Perhaps most usefully, they are 5-2 ATS on the road so far.
Get $60 worth of member's picks absolutely free - no obligation, no sales people. You can use this $60 credit for of our top NBA handicappers. Free NBA predictions here. Also, for a limited time only, you can get three handicappers NBA picks for the price of one! Click Here for more details!
Read more articles by Trevor Whenham