NBA Handicapping: Is San Antonio vs. Golden State WCF Matchup Inevitable?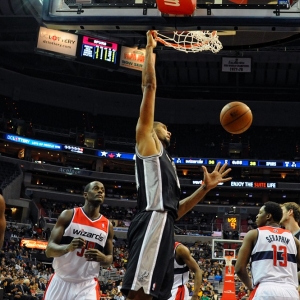 Anything can happen in sports. That doesn't mean that there aren't some things that feel inevitable, though. The last couple of Chicago Blackhawks' Stanley Cups have felt that way. So did the last Yankee World Series. A couple of Alabama's national titles have felt very inevitable. More inevitable than all of those, though - and perhaps more inevitable than anything we've seen in awhile - is the looming showdown between Golden State and San Antonio in the Western Conference final. It has all the makings of an epic series. Perfection. So, just how inevitable is it? The short answer is that it is very inevitable, but let's go deeper and look at it from six different angles:
Coaching: Gregg Popovich is the best coach in the NBA, and it isn't even close. It has taken Steve Kerr less than two seasons to make the strong argument that he's second best. Kerr has absolute control of his team - except for that one night in L.A. last week. Popovich has had that command for a very long time. Coaches are as important in other sports like football as they are in the NBA, but there is no North American sport in which they are more important than the NBA. When you have these guys in charge of these teams it is almost unfair. They wouldn't need to have the two best coaches in the conference to make it all the way to the finals, but they do. They provide a massive edge for their squads.
Home cooking: These two teams are all but guaranteed to be the top two seeds in the West. That means that for a team to beat them in a series they will have to win at least one game in San Antonio or Golden State. That's a real problem. Those two teams have played a combined 57 home games. They have not lost one yet. 57-0. That's ridiculous. Of course, in order for a team to only need to win one on the road against either of these teams they would have to sweep them at home - and these two teams are also a combined 53-16 away from home.
The story of the odds: You only need to look at the odds to win the Western Conference (at BetOnline in this case ) to see what the situation is with these teams. The Warriors are ridiculous favorites at -200 - not ridiculous because it's too low, but ridiculous because of how little return you would get for investing your money now in that bet. The Spurs are a distant second choice at +225, but those are still low odds. Behind those two there is a massive gap - the Thunder are third at +650, which is just small change away from being three times as high as the Spurs. Then it's another big gap back to the Clippers at +1400 - more than six times higher than the Spurs. Every other team is between +5000 and +40000. So, the odds tell us exactly what we already know - it's basically inevitable, with only two teams having a real chance of raining on the parade, with only one of those chances really being legitimate.
Who else?: Here's what it all comes down to. If we were really going to believe that Golden State and San Antonio weren't going to play each other then we need someone else who can beat them. We can completely and totally ignore anyone but the Clippers and Thunder - upsets can happen, but less so in basketball than anywhere else, and there isn't a team in the bottom half of the conference that has what it takes to truly be taken seriously. And then there were two. I'll rule the Clippers out right off the top. Their coaching is a disaster in playoff time in my eyes, Blake Griffin's status and level of play is uncertain, and they haven't been good enough in the past to beat these teams - and both the teams have improved much more than the Clippers have. Finally, one stat sticks out - this team is just 22-14 against the West. That's really not close to good enough. It won't be the Clippers. So it's down to the Thunder. They certainly have talent. They have offense, too. There are some problems, though. First, they have lost to the Warriors three times already. That's not a good precedent. They did beat the Spurs in the only meeting so far, but that was the first game of the season, so it's tough to take too much from it. Second, it sure feels like Kevin Durant has one foot out the door as he looks towards his free agency. A team will need to kill themselves to beat the Warriors or Spurs. Will this team be willing to give quite enough? Finally, remember what we said about coaches earlier? The Thunder are in real trouble here. Billy Donovan was really successful in college, and could prove to be in the NBA at some point, too. At this point, though, he has not made the adjustment effectively, and it shows in how he handles his roster and the moves he makes late in games.
Vulnerabilities: The one thing that could change everything, of course, is an injury. Steph Curry's ankle fails him and everything changes. Kawhi Leonard is lost for the playoffs and the Spurs aren't the Spurs anymore. That is by far the biggest of concerns. By far.
Read more articles by Trevor Whenham