NBA Handicapping: Warriors Struggling ATS but as Good as Ever on Court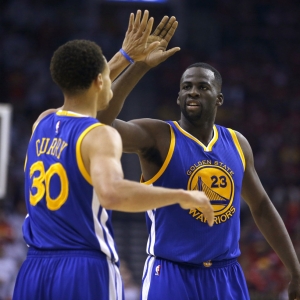 The Warriors. What a story. Over the last couple years they were pretty much all that any basketball fan was talking about. Then they were humiliated in the finals by Cleveland last year. So, instead of feeling sorry for themselves they went out and got one of the three best players in the league - and they already had one of them on the team. It was shocking and controversial. But will it work? Well, it's anecdotal, but as I sit here writing this the team is just wrapping up a game against the Lakers - a game in which they scored 149 freaking points against a reasonably solid team and won by 43. 43 freaking points. And they had a franchise record 47 assists to make it all happen. And it wasn't really surprising. They have won 13 of 15 games,, and this is the sixth time that they have won by more 20 points. The Warriors, in other words, are still the Warriors but even more so.
So, what's going on? And, because this is all bettors care about, can it keep going on?:
Durant: It is very rare to see a guy of the caliber of Kevin Durant change teams, never mind joining what was already the best all-around team in the league. The move created perfect theater for basketball nerds. Could the stars find a way to co-exist? Could Durant find a way to thrive in this situation? Could he find a way to thrive while getting the ball less and being less of the core of the offense? The answer, it seems, is a resounding yes. He has been, in a word, spectacular. He's been an amazing one-two punch - both versatile and efficient. Put another way, the team can put him into whatever situation they might dream of, and all he does is score. Of course, he has always been good, but his ability to increase his efficiency and maintain his overall production while his usage has decreased is amazing. And what is especially amazing is that he was already a stunningly efficient player. It was hard to see any real downside for Durant when he made the decision to head to Golden State, and that view definitely hasn't shifted to date. It is striking how comfortable he looks and how quickly he got there.
Thompson: Early in the season Klay Thompson really struggled. He wasn't scoring like he did last year, and he couldn't hit a three if his life depended on it. The public and media reaction was, predictably, insane. They talked about trading him to all sorts of directions. Though people worried too much, it makes sense that they were concerned - Thompson seemed like the core star that would transition easiest to the new reality because he needs the ball least. The important thing, though, is that he has again found his game. His shooting has returned, he's scoring, and he just generally looks like himself again. Needless to say, that's a positive.
The bench: I've skipped entirely over, you'll notice, Steph Curry and Draymond Green. No need to waste the time - they are both fitting in and doing what they do. The Warriors have four guys who can dominate a game on their own, and they are only going to get better and better at working together as time goes along. They aren't a finished product yet by any means, but they are getting closer - as a 43-point win proves. If you want to find a reason for concern, though, then perhaps it's the bench. The big four can't play all the time. The bench has gone through some changes, and they aren't yet quite as good as they could be. The team is fortunate in that the starters are going to build so many leads that the bench doesn't have to be explosive - they just have to avoid losing ground. Like everywhere else on the team, the bench is solid enough right now and is all but certain to improve with time. The rest of the league should be terrified.
Betting performance: The one area where this team just isn't doing their job right now as they have previously is in rewarding bettors. Last year they were as dominant at the betting window as they were on the court - their 45-35-2 ATS mark made them the most profitable team in the league, and they went "over" the total 45 times, which was tied for second best. The year before they were an even better 47-34-1 ATS. This year, though, they sit at just 7-7-1 ATS, so there has been no long-term way to make money on sides on them. Luckily, they are more stable on the total - they have gone over in 10 of 15 games,
Read more articles by Trevor Whenham