NBA Odds: Friday, January 22, 2016 Opening Line Report and Handicapping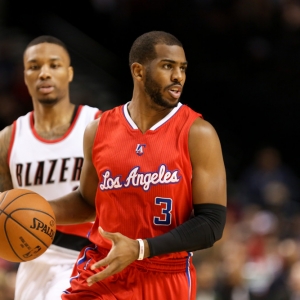 OK, this is getting ridiculous. NBA players like Andre Drummond, Dwight Howard and DeAndre Jordan need to suck it up pride-wise and go to Hall of Famer Rick Barry, one of the greatest free-throw shooters in NBA history, and learn how to shoot from the charity stripe underhanded. It really does work. Drummond is a magnificent player, but on Wednesday against Houston and Howard, Drummond missed a league-record 23 freebies (36 attempts). If I'm the opposing team, I simply foul the guy every time he touches the ball; use up your scrub big men at times. That's what Houston did as Drummond was fouled 12 straight times at one point. The previous record for most misses was 22, set by Wilt Chamberlain on Dec. 1, 1967. Drummond's 36 attempts were third-most in league history, behind two 39-attempt games by Howard. Steph Curry, by the way, hasn't missed 23 free throws all season.
Hornets at Magic (TBA)
Charlotte lost 109-95 in Oklahoma City on Wednesday. Kemba Walker followed up his 52-point game Monday with 21. Nic Batum was scoreless in 24 minutes and left with a toe injury, so he's in question here. Big man Cody Zeller also left with a shoulder injury and is questionable. Orlando lost a fourth in a row Wednesday, a 96-87 home shocker to Philadelphia. The Magic are now under .500 for the first time since Nov. 29. Guard Victor Oladipo missed a second straight game with a sprained knee. Orlando won the first meeting, 113-98 at home on Dec. 16. All five Magic starters tallied double-figure scoring, led by Channing Frye with 17 points. Jeremy Lamb led Charlotte in scoring with 16 points off the bench. Charlotte was 2-0 in Orlando last year.
Key trends: The Hornets are 8-2 against the spread in the past 10 meetings. The "over/under" is 4-1 in the past five.
Early lean: Magic end skid, Oladipo or not. I'm guessing Scott Skiles has quite the intense practice coming for those guys.
Bulls at Celtics (-4, 204)
There's obviously no shame in losing to the amazing Warriors, but the Bulls were destroyed by them at home Wednesday, 125-94. Derrick Rose was great with 29 points, but Pau Gasol had one point and the Bulls were 1-for-20 from 3-point range. Boston lost a second in a row Wednesday, 115-109 in Toronto. Isaiah Thomas had his fifth double-double of the season with 21 points and 10 assists in the loss. These teams have split two pretty close meetings, each winning at home. Chicago's Jimmy Butler is averaging 27.5 points in the two. Gasol has had a double-double in each.
Key trends: The favorite is 4-1 ATS in the past five meetings. The over is 5-1 in the past six.
Early lean: Celtics and over.
Jazz at Nets (TBA)
Utah lost its second in a row Wednesday, 118-111 in OT at the Knicks. Gordon Hayward had 27 for the Jazz and hit three free throws with a few seconds left to send it to OT. The Jazz are 8-7 against the East this season. Brooklyn dropped a fourth straight Wednesday, 91-78 to Cleveland. This is the first meeting of the season. Utah won both last year, including a 35-point home victory that was the Jazz's largest margin of victory in 2014-15.
Key trends: The favorite is 4-1 ATS in the past five meetings. The under is 9-3 in the Nets' past 12.
Early lean: TBA likely again for Utah's Derrick Favors, who hasn't played in a few weeks. He's doubtful again. No matter the number here, go under. I expect neither team to top 90 points.
Clippers at Knicks (+2.5, 203)
Los Angeles was in Cleveland on Thursday. The Knicks won their second straight high-scoring OT game on Wednesday, beating the Jazz by seven. Carmelo Anthony had 30 points, nine assists and seven rebounds, and Robin Lopez had perhaps his best game of the year with 22 points and 12 rebounds. Rookie Kristaps Porzingis was questionable but played and had 16 points. The Knicks' six-game home winning streak is their longest since they won their final 10 home games of the 2012-13 season. First meeting between these teams. The Clippers have won six straight, three at the Garden.
Key trends: The Clippers are 4-0 ATS in the past four meetings. The under is 5-1 in the past six.
Early lean: Knicks and under.
Heat at Raptors (TBA)
First of an ESPN doubleheader and should have live betting at sportsbooks. Miami lost a third in a row Wednesday, 106-87 in Washington on Wednesday. The Heat are totally banged up. Dwyane Wade was a late scratch with a shoulder issue that probably costs him a few games. Hassan Whiteside left in the second quarter with a strained left oblique and didn't return. Luol Deng left after getting poked in the eye. Goran Dragic has missed five games with a calf injury. A few reserves also have been out. Toronto won a season-high sixth in a row Wednesday, beating the Celtics by six behind 34 points from DeMar DeRozan. The Heat and Raptors have split two games in Miami this season. The Heat have won seven of their past eight in Toronto, where Chris Bosh is still booed regularly.
Key trends: The Heat are 6-1 ATS in the past seven meetings in Toronto. The over is 7-1 in the Raptors' past eight after scoring at least 100 points in their previous game.
Early lean: I doubt this is close as half the Heat probably sit out.
Bucks at Rockets (TBA)
Milwaukee brings a three-game winning streak into this one after a 12-point win in Miami on Tuesday. Khris Middleton, the only Buck to play every game this season, had 22 points. Houston lost 123-114 at home to Detroit on Wednesday. Howard sprained his ankle early in the first quarter and did not return so he seems likely to miss this game at least. James Harden had his first triple-double of the season and seventh of his career, with 33 points, a career-high 17 rebounds and 14 assists in the loss. Point guard Patrick Beverley missed the game with an ankle injury. Houston has won four straight in this series. Last year the Rockets averaged 117.0 points in the two wins. Harden averaged 33.5 points on 64.3 percent shooting.
Key trends: The road team is 5-2 ATS in the past seven meetings. The over is 5-2 in the past seven overall.
Early lean: TBA for Howard. I like Houston to win regardless.
Thunder at Mavericks (TBA)
Oklahoma City won a sixth consecutive game Wednesday, beating visiting Charlotte by 14. Russell Westbrook had 16 points, 15 assists, eight rebounds and five steals in 27 minutes -- Coach Billy Donovan didn't let him try for the triple-double, sitting his star in the fourth quarter. Dallas won a second straight home OT game on Wednesday -- fourth straight home OT game overall -- in a 106-94 victory over Minnesota. Chandler Parsons scored 16 of his season-high 30 points in the fourth quarter. Dirk Nowitzki got the night off with a knee injury and is questionable here. The 1984-85 Mavericks are the only other NBA team in the shot clock era to play four overtime home games in a row. OKC is 2-0 in this series this season, winning both at home and averaging 111.0 points. The Mavericks have won the last three regular-season matchups in Dallas.
Key trends: The Thunder have covered 13 of their past 19 in Big D. The over has hit in six straight there.
Early lean: TBA for Dirk. Go over regardless. Thunder should roll.
Pacers at Warriors (-12, 215.5)
Second game in the ESPN doubleheader. Indiana ended a three-game losing streak in Phoenix on Tuesday, 97-94. Monta Ellis had 20 points and Paul George 19 points and eight rebounds. Center Ian Mahinmi left late in the second quarter with a sprained ankle and probably sits this out. Starting point guard George Hill missed a second straight game due to personal reasons. Golden State blew out the Bulls on Wednesday to close a three-game road trip. Will this be a trap game? The Warriors host the Spurs on Monday in the game of the year thus far. In their first meeting this season on Dec. 8 with the Pacers, Golden State scored 79 points in the first half -- the highest scoring first half in the NBA this season -- en route to a 131-123 win in Indianapolis. Golden State has not won a season series against Indiana since 2000-01.
Key trends: The favorite is 7-3 ATS in the past 10 meetings. The over is 5-1 in the Warriors' past six following an ATS win.
Early lean: Warriors and over.
Spurs at Lakers (+15, 199)
San Antonio was in Phoenix on Thursday night without Tony Parker, so don't look for him here. Or probably Tim Duncan and/or Manu Ginobili, either. Los Angeles lost a fourth straight Wednesday, 112-93 to the Kings. It's the Lakers' seventh losing streak of at least four games this season. The Spurs beat the Lakers 109-87 in San Antonio on Dec. 11. It was tight at halftime but the Spurs outscored the Lakers 58-38 in the second half. LaMarcus Aldridge had 24 points and 11 rebounds. Los Angeles rookie D'Angelo Russell recorded 24 points, six rebounds and six assists in perhaps his best game thus far. The Spurs have won three straight at the Lakers.
Key trends: The Spurs are 4-1 ATS in the past five at the Lakers. The under is 9-2 in L.A.'s past 11 at home.
Early lean: Lakers and under.
Read more articles by Alan Matthews