NBA Odds: Friday, March 18, 2016 Opening Line Report and Handicapping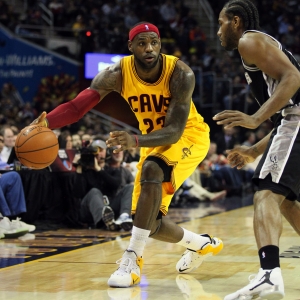 Most experts have pegged LSU freshman Ben Simmons as the No. 1 overall pick for this summer's NBA Draft, and Simmons already has signed with an agent, so he's leaving LSU. But Simmons didn't take his schoolwork very seriously -- in fact, LSU, perhaps fearing that it would incur some NCAA violations, passed on the NIT when it missed the NCAA Tournament. Will Simmons not being a great student scare NBA teams off? Probably not. But the guy has no jumper. And if Duke can make a long run in the Big Dance and freshman star Brandon Ingram, who can shoot, plays really well then Ingram could be the choice at No. 1 overall. Some other guys are definitely going to raise their stocks in the draft with big games in the Big Dance as well.
Cavaliers at Magic (+7.5, 212)
Cleveland beat Dallas 99-98 on Wednesday without LeBron James, who was rested in the second of a back-to-back. And as long as the Cavs have a comfortable lead atop the East, expect that to continue -- and not just for James. Kyrie Irving stepped up without LeBron and had 33 points. Kevin Love added 23 points and 18 rebounds. Not a coincidence how those guys' numbers go way up with James on the bench. Orlando lost 107-99 in Charlotte on Wednesday. The Magic were down as much as 26. The Magic are 0-3 vs. the Cavs this season and have dropped 13 straight in the series, which is the second-longest skid vs. one team of all-time for Orlando. The record is 14 against the Pistons from 1988-1993.
Key trends: The Cavs are 7-0 against the spread in their past seven in Orlando. The "over/under" is 5-2 in those seven.
Early lean: Cavaliers and under.
Thunder at 76ers (+15, 220)
Potential trap game for Oklahoma City here as the Thunder are off an impressive 130-109 win in Boston on Wednesday. Kevin Durant was regularly greeted with chants of "Come to Boston!" and had 28 points, nine assists and seven rebounds in just over three quarters. Durant has scored at least 20 in 53 straight games. Philadelphia hosted Washington on Thursday. The Sixers lost 102-85 in OKC on Nov. 13. Durant sat out and Russell Westbrook had a triple-double. It was his third in his past four games against Philadelphia.
Key trends: OKC is 7-2 ATS in the past nine meetings. The under is 5-1 in the previous six.
Early lean: I'll take the points. Go over.
Kings at Pistons (TBA)
Sacramento lost 123-108 at home to New Orleans on Wednesday. DeMarcus Cousins had 20 points and 12 rebounds, but the Kings were down as many as 27. Rajon Rondo, Marco Belinelli and Ben McLemore all missed the game. Now Sacramento must win its final seven home games to avoid a losing record in their final season at Sleep Train Arena. Detroit lost a second straight Wednesday, 118-114 over Atlanta. The Pistons led by 11 in the third quarter. Andre Drummond had 18 points and 18 rebounds but missed nine of 17 free throws. The Pistons lost in Sacramento 101-92 on Nov. 11.
Key trends: The Kings are 1-4 ATS in the past five meetings. The under is 5-0 in those five.
Early lean: Long trip across country and Kings are banged up. This shouldn't be close even with Detroit's Reggie Jackson questionable.
Celtics at Raptors (TBA)
Lone national TV game of the night on NBA TV. Boston lost a third straight Wednesday, 130-109 vs. the Thunder. It was Boston's second straight loss at TD Garden following a 14-game home winning streak. The 130 points allowed were the most given up by the Celtics in regulation since 2004. Forward Kelly Olynyk returned from a 12-game injury absence. He played 22 minutes. Toronto was in Indiana on Thursday. The Raptors are 2-0 vs. Boston this season and won the game on Toronto 115-109 on Jan. 20.
Key trends: The Celtics are 1-5 ATS in their past six road games. The over is 5-2 in the past seven meetings.
Early lean: I think this is TBA with the worry that Raptors coach Dwane Casey might give point guard Kyle Lowry the game off in the second of a back-to-back. Plus, it's not clear if Jonas Valanciunas will play Thursday or here. So wait on those guys.
Timberwolves at Rockets (-8.5, 221.5)
Minnesota won at short-handed Memphis 114-108 on Wednesday. Zach LaVine scored 28 points. Karl-Anthony Towns added 18 points and 10 boards. The team's 42 first-quarter points matched a Minnesota season high for points in a quarter. Houston lost 122-106 at home to the Clippers on Wednesday. James Harden led Houston with 33 points and eight assists. The Rockets have allowed 110 or more points in 10 of the past 22 games. Houston has won six in a row at home vs. the Timberwolves. Both teams have scored 100-plus points in nine of the past 10 meetings.
Key trends: The Rockets are 5-1 ATS in their past six after a double-digit loss. The over is 7-0 in the past seven meetings.
Early lean: Rockets and over.
Trail Blazers at Pelicans (-2, 216)
Portland was in San Antonio on Thursday. New Orleans ended a four-game skid with a 123-108 win in Sacramento on Wednesday. Sacramento native Ryan Anderson had 29 points for the Pelicans in his final game at Sleep Train Arena, where his high school team played in the state playoffs. The Pelicans set a season high with 74 points in the first half while completing a four-game sweep. Portland leads this season series here 2-1, winning both at home. The Blazers are looking for their third straight season series win over New Orleans.
Key trends: The Blazers are 5-1 ATS in the past six meetings. The under is 6-1 in the previous seven.
Early lean: Pelicans and under.
Warriors at Mavericks (+9, 227)
This screams potential trap game for Golden State as it visits San Antonio in the NBA game of the year on Saturday night. The Warriors won a sixth in a row on Wednesday, 121-85 against the Knicks to complete an unbeaten six-game homestand. Steph Curry had 34 points in the team's 50th straight home win. Andre Iguodala missed a third straight game and won't play here. Dallas lost 99-98 in Cleveland on Wednesday. The Mavs had possession late with a chance to win but a pass for Dirk Nowitzki was stolen. The Warriors have won eight of the last nine regular-season meetings with the Mavericks but Dallas did win at home on Dec. 30.
Key trends: The home team is 4-1 ATS in the past five meetings. The over is 8-3 in Dallas' past 11 at home.
Early lean: Warriors and over.
Suns at Lakers (TBA)
Phoenix was in Utah on Thursday. The Lakers lost a third in a row Tuesday, 106-98 against the Kings. Kobe Bryant sat out with his shoulder problems. Brandon Bass also missed the game. Important for the Lakers to lose this as it would all but guarantee they finish with the second-worst record in the NBA and that the Suns can't overtake them for that. Remember, if L.A.'s draft pick isn't in the Top 3, it goes to Philadelphia. Phoenix has won five of the past six meetings in the series.
Key trends: The home team has covered five of the past seven meetings. The over is 4-1-1 in the past six.
Early lean: Does Kobe really deserve a TBA at this point? I don't think it matters, Lakers will win and maybe regret they did later on.
Read more articles by Alan Matthews