NBA Odds: Wednesday, April 20 2016 Opening Line Report and Handicapping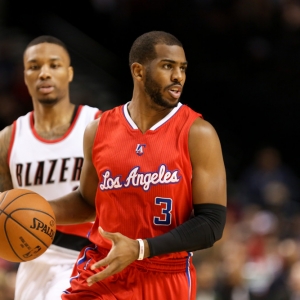 These are not your father's New York Knicks. Two decades ago, that was one of the top jobs in the NBA, maybe the best. Pat Riley took it. So did Rick Pitino. But now that franchise is a mess and team president Phil Jackson reportedly can't even get a Warriors assistant coach, Luke Walton, to take over as head coach. Meanwhile, to show how much has changed, the perennially downtrodden Minnesota Timberwolves -- formerly the Siberia of the NBA for coaches -- have plenty of big names interested in their opening because of so much young talent on the roster, and they are likely to hire either Jeff Van Gundy, a former Knicks coach, or Tom Thibodeau, the former Bulls coach, as their new guy very soon. Whomever it is likely also gets full control over personnel like Stan Van Gundy has in Detroit. Expect a decision this week.
Game 2: No. 6 Hornets at No. 3 Heat (-4.5, 202)
Charlotte and Miami finished with the same regular-season record, but they didn't belong on the same court in Game 1 as the Heat crushed the Hornets 123-91. It was over after one quarter with Miami up 41-22. Luol Deng had a season-high 31 points on 11-for-13 shooting and Hassan Whiteside had 21 points on 9-for-11 from the field to go with 11 rebounds in the first playoff game of his career. They were only the second pair of teammates to each shoot better than 80 percent from the field during the same game (with at least 10 attempts) during the postseason since the shot clock era. The other duo was Miami's Shaquille O'Neal and Jason Williams on May 2, 2006, vs. Detroit. The Heat's 41 first-quarter points tied their most ever in any playoff quarter and their 123 total points were a team record in a postseason game. The Heat turned it over only six times, tying the second-fewest in a playoff game, and the 32-point margin of victory was No. 4 in team playoff history.
Charlotte shot 43.1 percent overall and 6-for-17 from long range. It had 11 total assists, just one more than Miami's Goran Dragic by himself. Nic Batum had 24 points, Kemba Walker 19 and Al Jefferson 13 off the bench but no one else bothered showing up. The Hornets have lost 11 straight playoff games, tied for the third-longest losing streak in NBA postseason history.
Series line: Heat -350, Hornets +290
Key trends: Miami is 7-0 against the spread in its past seven home games. The Heat are 11-4 ATS in their past 15 after a win of at least 10 points. The Hornets are 1-4 ATS in their past five as a road dog. The "over/under" is 7-3 in Miami's past 10 vs. teams with a winning record. The over is 6-0 in Charlotte's past six overall.
Early lean: Heat and over.
Game 2: No. 8 Pistons at No. 1 Cavaliers (-10, 201)
Game 1 of this series was one of the few that were actually close. Cleveland escaped with a 106-101 victory, but the Pistons definitely gave the Cavs all they could handle. Detroit led entering the third and fourth quarters and was up seven with about 11 minutes left before the Cavs went on a run to take the lead for good. The Cavs' Big 3 of LeBron James, Kyrie Irving and Kevin Love all played well. James had 22 points, 11 assists and six rebounds, Irving 31 points and six assists, and Love 28 points, including a couple of clutch baskets, and 13 rebounds. Remember, LeBron never had those two on the floor with him after last year's first-round series against Boston.
Detroit did beat Cleveland three of four times in the regular season, although one of those games was totally meaningless. Kentavious Caldwell-Pope scored 21 points, Marcus Morris had 20 -- one after halftime -- and Reggie Jackson added 17 for the Pistons in Game 1. Andre Drummond had 13 points and 11 rebounds but wasn't a huge factor down low as he was often covering Love outside the paint. The Pistons aren't a great 3-point shooting team but finished 15-for-29. Not sure they can keep that up. Stan Van Gundy ripped the refs during a TV interview during the game, saying that LeBron basically does what he wants on offense without ever being called for a charge. Van Gundy's probably right, but he was fined $25K. We shall see if the refs call something on LeBron in Game 2.
Series line: Cavaliers -4000, Pistons +1600
Key trends: The Pistons are 3-7 ATS in their past 10 following an ATS win. The Cavs are 5-2 ATS in their past seven after allowing at least 100 points in their previous game. The over is 6-2 in Detroit's past eight after a loss.
Early lean: Cavaliers and under.
Game 2: No. 5 Trail Blazers at No. 4 Clippers (-8.5, 209)
Portland hung with the Clippers for most of the first half in Game 1 but then Los Angeles pulled away with runs entering the half and coming out of intermission for a 115-95 blowout win. Chris Paul totally crushed his matchup with Damian Lillard as Paul had 28 points, 11 assists, six rebounds and two steals. Blake Griffin looked back to pre-injury form as he threw down three big dunks and had 19 points, 12 rebounds and six assists. He and DeAndre Jordan (18 points, 12 rebounds, four blocks) dominated the smaller Blazers in the paint.
The Blazers' lone chance is for guards Lillard and C.J. McCollum to average about 50 points a night in the series. Lillard had 21 in the opener but was just 7-for-17 from the field. McCollum was swallowed up by the much bigger Luc Richard Mbah a Moute on defense as McCollum finished with just nine points on 3-for-11 shooting. The Clippers essentially dared anyone else to beat them and no one could. The Blazers have to hit a ton of 3-pointers for the upset but were only 10-for-30 from long range in Game 1.
Series line: Clippers -900, Trail Blazers +675
Key trends: The Blazers are 0-4 ATS in their past four games. They have failed to cover their past five playoff games as an underdog. The Clippers are 4-0 ATS in their past four at home. The over is 7-2 in the Clippers' past nine as playoff favorite.
Early lean: Clippers and over.
Read more articles by Alan Matthews