NBA Playoffs Betting Advice: Vulnerable High Seeds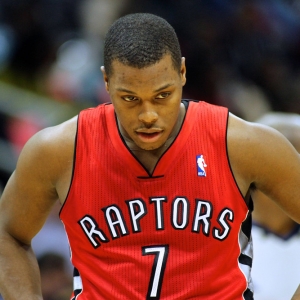 The first round of the NBA Playoffs is typically pretty short of intrigue. The public expects the higher seeds to come through and win, and more often than not that is how it turns out. The way things have set up for the first round this year things could easily turn out that way again. There are a few teams, though, that could at least be somewhat vulnerable of falling below their expectations this year. Here are four:
Toronto Raptors: This is probably the best all-around team that the Raptors have had in the playoffs. They absolutely have to be on this list, though, for one simple reason - they have never once proven that they don't belong here. This is a team that has existed since 1995, and yet they have never won a single seven-game playoff series. Not one. They have won just one playoff series, and that was a five-game set against the Knicks way back in 2001. This is the third year in a row that they have won their division, but they have still lost in the first round both times. Last year they were swept by the Wizards in a truly pathetic display. This year there is pretty much no reason that they should lose to the Pacers. They are better on paper, the matchups are better, they have the home-court advantage, they have rested at least somewhat down the stretch - it all sets up for them. The winning mindset has never existed in the playoffs for Toronto, though, so we have to have faith that it will appear suddenly this year. It's quite possible, of course. It's also possible, though, that they could lose one of their early games at home, their confidence could be shaken, and they could yet again get in their own ways and fall aside too early. The Pacers have won seven of their last 10, so it's not like they are limping into the postseason. Toronto has a massive monkey on their backs, and it will be there until they prove that it isn't any more.
Miami Heat: This is just a reminder that you can't always trust the seeding. The Heat are the No. 3 seed in the East, which means that they are hosting the sixth-seeded Bobcats. First inclination would be that Miami should have a solid edge. This is a bizarre year in the East, though - the third, fourth-, fifth- and sixth-place teams all wound up with the exact same 48-34 record. Each team played 82 games and wound up in the exact same place. Only tiebreakers determined seeding, but that's just technicalities. What matters is that the only meaningful difference in the Miami-Charlotte series, or the Atlanta-Boston one for that matter, is how much the teams get to sleep in their own beds. It's crucial for bettors to remember that here.
Los Angeles Clippers: The Clippers have played some of their best ball of the year down the stretch, they are healthier than they have been, they won 53 games during the season, and they have home-court advantage. It's not like they are a doomed team or anything. They still have an edge in their series against the Trail Blazers. You can't help but wonder where this team is at, though. It sure feels like they are a team trying to figure out what they are. They obviously know that they aren't on the same level as the top two teams in the conference - not even close. At this point it would take a lot for them to convince themselves that they are close to the Thunder, either. With the egos involved it's hard to believe that they are going to be at their mental best heading into these playoffs - it's hard to give it your all when you are all but certain that that won't be nearly good enough. Portland, meanwhile, comes in playing well, and they are playing with house money. They have nothing to lose. That makes them dangerous and makes this a real series to watch.
San Antonio Spurs: Just kidding - I was just making sure that you were still paying attention. The Grizzlies have one win in their last 11 games. They are so crushed by injuries that any day now I expect my phone to ring because they need me. It would be far more surprising to see the Spurs lose in the first round than the Warriors, and there is practically zero chance that the Rockets beat Golden State. Frankly, it would be plain shocking if the Grizzlies win a game - or lead after more than five minutes.
Read more articles by Trevor Whenham