Free NBA Props Picks with Betting Odds and Expert Predictions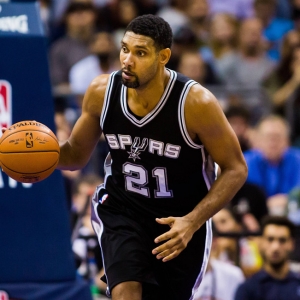 The NBA enters the stretch run of the regular season, and the biggest question on many bettors' minds is if Golden State can set the single-season record for straight up wins by eclipsing the 1995-96 Chicago Bulls mark of 72-10. The Warriors are well on their way with 54 wins in their first 59 games, and most sportsbooks have them listed at even money against the field to win another NBA title.
MyBookie has recently updated its NBA team prop odds for the exact matchup in this season's NBA Finals. And despite the lopsided nature of this bet given Golden State's dominance this season, there is still some value to be found in a few of the scenarios.
NBA 2016 NBA Finals Matchup
If you agree with the almost foregone conclusion that nobody in the Western Conference is going to stop the Warriors then you might want to go with the betting odds of -110 that we get a repeat of last season's NBA Finals between Cleveland and Golden State.
Bettors know what they are getting with Golden State, but the Cavaliers have been anything but reliable this season. Heading into Wednesday night's action they still have a 2.5-game lead in the Eastern Conference standings at 42-17, but Monday's 100-96 victory over Indiana was just their second win in their last five games. The grumblings about LeBron James ability to lead this team back to the Finals this season grow louder with every loss, but he is still LeBron James, and there is still value in these odds that he gets the job done.
The one fly in ointment could be the San Antonio Spurs. Everyone is taking about Golden State's amazing run, but heading into Wednesday's home game against Detroit as 11-point favorites, the Spurs are 50-9 through their first 59 games. This is currently 8.5 games ahead of the third-best team in the West (Oklahoma City).
The betting odds that San Antonio somehow finds a way to win a best-of-seven series against Golden State in the Western Conference to set up a showdown against Cleveland in the NBA Finals are set at +300.
San Antonio is one of the most balanced teams in the NBA with an offense that is ranked sixth in the league in scoring complementing a defense that is ranked first in points allowed. The Spurs also have the veteran leadership in Tim Duncan and Tony Parker to go along with the start power of Kawhi Leonard, and we all know that this trio has led this team to the NBA Finals before. If you are bent on going against the Warriors, then this matchup at +300 would be the logical choice.
When it comes to the best value in these prop bet odds, I would go with a Toronto vs. Golden State matchup in the 2016 NBA Finals at +1000. This number is only going to come down if the Raptors continue to play well down the stretch. They are 39-18 overall with just four losses in their last 22 games behind the stellar backcourt of DeMar DeRozan and Kyle Lowry. One of their biggest wins came just this past week in a 99-97 victory over Cleveland as 2.5-point underdogs at home.
Toronto has only gotten better as the season has worn on to create a fairly wide gap with the rest of the water-downed East as the clear second-best team in this conference. This gives bettors all the more reason to believe that the Raptors have what it takes to get past Cleveland in a best-of-seven affair to advance to this year's NBA Finals. MyBookie's NBA futures odds for winning the East has Cleveland listed as a heavy -300 favorite, with Toronto a distant second at +600, so you might want to get in on a bit of this action as well.
Read more articles by Dave Schwab