NCAA Football Betting: Fading the Top 25 Weekly Free Picks - Week 12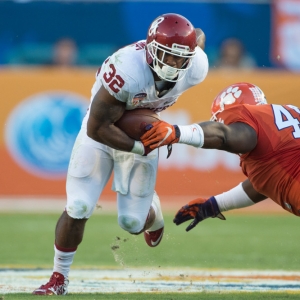 The Week 12 edition of the Fading the Top 25 Weekly Free Picks article is set. I'm not going to lie, when I realized that five of the Top 10 teams in the AP Top 25 lost outright last week and yet the selections in this article went 0-3, I was pretty ticked off. I feel slightly, and I do mean slightly, better when I see that the overall Top 25 teams did go 13-11-1 against the spread last weekend. Basically, it was a great weekend to fade the Top 6 teams, but deeper in the Top 25 things were different. That is two straight weeks it has worked out that way. Unfortunately, on both of those weeks the Top 25 teams I was fading weren't the ones near the top of the rankings.
The Texas -2 play last week was a tough one to lose. Texas dominated the statistics in that game but managed to lose the game. The Longhorns outgained West Virginia 536-383. They also had 33 first downs compared to 22 for the Mountaineers. Sure, it would be easy to point to three turnovers for Texas being the problem, but West Virginia had four turnovers here! A team that wins the yardage battle by more than 150 yards, gets 11 more first downs than their opponent, and wins the turnover margin. How does that team lose? Texas managed to do it last weekend.
Arkansas +7 was a bad play from the start. I thought it was a bad spot for LSU, but the Tigers were ready from the opening kickoff. The Razorbacks just aren't nearly as good as LSU, and the fact that it was a bad spot for LSU didn't matter in this case. The South Carolina +11 play was a close one, but the Gamecocks offense couldn't get enough going, and they lost a low-scoring contest 20-7.
The goal of this article is to track how teams in the weekly Top 25 do against the spread. We're here to look a little deeper than most and figure out how the top ranked teams do at the betting window. In addition, in this weekly article I'll be taking a look at which Top 25 teams I think are best to fade that particular week.
Play #1- Michigan State +22 (3 unit play) vs. Ohio State Ohio State's path to the College Football Playoff has gotten much easier with losses from so many top teams in the last couple weeks. Now Ohio State just has to take care of business. While most people think that means you should lay the big number here, I think it means the Buckeyes would be more careful late in the game. After all, Michigan is on deck, and the Wolverines pose a real threat to the Buckeyes. A backdoor cover isn't out of the question at all here.
Another really important factor here is the weather. Rain mixed with snow and winds up to 40 miles per hour are expected during this game. That's definitely not good conditions for throwing the ball, and with the under getting steamed here during the week that makes the underdog have a lot more value as well.
I think Ohio State wins this game, but Mark Dantonio has always been good as an underdog, and this is way too many points to pass up. Michigan State as a three unit play.
Play #2- West Virginia +3.5 (2 unit play) vs. Oklahoma Morgantown is a really tough place to play, and this is a national showcase game at night for the Mountaineers. West Virginia has probably been the most disrespected team in the CFP rankings thus far, and I think the team uses that for some extra motivation here.
Oklahoma hasn't really proven anything against top opponents this year. The Sooners were beaten easily by Houston. They were blown out at home by Ohio State. Baker Mayfield's decision making has been very questionable in big games in the past year. Bob Stoops certainly doesn't have a good record in the biggest games for his teams in recent years.
Both of these teams now have an outside shot at the playoff, and this game will have a really intense environment. I'll grab the points here.
Play #3- Wake Forest +22.5 (1 unit play) vs. Clemson Clemson definitely hurt their chances with a loss last week, but with the way everyone around them has performed the Tigers should still be alright if they win out. Clemson has made a habit out of letting inferior teams hang around this year, and Wake Forest is playing really hard for Dave Clawson right now.
The Demon Deacons defense is a feisty bunch, and I think they slow Clemson down better than expected in this one. In a game with a posted total of only 47 points, I have to make a small play on the home underdog when given this many points.
Last Week's Results: 0 Wins 3 Losses (Texas -2 for 3 units, Arkansas +7 for 2 units, and South Carolina +11 for 1 unit)
Fade the Top 25 Selections Year to Date: 15 Wins 21 Losses ($-310)
Overall Top 25 ATS Record Last Week: 13 Wins 11 Losses 1 Tie
Cumulative Overall Top 25 ATS Record Year to Date: 111 Wins (45.9%) 129 Losses (53.3%) 2 Ties (0.8%)
Read more articles by Aaron Smith