NCAA Football Betting: Fading the Top 25 Weekly Free Picks - Week 5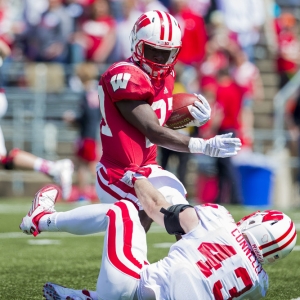 It was a banner week for the Top 25 last week. Did that mean the Fading the Top 25 free picks got crushed last week? It absolutely did. While none of the plays were big selections, an 0-5 week is always embarrassing. Oops. How did the overall Top 25 do against the spread? There were 14 teams in the Top 25 who covered the spread and only six teams who failed to cover the number.
Let's take a look back at what went wrong for the picks last week. There were a couple really bad picks. Georgia Tech was never in the game against Clemson. The Yellow Jackets defense played well, but the offensive was miserable. That one was a bad pick all the way. Nebraska dominated the game against Northwestern as well. The Wildcats just don't have enough offense this year.
There was some bad luck thrown in there as well. UCLA was the bad beat of the year in college football thus far. The Bruins led the entire game before squandering their lead with less than a minute left. Still, the pick looked to push as UCLA set up to throw it deep with two seconds left. Instead, we saw a strip six where Stanford ran it back for a touchdown with no time on the clock. What a way to lose.
Oklahoma State had multiple chances to cover against Baylor as well, and I still believe that was the right side. In the end, Oklahoma State failed to capitalize too many times on scoring chances. Finally, the Arkansas Razorbacks were in control for more than half the game against Texas A&M. Then Arkansas decides to run a jet sweep on fourth and a couple inches to go at the Texas A&M goal line. It backfired, and immediately Texas A&M threw a 92-yard touchdown the other way. That was the momentum swing that essentially ended that game.
The goal of this article is to track how teams in the weekly Top 25 do against the spread. We're here to look a little deeper than most and figure out how the top ranked teams do at the betting window. In addition, in this weekly article I'll be taking a look at which Top 25 teams I think are best to fade that particular week.
Let's try to get things going back in the right direction this week.
Play #1- Washington -3 (5 unit play) vs. Stanford The Washington Huskies have a great chance to show the college football world what they are made of in this one. Washington was beaten badly at Stanford last year, and this is a good revenge spot for them. There's no doubt that Stanford has less firepower than last season. Ryan Burns has yet to prove he can win a game for the Cardinal like Kevin Hogan did multiple times last year. Christian McCaffrey is a tremendous runner, but I don't think a well-coached team like Washington is going to let him beat them by himself.
Chris Petersen wasn't happy with his team's performance in their overtime win last week against Arizona. Petersen is an excellent coach, and I trust him to get them ready for this game. Washington is a team I've long expected to make a big leap this year.
Washington's home-field advantage is one of the best in the country. Stanford went to UCLA and won because the Bruins blew the game late. Washington has a better home-field advantage and a better coach. I like Washington in this Friday night showdown. A five-unit play goes on Washington.
Play #2- Wisconsin +10.5 (4 unit play) vs. Michigan Wisconsin showed me a lot last week in their 30-6 win at Michigan State. The Spartans aren't a great team this year, but it is never easy to dominate a Mark Dantonio team the way Wisconsin did last weekend. The move to Alex Hornibrook was a great one, and his poise against the Michigan State defense last week really impressed me. Hornibrook doesn't have a big arm, but his accuracy and ability to stay calm in the pocket are key to his success.
Michigan blew out Penn State last weekend, but I'm not sure how good the Nittany Lions are this year. The Wolverines were in some real trouble against Colorado until the Buffaloes lost their starting quarterback. Michigan is a very good team, but it remains to be seen if they are as good as their No. 4 ranking.
This game has a posted total of only 44.5 points. A 10.5-point spread is a big spread in a game with that low of a total. Wisconsin is strong in the trenches, and I think they can make this a close contest. Four units on Wisconsin +10.5.
Play #3- Rutgers +38.5 (2 unit play) vs. Ohio State Chris Ash is the head coach at Rutgers. Ash was the defensive coordinator at Ohio State before this, and he has a great relationship with Urban Meyer. Meyer wants to see Ash succeed in his new job, and I think this is spot where Meyer and the Buckeyes might be hesitant to run the score up too much.
The Buckeyes are also coming off a big win at Oklahoma and then a bye week. This is a spot where Ohio State could come out flat. Rutgers isn't a good team, but I think they are worthy of a small play in this spot given this absurd amount of points.
Last Week's Results: Wins- 0 Losses- 5 (Arkansas +6.5 for 3 units, Georgia Tech +10 for 2 units, Oklahoma State +9 for 2 units, UCLA +3 for 2 units, and Northwestern +7.5 for 1 unit)
Fade the Top 25 Selections Year to Date: 5 Wins 9 Losses (-$690)
Overall Top 25 ATS Record Last Week: 6 Wins 14 Losses
Cumulative Overall Top 25 ATS Record Year to Date: 44 Wins (48.4%) 46 Losses (50.6%) 1 Tie (1%)
Read more articles by Aaron Smith