NCAA Football Betting and Handicapping: Ranking the Unbeatens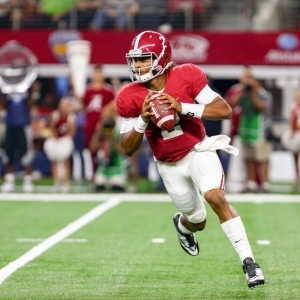 Last week we had 15 unbeaten FBS football teams. Now we are down to just 11. Even if everything went perfectly according to plan for the remaining unbeatens, several would fall - Baylor and West Virginia play each other and so do Alabama and Texas A&M. Ohio State plays both Michigan and Nebraska. So the most unbeatens we could possibly have at the end of the year is eight. Imagine the chaos for the playoff selection committee if that were to happen. It won't, of course. Here's a look at the last 11 teams standing and their chances of remaining unblemished:
In the driver's seat
Washington (6-0): The Huskies will be unbeaten if they can remain focused and hungry enough to be at their best. The best team on their schedule this year was Stanford. They won 44-6. They are the best team in every remaining game they play, and their performance this year is no fluke. They are a good team. There are some tricky games left - at Utah, visiting the zany offenses of Cal and Washington State, and at home against USC and Arizona State. They absolutely control their own destiny, though. They should be a playoff team. The weakness of the Pac-12, though, means that they have to hope that things fall their way - if Alabama and Clemson stay undefeated and the loser of the Michigan-Ohio State game still looked strong then Washington might not have enough gas to make the playoff at all.
Clemson (6-0): The Tigers beat Louisville. They should beat up on Florida State barring a miraculous recovery for the Seminoles. They don't play anyone else even remotely scary, and the ACC Championship will again be a joke. They also control their own destiny.
That one game…
Texas A&M (6-0): The Aggies are on a bye this week. Then they play Alabama. If they lose that they are not only unbeaten but out of the playoff in all likelihood. Win it and all they have to do is beat two flawed teams - Ole Miss and LSU - at home and win the SEC Championship. The problem, though, is I don't see them winning at Alabama.
Alabama (6-0): The next three games are tough - at Tennessee, Against A&M, and then after a bye they are at LSU. They will be solid favorites in each and should win each. The last three games are easy as can be, and the conference championship is manageable. The Aggies will be a tough test, but my bet is that they make it the whole way to the playoffs again.
Michigan (6-0): If they come out of this week's bye the same team they went into it as then they will be 11-0. There isn't a game that is even particularly scary until the finale. That game is epic, though - at a potentially unbeaten Ohio State. The winner of that will be the overwhelming favorite in the Big Ten Championship Game and will almost surely be in the playoff. I like Michigan's chances, but I'm as biased as they come on this front.
Ohio State (5-0): The Buckeyes have it slightly tougher - they play at Wisconsin this week and against Nebraska next month. There is no real reason not to expect them to make it to that showdown in Columbus unscathed as well, though. That will be a game for the ages.
Maybe, but it probably doesn't matter
Western Michigan (6-0): The Broncos play some decent teams like Akron and Toledo, but they have won their toughest games and have the talent to keep winning. They would need all sorts of miracles to happen to make the playoff, though. They would need a lot of help to even make the New Year's six - most importantly a Boise State loss. Their fans must be a little sad, though - each win brings the departure of super coach P.J. Fleck a little closer to reality. He has done wonders there, and with all the openings on the horizon there is zero chance he is back with the Broncos next year barring a total collapse. If he does run the table he could have a good chance at one of the really big jobs.
Boise State (5-0): How shocking that we are talking about these Broncos again. They don't really play anyone scary going forward - BYU is about as tough as it gets. They control their destiny and would get into the New Year's six in all likelihood if they stay unbeaten. The playoff is a very long shot, though, because the schedule is so weak.
Good, but not good enough
Baylor (5-0): Baylor gets a lot of credit for what they have done, but a 5-0 start is less impressive when the best you have beaten is Oklahoma State. Things get tougher going forward - at Texas, Oklahoma and West Virginia, and home against TCU and Texas Tech. they will lose at least once.
No chance
Nebraska (5-0): They will likely get to 7-0, though they could easily lose this weekend at Indiana. Then they play at Wisconsin and Ohio State on consecutive Saturdays. They are absolutely losing one of those, and quite likely two. Mike Riley has done a great job there, but this is a 9- or 10-win team, not more.
West Virginia (4-0): They have played only four times when many teams have played six. Those four have been against an awful Missouri team, underwhelming Kansas State and BYU, and an irrelevant Youngstown State. They won their two best games by one and three points. There is precisely zero chance of them winning out.
Are you ready for some football winners? Doc's Sports has you covered! We are offering new clients $60 in free picks - these are actually members' picks from expert handicappers who live, breathe and eat college football and have years of successful betting/handicapping experience. Click here for the no-hassle sign up page (no credit card required). Also, get three handicappers for the price of one when you sign up for a full-season football package! Click Here for details.
Read more articles by Trevor Whenham