NFL Survivor Pool Picks and Advice: Week 16
by Matt Severance - 12/21/2016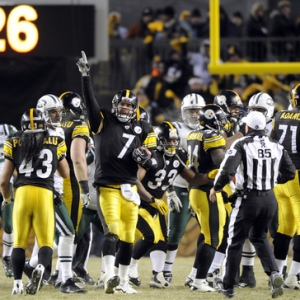 I say this every year in Week 16 but will again: does your league allow you to simply split the pool at this point if it's just you and one or two other competitors going in the Survivor Pool? I generally lean toward taking the sure money over the uncertainty of nothing. That said, I also look at what teams I have remaining and if I feel very confident about Weeks 16 & 17 then I'll take my chances. My only caveat would be that I hate Survivor Pools in Week 17 because half the teams are thinking about offseason golf plans.
There weren't many earth-shattering results in Week 15. My lousy Bears rallied from a 27-10 fourth-quarter deficit and nearly upset the Packers, but thankfully Green Bay pulled that out to keep Chicago in line for a Top-5 draft pick. Although I have to say it was chicken s**t of Bears coach John Fox to go for a late tying field goal instead of a win that could have helped keep the blood-rival Packers from the playoffs. Houston was nearly stunned at home by awful Jacksonville, but backup Texans QB Tom Savage came to the rescue. My top pick was Baltimore on a short week over the visiting Philadelphia Eagles. The Ravens tried their best to give that away, but Philly coach Doug Pederson -- good for him! -- opted to not pull a Fox move and went for the 2-point conversion and win. It didn't work.
The biggest surprise had to be Kansas City losing 19-17 at home in subzero temperatures to Tennessee on a 53-yard field goal as time expired. If I'm a head coach, I'm not taking a timeout to ice a kicker. It doesn't seem to work and usually backfires. For example, in that game Chiefs coach Andy Reid did take a TO right before the snap, but Titans kicker Ryan Succop, a former Chief, kicked the ball and came up 5 yards short. Succop said he expected the timeout. Then Succop knew he could totally focus on the second kick without worrying about another TO and he made it. So I would play mind games with the kicker by not doing so as they probably expect the TO at this point and might not be 100 percent focused.
For Week 16, every game but two appears to have at least one team with motivation. There are still four playoff spots up for grabs in each conference (three division titles in each) and 22 teams officially still in contention for a trip to Super Bowl LI. Keep in mind that most games are Saturday and it's the final week of Thursday and Monday matchups. Recommended team listed first. And, boy, are there slim pickings.
First Down
Pittsburgh vs. Baltimore: Yes, the Ravens have won the past three meetings in this series as underdogs and already beat the Steelers once earlier this season. But Pittsburgh is rolling on a five-game winning streak and the defense is starting to play almost as well as the offense. The Steelers clinch the AFC North with a victory.
Second Down
New England vs. NY Jets: Obviously the Patriots would be the top choice, but they were used by me and no doubt you weeks ago. And I actually think the Jets can play them somewhat tough unless the players have totally tuned out potential lame-duck coach Todd Bowles, which is possible after last week's result against Miami.
Green Bay vs. Minnesota: Last year, the Atlanta Falcons started 5-0 and missed the playoffs. You can go ahead and put the 2016 Vikings in the same boat. The Packers are starting to look like a Super Bowl contender and won't lose at Lambeau a second straight year in this series. Green Bay is in control for the NFC North Division and can claim the title with wins in each of its final two games.
Seattle vs. Arizona: The Seahawks still have the No. 2 seed in the NFC to play for, while the Cardinals are playing out the string. Alas, I've already used Seattle.
Buffalo vs. Miami: I am very much thinking of vaulting this to my top spot -- you might have used the Bills last week against Cleveland. Buffalo still does have an outside shot at a playoff spot and I never recommend a warm-weather team like the Dolphins playing in a cold-weather outdoor locale this time of year.
Tennessee at Jacksonville: I haven't used the Titans this year, but some of you may have when they hosted Cleveland in Week 6 or Jacksonville in Week 8. I am pondering Tennessee this week, but do I trust this long-time downtrodden franchise to win an important road game? Could there be a letdown off that unlikely victory in Kansas City? Will the Jaguars play with more fire after dumping Coach Gus Bradley? Probably too many questions here.
Third Down
NY Giants at Philadelphia (Thursday): The Eagles have nothing to play for, but home teams do win these Thursday games much more often than not. But Big Blue locks down a playoff spot with a win and should pull out a close one.
Washington at Chicago: There is probably one tier of five top prospects for the 2017 NFL draft and then a drop-off. The Bears need to get one of them (not LSU running back Leonard Fournette, though). Thus they can't ruin that by winning here. But I'm not all that confident in the Redskins after how they looked on Monday at home and on an extra-short week.
Carolina vs. Atlanta: The Panthers have looked like defending NFC champions the past two weeks and actually still have long-shot playoff hopes, although it would take divine intervention. It does appear Atlanta will get top WR Julio Jones back, but I'm not high on Matt Ryan outside his dome this time of year.
Oakland vs. Indianapolis: My guess would be that this is the highest-scoring game of the season between two of the NFL's best young quarterbacks in the Raiders' Derek Carr and Colts' Andrew Luck. Indy has to have this for its playoff hopes, but Oakland still has a division title and first-round bye to play for.
New Orleans vs. Tampa Bay: Both these teams are still fighting for playoff spots, although New Orleans needs to win out and have about eight other things break right. I guarantee you that the final score here won't be Bucs 16, Saints 11 as it was two weeks ago in the Tampa rain.
Houston vs. Cincinnati: Coach Bill O'Brien is sticking with Savage, a 2014 fourth-round pick, as his starter this week. As he should as Brock Osweiler has resembled Ryan Leaf this season, and I don't mean to offend Leaf. I don't really trust Savage all that much, but the Bengals have nothing to play for.
Dallas vs. Detroit (Monday): If the Giants lose on Thursday, I'd go put some money on this game if you are a Lions backer. That's because the Cowboys would have nothing to play for as they would have wrapped up the NFC East and home-field advantage throughout. The Lions can clinch a playoff spot with a win and a bit of help.
Kansas City vs. Denver: These two played a wild second half and overtime in Denver a few weeks ago, won by K.C. The Broncos need to win out to have any shot at defending their Super Bowl win, but the Chiefs won't lose a second in a row at Arrowhead after last week's Titans shocker. K.C. is in the playoffs with a victory.
Fourth Down
Los Angeles vs. San Francisco: I'd rather watch "Small Wonder" reruns while getting my wisdom teeth pulled than pay one iota of attention to this game.
Cleveland vs. San Diego: I actually will be interested in this one. I grew up in Michigan and many Lions fans I know want the Browns to win a game so the 2008 Motor City Kitties can remain the NFL's only team to go 0-16. Lions Pride! Will those fans pop some champagne like members of the 1972 Dolphins do when the final unbeaten team loses every NFL season? Not sure the Chargers' delegation wants to be in Cleveland on Christmas weekend in a meaningless game. Not sure any delegation wants to be in Cleveland on Christmas weekend.
Great offer! Doc's Sports has been a leader in NFL handicapping for more than four decades, and we are offering new clients $60 in free picks for any NFL handicapper on Doc's Sports Web site. You cannot afford to miss out on this great offer - click here.