NFL Survivor Pool Picks and Advice: Week 17
by Matt Severance - 12/28/2016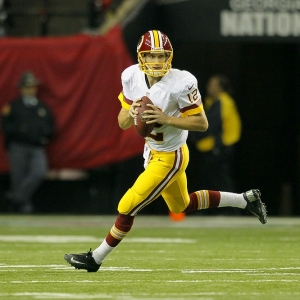 Well here we are, the final week of the NFL's regular season. Here's hoping you are still kicking in your Survivor Pool competitions or have won it already. I am alive in one of my three, which perhaps makes up for losing in the semifinals of both fantasy football leagues (freaking Doug Martin and Melvin Gordon). And I need a really good week in my main Confidence Pool to make up the 20 points I'm behind the season leader. Huh, I can't figure out why my wife complains I'm not all that attentive to her needs during football season. Guess I'm a little preoccupied. Love you honey, we'll do something after March Madness!
There's a reason most fantasy football leagues have their Super Bowl before Week 17: because you simply don't know which starters will play in the regular-season finales on those teams either eliminated from the playoffs like my Chicago Bears or locked into a playoff seeding no matter what, like the Dallas Cowboys. New York Giants, Houston Texans or Pittsburgh Steelers this week. You have the same issue in looking at Survivor Pool possibilities. The Cowboys might play their starters because they have a bye in the wild-card round, but they aren't going to be in there the entire game. The Giants and Steelers figure to rest all of their key guys because they don't have the bye week in the postseason. I don't really care about the Texans.
So it's vital you latch on to teams with all the motivation in the world this week. For example, the Washington Redskins host the Giants and the Skins are the NFC's final wild-card team with a victory. If that does happen, then the Sunday night Packers at Lions matchup is a win-or-go-home game. The NFC North title is on the line and the loser can make golf plans. The Atlanta Falcons also are duly motivated on Sunday as they are the No. 2 seed in the NFC with a victory over visiting New Orleans.
You should also steer clear of teams with interim coaches as those guys obviously want to win games and will play the best players so they have a shot at the full-time gig. So that would be Jacksonville with Doug Marrone and Buffalo with Anthony Lynn. I'm not including the Rams because their interim coach has no shot at getting the job.
First Down
Washington vs. NY Giants: The G-Men are the NFC's No. 5 seed and probably go to Green Bay in the wild-card round as I expect the Packers to win in Detroit to claim the NFC North and No. 4 seed. Maybe Eli Manning starts this game just to keep his impressive consecutive starts streak going. He's at 198, 10 behind his brother's best mark. Brett Favre's 297 in a row is safe for quite a while. The Redskins are obviously all-in here.
Second Down
Seattle at San Francisco: The Seahawks can get the No. 2 seed in the NFC with what should be a victory here, but they also need Atlanta to lose at home to New Orleans. This surely will be the final game as a 49er for Colin Kaepernick.
Atlanta vs. New Orleans: See the Seahawks above. The high-flying and dome-playing Falcons could avoid playing any outdoor weather games in the playoffs with a win here because they would be the NFC's No. 2 and thus only could travel to Dallas (NFC title game) or Houston (Super Bowl).
Tampa Bay vs. Carolina: The Bucs have a shot at the playoffs but need to win and have about six other things happen, including a tie in the Giants-Redskins game and meteors crashing into like four NFL other stadiums on Sunday. But the Panthers have already mailed it in and I'd be moderately surprised if a beaten-up Cam Newton plays. Oh, and thanks Dirk Koetter for randomly making Martin inactive last week. Appreciate it.
Third Down
Green Bay at Detroit: Sorry all those Lions friends of mine. Detroit isn't going to win its first division title or get its first playoff home game since 1993. Matthew Stafford's middle finger injury a few weeks ago against Chicago killed the Motor City Kitties' chances of those.
New England at Miami: The Patriots are playing for the No. 1 seed in the AFC. Dolphins coach Adam Gase says he's playing all his healthy guys as Miami could get itself a better wild-card round matchup in Houston instead of Pittsburgh with a win and some help.
Oakland at Denver: The Raiders need this for the No. 2 seed and the Broncos don't care whatsoever, but I don't have Oakland higher because new starting QB Matt McGloin shouldn't be starting in the NFL. Or Arena League for that matter. Just a devastating loss with Derek Carr breaking his leg last week.
San Diego vs. Kansas City: The Chiefs would win the AFC West and get the No. 2 seed if Oakland loses in Denver. But this should matter a great deal to the Chargers players in what is expected to be the final NFL game in San Diego. Say hello to the L.A. Chargers next month.
Fourth Down
Cincinnati vs. Baltimore: Nothing to see here. Both teams are playing out the string. I'm assuming it will be Marvin Lewis' final game as the Bengals' head coach. It should be.
Tennessee vs. Houston: Texans coach Bill O'Brien says he's playing to win here. Yeah right. The Texans are the AFC's No. 4 seed. They are planning to start QB Tom Savage, but he has barely played in the NFL and needs the reps. Sounds like No. 1 running back Lamar Miller might sit with an injury. The Titans got the double-whammy last week of being eliminated from the playoffs and losing Marcus Mariota for 4-5 months to a broken leg. They should be legitimate AFC contenders next season, however. Think of this year's version of the Raiders.
Jacksonville at Indianapolis: Marrone got his guys to play their best game of the week in his interim debut last week against the Titans, an easy Jags win. Meanwhile, the Colts are likely suiting up one last time for a lame-duck coach in Chuck Pagano.
Minnesota vs. Chicago : For the love of God, don't win this game Bears. They get the No. 3 overall pick in the 2017 draft with a loss but could slip all the way to No. 6 with a victory. The Vikings don't give a hoot here and don't even have their first-round pick (Philadelphia). But the Bears are winless on the road for a reason.
Buffalo at NY Jets: The Bills canned head coach Rex Ryan and his brother/defensive coordinator Rob Ryan on Monday and named Lynn the interim coach. He has a good shot at the full-time gig. But for some reason the Bills are choosing to start former first-round bust EJ Manuel at quarterback. I get why you aren't going with Tyrod Taylor because if he suffers a major injury then he gets some $30 million guaranteed. But why not take a look at rookie Cardale Jones? I still don't think the Jets can beat Manuel because they have cashed out.
Philadelphia vs. Dallas: The Eagles would be a team that has nothing to play for but wants to teach its young quarterback, Carson Wentz, how to win. So while I think this will matter to Philly, I expect Jason Garrett to get the likes of Dak Prescott and Ezekiel Elliott out of there after a half. Will we see Tony Romo? Not sure you can risk injury with him for the same contract reasons as the Bills' Taylor.
Pittsburgh vs. Cleveland: This one has probably the least motivation of all. Steelers QB Ben Roethlisberger already has publicly said he would like to see all the guys rest up this week. The Browns absolutely don't want to pull the upset as then they are likely to lose the No. 1 overall pick in the draft to San Francisco. Cleveland got that lone win out of the way last week. Mail it in boys.
Arizona at Los Angeles: Will this be the finale for Carson Palmer and Larry Fitzgerald as Cardinals and perhaps even NFL players? That's about the only interesting thing to mention here other than speculating who the head coach of the Rams will be the next time they take the field. I don't think it will be Jon Gruden.
Doc's Sports has been successfully handicapping the NFL for years - more than four decades in the business - and wants to give new clients a chance to try our service for free. Click here for the hassle-free sign up and get $60 in free NFL picks today .