NFL Survivor Pool Picks and Advice: Week 2
by Matt Severance - 9/14/2016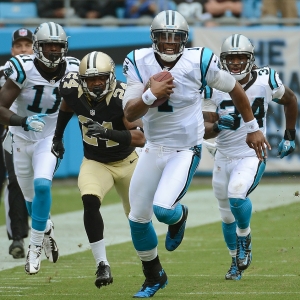 If you followed my advice last week and steered clear of Week 1's biggest favorite, Seattle at home against Miami, how excited were you that the Dolphins were leading 10-6 with under a minute left in the Pacific Northwest? Or if you watched the game, that analyst Dan Fouts said the winning 6-yard touchdown pass to Doug Baldwin (my fantasy team thanks you) was going to come back because of offensive pass interference?
I like Fouts, but he was completely wrong as the touchdown stood and Seattle escaped 12-10, looking nothing like one of the NFC favorites in the process, however. I didn't like the Seahawks as my Survivor Pool choice because I figured everyone would take them -- I did make them No. 16 in my Confidence Pool -- and pretty much everyone did in my competitions. Oh well.
It was a fantastic Week 1, with six games decided by two points or fewer, the most of any week in NFL history. It's not that easy to see games decided by fewer than 3 points, but there were a lot of unusual numbers, like Seattle's 12 points, Cincinnati's 23, the NY Jets' 22, Dallas' 19, New England's 23, etc.
There were no really big upsets that likely cleared out any Survivor Pools in Week 1. The Chiefs probably were a popular choice as well and they were down 21 points at home to San Diego but rallied to win 33-27 in OT in the biggest comeback in team history. The Patriots were 6-point dogs, but I hardly call their win in Arizona a big upset. I decided to stick with Houston over Chicago as my top pick. My Bears played well for a half but then remembered who they were and lost 23-14. When do the Blackhawks start? But probably my most accurate pick was to simply ignore that Rams-49ers game, and it was one of the worst "Monday Night Football" performances I've ever seen.
So here are the picks for Week 2 with the recommended team listed first.
First Down
Carolina vs. San Francisco: This is one of the no-brainer picks of the season as the Panthers are on extra rest, PO'd off their loss in Denver, and the 49ers on a short week. But might the Panthers be a bit flat off that huge Week 1 game and crushing ending? Might the Niners actually be better than we thought? I doubt both, but you might want to play defense here because it will be a popular pick.
Detroit vs. Tennessee: A typical Lions team would come off a big win like last week's in Indianapolis and then play like crap and lose a game like this. Maybe these Lions are different and they are the team that finished last season strong. Restore the Roar!
Second Down
Baltimore at Cleveland: How are you feeling by passing on Carson Wentz now, Browns? Robert Griffin III's Cleveland tenure lasted one game as he's out at least eight games with a broken bone in his non-throwing shoulder. Much like the Cubs with the Curse of the Billy Goat, the Browns need to get some sort of exorcist on the payroll to solve their pathetic quarterback luck since returning to the NFL in 1999. Josh McCown takes back over as the starter. He might actually be better than RGIII at this point.
Arizona vs. Tampa Bay: Wish I had Jameis Winston in my dynasty league as he's going to be a superstar. But winning in the desert is a bit different than winning in Atlanta.
New England vs. Miami: There's no way I would make this my top pick. Jimmy Garoppolo and the Pats were very impressive with that win at the Cardinals, but will they have Rob Gronkowski and those two injured starting offensive linemen back? The Dolphins looked great defensively in Week 1. An upset here wouldn't stun me. Now the Fins have tape on Garoppolo.
Third Down
NY Jets at Buffalo (Thursday): Way too even a matchup to put in any other category. Bills have the advantage of being at home and the fact they won both meetings last year by the same 22-17 score. But they looked Rams-like offensively in Week 1 and Sammy Watkins is hurting again.
Pittsburgh vs. Cincinnati: Arguably the game of the week. Over/under of ejected players: 2.5. These teams hate each other, and the Steelers will want some vengeance for what the Bengals did to Antonio Brown in last season's wild-card game. Although the guy responsible for that hit, Vontaze Burfict, is suspended.
Washington vs. Dallas: It's not quite as easy in the regular season as the preseason, eh Dak Prescott? I was thrilled my competitor in one of my fantasy leagues started him against the Giants. Prescott wasn't terrible, but he wasn't good, either, and is the 29th-ranked QB in the NFL by rating. I thought the Redskins were vastly overrated last year as was Kirk Cousins. Both looked true on Monday night in a home blowout loss to Pittsburgh. I only like the Skins here because they are home.
NY Giants vs. New Orleans: Don't care who wins this game, only that both Drew Brees and Eli Manning have games like they did when the teams faced off in the Superdome last season in the third-highest scoring game in league history.
Houston vs. Kansas City: The Texans will really want this one after being beaten twice at home by the Chiefs last season, including an embarrassing 30-0 b***h--slap in the wild-card game. That Kansas City defense looked quite vulnerable without a couple of key guys vs. San Diego.
Jacksonville at San Diego: The Chargers were the biggest losers of Week 1, blowing that huge lead in Kansas City and then losing brittle-but-excellent receiver Keenan Allen to another season-ending injury. So long, Mike McCoy!
Oakland vs. Atlanta: Jack Del Rio is my favorite NFL coach right now after he had the stones to go for that 2-point conversion in the final minute in New Orleans to win. Not sure any other head coach in the NFL would have done so. That victory could set a positive tone for the entire Raiders' season.
Denver vs. Indianapolis: Potential letdown game for the Broncos, but the extra rest should help alleviate that. The Colts are who we thought they were: great on offense behind Andrew Luck but with nothing else of substance.
Green Bay at Minnesota: Sunday night game and the Vikings' first that matters in their cool new stadium. The Vikings offense didn't look good at all in Tennessee, but the defense scored twice. Not sure who starts at QB, Shaun Hill or Sam Bradford (I think him), this week, but, yeah, I'll take Aaron Rodgers over either one.
Fourth Down
Seattle at Los Angeles: I may keep the Rams here all season -- Los Angeles waited 22 years for this? Utterly unwatchable offense. The Rams had 14 possessions in San Francisco on Monday and they ended, in order, punt, punt, punt, interception, punt, punt, punt, punt, punt, punt, interception, punt, turnover on downs. It's not like the 49ers are the 1985 Bears on defense. I feel sorry for those of you who drafted Todd Gurley. And if Case Keenum is on your roster, you should be kicked out of your league and forced to get a unicorn on a rainbow tattoo. But I might actually give the Rams a shot to win 2-0 here if Russell Wilson sits out with a sprained ankle.
Chicago vs. Philadelphia (Monday): I guess I'll watch the Bears since it's on nationally. But the only interesting thing here is to see if Wentz is for real or if he simply shined because he faced the sorry Browns in Week 1. Bears' Magic Number for No. 1 overall pick in 2017: 15.
Great offer! Doc's Sports has been a leader in NFL handicapping for more than four decades, and we are offering new clients $60 in free picks for any NFL handicapper on Doc's Sports Web site. You cannot afford to miss out on this great offer - click here. Also, get three handicappers for the price of one when you sign up for a full-season football package! Click Here for details.