NFL Survivor Pools Strategy Advice and Predictions: Week 7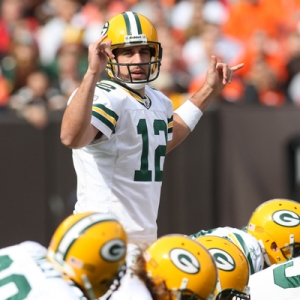 This is most likely the last time this year that I will take a look at NFL Survivor Pools, although Matt Severance will continue his weekly column here at Doc's Sports. By this point a lot of people are already out of their pools - and potentially out of second- and third-chance pools as well. Last week's loss by the Steelers against Miami was a big one - well over a third of all players picked Pittsburgh, so it was a pool killer. There was no way to know that Big Ben's knee would vaporize or that Landry Jones would be so incapable of being a competent replacement this time around when he has been so solid in the past. Now not too many people are still in their pools, and those that are probably don't need much more help. So, after this last edition we'll pack it in for another year and be back in September. Let's go out with a bang, shall we?
Green Bay vs. Chicago (Thursday night): We can get this last week of Survivor Pool play out of the way before the real football action even gets started. Brian Hoyer wasn't particularly horrible on Sunday against the Jaguars, but they still managed to lose at home to a not particularly good team. The Bears are just 1-5, and they don't really deserve any better than that. They are not a good team. Green Bay isn't nearly as good as they should be, either. They lost a dud of a game last week at home against the Cowboys, and they generally haven't looked as sharp this year as they should be or as they have in recent years. They kind of look a little old, in fact. They are much better prepared than Chicago to deal with a short week, and they are at home as well. This is precisely the kind of game that the Packers should be capable of winning, and they are probably the most comfortable pick on the board this week.
Cincinnati vs. Cleveland: You would think that this should be a really, really easy pick. After all, the Browns haven't won yet and aren't likely to change that any time soon. They are a bad team. And the Bengals are a consistent playoff squad. This should be a total mismatch - a joke of a contest, and a very easy pick here. There are a couple of problems, though. For one, despite all of their issues the Browns have shown glimpses of not being absolutely horrible lately. They are a long way from good but just not as horrifyingly awful as they had been. This week, for example, they lost to a pretty bad Tennessee team, but Cody Kessler threw for 336 yards and two touchdowns. That was good for 8.2 yards per attempt, which is a fully acceptable performance. Combine that kind of capability with the emergence of Terrelle Pryor as a legitimate offensive force and you have a team that could happen into a win one of these days.
A more significant issue, though, is that the Bengals just aren't any good. They are obviously better than the Browns, but the gap isn't nearly as wide as it should be. They were humiliated by the Patriots this week, and it was their fourth loss in six games. They are far from tough, they have big flaws on both sides of the ball, and coach Marvin Lewis, who should have been fired in the eyes of many -- including me -- after last season, is likely on a very hot seat. On paper they should win this one going away, but they are a total mess. I like to think about Survivor Pools in this way - if I woke up the next morning and saw that a team had lost would I feel any particular surprise? If the answer is no then they are a lousy pick. The Bengals are a big betting favorite here, but it wouldn't be the least bit shocking for them to blow this one. I'll pass.
New England at Pittsburgh: The Patriots are likely off the board for most Survivor Pool players, so I don't want to spend too much time on this one. It is interesting, though, because it shows how quickly things can change in this league. If you'd asked Sunday morning I would have said that this was an impossible game to play - both teams were too good, and the gap was too tight to make anything possible. With the tearing of one meniscus, though, it all changed. The Steelers will be without Ben Roethlisberger, and they have shown this year that they cannot seem to function well when Roethlisberger isn't playing well. On the other hand, the Patriots are playing extremely well and would be in good shape in this one even if Big Ben was healthy. Now they are in great shape. If I could take the Patriots I would happily do so.
Doc's Sports is offering new clients free NFL picks from any handicapper on our Advisory Board. This special offer does not require a credit card, and you will never have to deal with a salesman. Click here to get your free $60 NFL picks credit today. Also, get three handicappers for the price of one when you sign up for a full-season football package! Click Here for details.
Read more articles by Trevor Whenham