NHL Betting Advice: Best and Worst Teams for Wagering
by Victor Ryan - 11/15/2016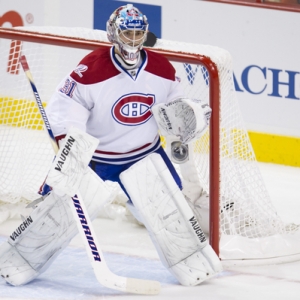 With a month of the season now in the books, it's time to take a closer look at what have been to this point the best and worst bets in the NHL. The unquestioned leader at the top is the Montreal Canadiens, whose red-hot start has rewarded backers to the tune of 10 units in profits already.
Let's get started.
Best Bets in NHL (through 11/13)
Montreal Canadians (13-3, +10.0 Units)
The Canadiens suffered just their second loss of the season in regulation when falling to the Blackhawks 3-2 on Sunday. Of course, Chicago got a huge boost in that one when Montreal gave Carey Price the night off in net. Price is considered by most the best goalkeeper in the world, and this season he's played like it. The 29-year-old native of Canada has gone 10-0-0 with an incredible 1.57 goals-against average and .957 save percentage. He tops the NHL in all three categories.
It hasn't been just Price between the pipes propelling Montreal, either. The Canadians rank third in scoring with 3.3 goals per game, and their 22.9 power play percentage is the seventh-best in hockey.
This week the Canadiens host the Florida Panthers on Tuesday, play Carolina on the road on Friday and return home to host Toronto on Sunday.
Chicago Blackhawks (11-5, +5.0 Units)
Any talk of the best days being behind the Blackhawks appears to have been premature. Chicago-which hoisted the Stanley Cup in 2010, 2013 and 2015-has won nine of 10, including the aforementioned win over Montreal on Sunday.
Led by the attacking duo of Marian Hosa and Patrick Kane, the Blackhawks rank third in scoring with 3.3 goals per game. Hosa's nine goals on the season ranks among the league leaders, while Kane is second in the NHL in scoring with 18 points (6 goals, 12 assists).
This hot start has come at an opportune time. Next up for the Blackhawks is the two-week "circus road trip" with stops in Winnipeg, Calgary, Vancouver, Edmonton, San Jose and Los Angeles. Chicago doesn't play another home game until Nov. 29.
Other hot NHL bets: New York Rangers (12-4, +5.0 Units), Boston Bruins (10-6, +4.8 Units), Pittsburgh Penguins (10-5, +3.6 Units)
Worst Bets in NHL (through 11/13)
New York Islanders (5-11, -7.2 Units)
This wasn't the start New York was looking for. Tabbed by many as a team on the rise after winning their first playoff series since 1993 a season ago, the reeling Islanders have gone 2-7 since late October. They are also the only team in the league without a road win this season (0-4-1). A big issue has been New York's 3.0 goals-against average, which ranks 24th in the NHL. Jaroslav Halak (3-4-3, 3.0 GAA, .907 SV%) and Thomas Greiss (2-3-0, 2.71 GAA, .909 SV%) have split time in net, and neither has been particularly effective.
New York has certainly dug itself an early-season hole, and the climb out won't be easy, either. On deck for the Islanders are games against Stanley Cup contenders Pittsburgh followed by a three-game trip to California. There are no easy wins in that group. If the Islanders don't get their house in order, this could quickly devolve into a lost season.
Carolina Hurricanes (4-10, -6.2 Units)
The Hurricanes finally showed signs of life over the weekend with a 5-1 throttling of the Capitals that snapped a three-game losing streak. Still, it's been a rough start for Carolina. The Hurricanes rank 25th in scoring defense (3.2 GAA). And to add injury to insult, star defenseman Justin Faulk was recently placed on the injured list with an upper body injury. No return date was revealed for the two-time All Star.
Injuries on the blue line is exactly what the Hurricanes didn't need given the struggles in net. Goalie Cam Ward (3-4-3, 2.76 GAA) had a sub-.900 save percentage prior to stopping 20 shots against the Capitals on Saturday, which pushed it to a still-unacceptable .901.
Next up for the Hurricanes is a tough three-game homestand. They host San Jose on Tuesday, Montreal on Friday and Winnipeg on Sunday. Until Carolina can get things cleaned up in its own zone, bettors should steer clear of this outfit.
Other cold NHL bets: St. Louis Blues (7-9, -5.7 Units), Calgary Flames (5-11, -5.1 Units), Dallas Stars (6-10, -4.8 Units), Nashville Predators (6-8, -4.1 Units)