NHL Handicapping: How to Bet Montreal Canadiens after Hot Start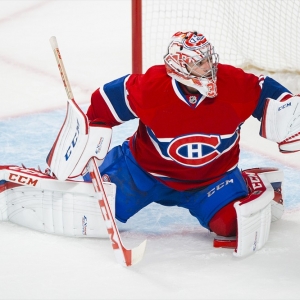 The Montreal Canadiens had a bit of a turbulent offseason, capped by the drama of shockingly trading away their most visible star and one of the most charismatic stars in the league in P.K. Subban. All of that made it very tough to get a sense of what to expect from this team heading into the season. The East is deep and tough. They could have been right in the mix, or they could have been on the outside looking in.
No matter what you might have expected, though, you couldn't have seen this start coming. They have a loss and an overtime loss in their last two, but that only drops them to 13-2-2 on the season. Their 28 points are the best in the league. They think that they are the Golden State Warriors or something. So, what's in the water up there in La Belle Province? Can they keep it up? Or will they come crashing back down to earth? Can bettors trust them? Should they?
Here are six factors to consider when taking shots at answering those questions:
Price: Carey Price is the best goalie on the planet right now. I'll go further - in four decades of hockey watching I have seen a whole lot of great goalies, but none are measurably better or more significant than Price. After winning MVP honors two seasons back, much of last season was lost to injury. His absence was felt, and the nature of the injury made it uncertain if he would be ready for action this year. After winning the World Cup with Canada before the season, though, Price has been back in all of his excellence. He is at or near the top in all goaltending categories again right now. He's so much more than just that, though. He brings a swagger to this team - when he is in net they know that they are in good hands, and they don't let anything bother them. No guy in the league right now is any more important to his team as Price, and as long as he stays healthy and in action the team will never falter too badly.
Weber: Trading P.K. Subban to Nashville for Shea Weber was a truly shocking trade in a league that rarely has those - most trades have been telegraphed and dissected for days or weeks before they happen. At the time and all through the summer Montreal was panned. To get rid of a guy that they, for some reason, thought of as a locker room detriment when the rest of the league viewed him as an ambassador, they got back a guy who is older, viewed less flatteringly by analytics, and less likely to be valuable over the long term. It didn't seem like a great strategic trade. That may wind up being the case in the long term, but no one in Montreal is complaining right now. Weber leads the team in goals and has generally been brilliant for the Habs. Whether it's his addition or the absence of Subban, the formula they have right now is obviously working for them.
Radulov: The Canadiens seem more inclined than most teams to take a flyer on a guy with baggage that could easily eclipse their upside. Last season they brought in Alexander Semin, a wildly-talented mental case, and it didn't work out - he lasted just 15 games. Instead of swearing off flaky Russians, Montreal doubled down, bringing back Alexander Radulov. Radulov had two previous stints with Nashville that both ended badly and were marred by his immaturity. He's been an offensive force in Russia, though, and so far he is being both a star citizen and a star player in Montreal. He has 14 points in 16 games and has been a big part of the success of this team. There is no guarantee that he can stay on the straight and narrow, but if he really does want this chance as he has indicated then he could be a huge asset.
Resilient: Strange things happen in the NHL, and that has especially been the case this year because, thanks to the World Cup, teams are playing compacted schedules. It made no sense at all, for example, when on Nov. 4 the Canadiens ended an eight-game winning streak by losing to Columbus 10-0. It was a bizarre game. Games like that can totally shatter the confidence of a hot team and bring them back to earth. Not in this case. They came out the very next night and beat Philadelphia, launching another four-game win streak. The team doesn't let things bother them right now - a huge asset for teams looking to compete and contend.
Home ice advantage: The Habs have played a home-tilted schedule - their 11 home games in 17 outings is tied for the most in the league. Given a chance like that teams really need to take advantage, and Montreal certainly has. They are unbeaten in the home of poutine - 10-0-1 in those 11 games. They can't likely maintain that blistering pace, but they are very likely to keep taking advantage of their opportunities at a high rate at home, and that is a big advantage.
$60 worth of member's NHL picks absolutely free - no obligation, no sales people - you don't even have to enter credit card information. You can use this $60 credit any way you please on any of our top hockey handicappers. Get your free picks by clicking here! Also, for a limited time get three hockey handicappers for the price of one! Click here for our 3-for-1 NHL picks offer.
Read more articles by Trevor Whenham