NHL Handicapping: Surprising Success for Florida Panthers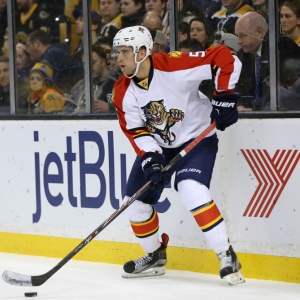 At the halfway point of the NHL season, the Florida Panthers are running away with their division. Mostly, anyway - they have a solid six-point lead over Detroit. It s hard to believe that that is possible, but it's true. The Panthers - eternal whipping boys in the league except for that one year they somehow made the finals and everyone threw rats - are legitimate. Contenders. All but certainly a playoff team. Amazing. Surprising. For bettors, of course, there are two questions that need to be explored - how are they doing it, and if they can keep doing it? Once you understand why something is happening you can evaluate whether it will keep happening and profit whether you think it will or won't - as long as you are right:
Draft picks working out: When you have been bad for as long as Florida has been, you get a lot of high draft picks. Now, Edmonton is proof that high picks don't always lead to high performance. Since 2009, though, the team has drafted very well in the first round - the picks that really matter. 2009 pick Dmitri Kulikov is a defenseman who plays 20 minutes a game. In 2010 they took another 20-minute-a-game defender in Erik Gudbranson and useful forwards Nick Bjugstad and Quinton Howden in the first round. 2011 brought center Jonathan Huberdeau, who leads the team in assists and is second in scoring behind only Jaromir Jagr. In 2012 they drafted low, and the pick hasn't paid off yet - Mike Matheson played three years at Boston College after being drafted, and now the defenseman is performing well in the AHL. They next year they took another center, Aleksander Barkov, who is third in scoring for the squad. 2014 brought Aaron Ekblad, who is already one of the better defensemen in the entire league even though he is still a teenager. He is going to be a megastar. 2015 pick Lawson Crouse is still in junior where he is averaging better than a point a game - even though he is not primarily an offensive forward. Add it all up and that is a remarkable run of drafting - as good as any team has had over that period. When you draft good players, you can develop them your way, and you can afford them for a long time. It's the biggest single reason for their success - and the future is very bright for all of these guys.
Veteran presence: Not to keep picking on Edmonton, but the Oilers have proven that you can't pick uber-talented youngsters and then expect them to carry the load themselves. It doesn't work. Management has done a great job of complementing the youngsters with the right kind of veterans - smart, character guys who both teach and lead. Brian Campbell and Willie Mitchell have both been fantastic on defense and are two of the biggest reasons why Ekblad, Kulikov and Gudbranson are all developing so nicely. Dave Bolland has won two Cups in his career and has been an excellent addition this year. Jaromir Jagr - the only player in the NHL older than me - is playing like a guy half his age, and both keeps things light and shows guys how hard even freakishly-talented guys have to work in this league to stay ahead. Roberto Luongo has found his place again after some rough years in Vancouver, and is another big reason the defense has been as good as it has. It's the near-perfect complement of veterans for the youngsters - productive and full of leadership and wisdom. Management for this team is very good.
Well coached: Gerard Gallant was a good NHLer - playing 615 games, earning 480 points, and playing alongside the great Steve Yzerman for years. He earns the respect of his veterans that way - they grew up watching him. After a disastrous first head coaching stint in Columbus, he went back to junior hockey. In three seasons he was named Coach of the Year in the entire Canadian Hockey League - 60 teams - twice, and he won the Memorial Cup as top team in the CHL once. There he obviously learned how to work with and develop young players. He's the ideal fit for this squad, and the results in this, his second year, and proof.
Softer-than-normal division helps: The Atlantic Division isn't great this year. Montreal has struggled badly without Carey Price. Tampa Bay can't get out of their own way. Boston has been mostly bad. Ottawa is nothing. Toronto and Buffalo are disasters. Detroit is the second-best team in the division, and they are hardly good this year. They would not be doing as well in any other division.
It's about later: Perspective will be very important here. This is a young team at the core. They aren't built to be the champs this year. It's a process. They are learning how to win. Any success they have this year is a bonus - as long as they show progress. The more the players can remember that, the better off they will be.
Crowds aren't flocking to see them: Who ever would have guessed that Miami wouldn't be an ideal hockey market? Shocking. This team is very fun to watch, and they are winning a lot, yet they still aren't drawing fans. It is better than it used to be, but they are still only 26th in the league in attendance - they draw just over 14,000 per game. A team like this should be developing a massive home-ice advantage. It hasn't materialized - which is one reason why they are basically the same team away from home as they are at home.
Read more articles by Trevor Whenham