NHL Hockey Odds and Picks: Scouting the Week Ahead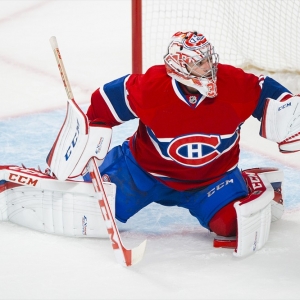 Here's hoping you didn't place a bet on the Montreal Canadiens to win the Stanley Cup early this season when the Habs looked unstoppable for a while and became the betting favorites to hoist the Cup.
The season went downhill once star goalie Carey Price, the reigning Hart and Vezina Trophy winner, went down with an injury, and last week came news out of Canada that Price won't return this season. The team thus far has denied that media report. Price has been out since suffering a lower-body injury Nov. 25 against the New York Rangers. He was expected back early last month. A Montreal newspaper said Price has a torn MCL in his right knee. Price has been participating in light skating for weeks but hasn't even donned the goalie equipment. The last statement from the team came from general manager Marc Bergevin on Jan. 21 when he suggested that Price would be sidelined for another three to four weeks.
The Habs were 17-4-2 (NHL-leading 36 points) following a win in Price's final game before the injury. Now they are 27-25-4 (58 points) and not even holding a playoff spot. Price was 10-2-0 with a 2.06 GAA and .934 save percentage. Now Montreal ranks 19th in GAA at 2.7 per game. The Canadiens acquired goalie Ben Scrivens from Edmonton in late December and he's been pretty good thus far but doesn't have the track record to feel confident about that continuing the rest of the way.
Montreal is +2500 to win the Cup at Bovada.
Stamkos Staying Put
The NHL trade deadline is Feb. 29 (yep, it's a leap year), but one guy who apparently won't be on the move is Tampa Bay star Steven Stamkos. He's the kind of talent who would have altered Cup odds for any team he would have gone to, but Lightning GM Steve Yzerman says he's not trading Stamkos even though he could walk away this summer as an unrestricted free agent. You keep hearing that Stamkos wants to sign with his hometown Maple Leafs, who recently made a big trade with an eye on clearing salary-cap space to lure Stamkos. He has said he wants to stay in Tampa, but what else would he say? Stamkos is looking for a deal worth about $10 million a year like those signed by Chicago stars Jonathan Toews and Patrick Kane.
Stamkos will get that kind of money from someone even though he's having a moderately disappointing season with 22 goals and 20 assists. One reason the Lightning haven't re-signed him yet is they are concerned about the impact his salary hit will have on their ability to sign others. The Bolts have a lot of talented guys coming up toward free agency, led by star defensemen Victor Hedman. I wouldn't rule out a trade just yet, but perhaps at the NHL draft in late June with the assumption that the acquiring team has a pre-arranged contract extension set with Stamkos. The Lightning would be dumb to deal him now as they still have a championship-caliber roster and are +700 third-favorites to repeat as Eastern Conference champions.
This Week's Games To Watch
Los Angeles at Washington, Tuesday: This could easily be a Stanley Cup preview, and it's currently the third-favored exact Cup matchup at +800. Washington continues to lead the NHL in points while the Kings are atop the Pacific Division. The L.A. players might be hitting a wall at this point as it's game No. 5 on a season-high seven-game road trip. The Kings are 2-2 on it after a 1-0 loss on New Jersey on Sunday. The Kings have played the last few games without star goalie Jonathan Quick due to a lower-body injury. It's not clear if Quick will play here against the league's highest-scoring offense and thus there's no opening line. The Caps had a five-game winning streak end Saturday in a 4-3 loss at Dallas. That was notable because it was just Washington goalie Braden Holtby's second regulation loss since Nov. 12. Holtby entered the game 27-1-3 since Nov. 12, with the only regulation loss Jan. 16 at Buffalo. First meeting of the season between the Caps and Kings.
Buffalo at Ottawa, Tuesday: Clearly Sabres forward Evander Kane isn't a very bright guy. He was suspended for this game after missing practice on Monday. Why wasn't Kane there? Because he apparently didn't make it back from Toronto on time after attending the NBA All-Star Game. Perhaps if he hadn't posted some pictures of himself as well as his tickets on his Instagram account, Kane could have had a better excuse for missing practice and not gotten suspended. He supposedly also posted (and later deleted) footage of his all-star partying on Snapchat. Kane has 16 goals and eight assists in 47 games this season. The Senators, on a three-game losing streak, are -145 favorites here.
Detroit at Pittsburgh, Thursday: Red Wings forward and future Hall of Famer Pavel Datsyuk reached the 900-point plateau for his career on Sunday. He's the sixth player in Red Wings history to reach that milestone, joining Gordie Howe (1,809 points), Steve Yzerman (1,755), Alex Delvecchio (1,281), Nicklas Lidstrom (1,142) and Sergei Fedorov (954). Pretty good company. On Monday, Datsyuk was named the NHL's first star for last week after collecting five goals and two assists in four games, helping his team to a 3-0-1 record. Might the Pens get back Evgeni Malkin by this game? He missed a sixth straight game Monday with a lower-body injury but is "making progress," according to Coach Mike Sullivan.
Chicago at Minnesota, Sunday : This game will be nationally televised by NBC at it's being held outdoors at TCF Bank Stadium on the University of Minnesota campus. As of now, it doesn't look like we will get snow during it, which is a shame. The forecast for Sunday afternoon is a high of 39 with a 20 percent chance of precipitation. The Blackhawks have lost first-line winger Marian Hossa for likely at least a couple of weeks to a lower left leg injury suffered on Saturday. Hossa has 28 points on the season and is four goals shy of 500 career. The Wild have been huge disappointments this season and it cost head coach Mike Yeo his job over the weekend. Minnesota entered Monday's game in Vancouver with one win in its past 14 games. John Torchetti, who was coaching the American Hockey League's Iowa Wild, has been named interim coach.
Read more articles by Alan Matthews