NHL Hockey Odds and Picks: Scouting the Week Ahead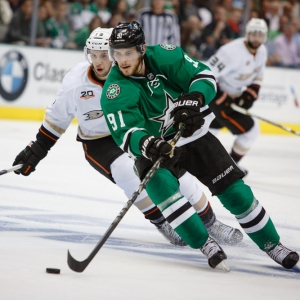 We are witnessing something pretty unusual from an individual perspective in the NHL this season that you may not be aware of.
Take a look at the NHL points leaders. You have Ottawa's Erik Karlsson tied for fourth in the league with 73 points while leading with 60 assists. And you have San Jose's Brent Burns 10th in points with 65. He has 26 goals. What's so unusual about that? Both are defensemen.
The last time two defensemen finished in the Top 10 in points was in 1973-74 when Bruins legend Bobby Orr finished second in scoring and New York Rangers blueliner Brad Park finished tied for ninth. No defenseman has led the NHL in assists since Orr in 1974-75 when he tied Bobby Clarke with 89. Only Orr and Paul Coffey have finished a season in the top three in points. No defenseman has scored 30 goals since Washington's Mike Green had 31 in 2008-09. In the last 10 years, only eight defensemen had even topped 70 points.
Presumably either Karlsson or Burns is going to win the Norris Trophy as the league's top defenseman, although it's not just about scoring. Karlsson has won the award twice, including last season when he had 21 goals and 45 assists. He also leads the league in average time on ice this season and 29:05 per game. The Norris Trophy has never gone to a defenseman whose team missed the playoffs, however. Ottawa doesn't look likely to make it. San Jose should and is still in the Pacific Division race. The Sharks are +650 at Bovada to win the Western Conference for the first time in franchise history.
Big Loss For Stars
Crushing loss for the Dallas Stars as they battle Chicago and St. Louis for the Central Division lead and potential No. 1 seed in the Western Conference. Stars center Tyler Seguin will miss three to four weeks because of a cut to his Achilles' tendon suffered on the skate of Tampa Bay defenseman Anton Stralman late in Thursday's game. General manager Jim Nill said that Seguin suffered a 15 percent cut, but that he should be back for the playoffs. For a point of comparison, Karlsson suffered a 70 percent tear in 2013 and it sidelined him 10 weeks.
"I can't really picture myself missing Game 1," Seguin said of the playoffs. "If I can come back for the last game of the regular season that would be quite the goal for me."
The Stars lead the NHL in scoring at 3.2 goals per game. Seguin is tied for fourth in the league with 73 points and seventh in goals with 33. Dallas currently leads the Blues by two points atop the Central and the Blackhawks by four. The Stars are +550 to win the West.
This Week's Games To Watch
Los Angeles at Minnesota, Tuesday: NBC Sports Network national TV game. It's the second of a back-to-back for the Kings, who entered Monday's trip to Nashville having had at least one point in seven straight games to pull away a bit from Anaheim atop the Pacific. They haven't won a division title in 25 years. Los Angeles is the first Western Conference team to clinch a playoff spot. Oddsmakers have taken notice as well as the Kings are now +300 favorites to win the West. The Wild are outside of the playoff field looking in currently. They have 79 points, one behind No. 2 wild-card team Colorado. The Wild are 11-6-1 under interim coach John Torchetti. They are 4-0 this season (not all under Torchetti) against Stanley Cup champion Chicago following Sunday's 3-2 shootout victory. The Wild and Kings have split two meetings in L.A. this season.
Boston at NY Rangers, Wednesday: This also is nationally televised on the NBC Sports Network. The Bruins are battling Florida, Tampa Bay and Detroit for the Atlantic Division title. The B's have dropped three straight -- all in California -- and are 16-16-5 at home compared to 23-10-3 on the road. The Rangers are trying to hold on to second place in the Metropolitan Division but they are just 4-4-2 over their past 10. Henrik Lundqvist has given up three goals or more in five straight outings entering Monday. Boston and New York meet for the final time in the regular season. They have split two one-goal games, each winning at home.
Philadelphia at Colorado, Thursday: The Flyers' chances for a wild-card spot took a hit when it was announced on Sunday that goalie Michal Neuvirth probably misses the rest of the regular season. He's dealing with a lower-body injury. Neuvirth is 28-17-8 with a 2.28 goals-against average and a .925 save percentage that ranks him fifth in the league. The Flyers still have Steve Mason, and he's not too shabby, but Mason can't play every single game. For example, the team concludes the regular season with four games in five nights, and every point matters. Rookie Anthony Stolarz is now his backup. He has never played an NHL game. The Avs may not have winger Nathan MacKinnon again here. He injured his knee in Friday's win over Calgary and missed Sunday's game. His 52 points rank second on the team.
St. Louis at Washington, Saturday: It's the Blues' only trip to the nation's capital this season. That Seguin injury for Dallas could help St. Louis more than any team as it appears to be the top threat in the Central Division with the Blackhawks in a funk right now. Goalie Brian Elliott returned to the lineup and made his first start Saturday since suffering an injury on Feb. 22, He shut out the Canucks. The Capitals have very little to play for at this point as they are going to finish with the most points in the NHL. They can clinch the top seed in the East this week and remain Cup favorites at +400. Thus, you might see the team put up a stinker or two the rest of the way. That was the case Sunday night in a 6-2 loss to Pittsburgh. St. Louis and Washington haven't played yet. They close the regular season against one another on April 9.
Read more articles by Alan Matthews