2016 NL West Predictions with Futures Odds and Expert Betting Analysis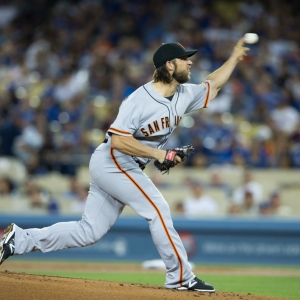 When I think of the National League West I think of a metal barrel. The type that a hobo would use to start a trash fire in an alley. But instead of burning trash or wood, I picture five men in suits standing around this barrel tossing money onto an open flame.
Last winter the San Diego Padres turned heads with some major offseason moves, signing and trading for big name players in an attempt to spend themselves back into relevance and contention in the West. This winter it was Arizona that shelled out major cash for Zach Greinke and made a blockbuster move to acquire Shelby Miller, again with the intention of going from zero to hero overnight.
Add in the Los Angeles Dodgers and their astronomical payroll and San Francisco, the most expensive group of "scrappy, gritty, salt-of-the-earth" ball players in the Majors, and you have a group of teams out West whose high-expense, low-yield payrolls reflect the inflated prices of Pacific coastline real estate.
Here is Doc's Sports 2016 National League West preview (with odds courtesy of Sportsbook.ag):
Los Angeles Dodgers
2015 Record: 92-70 (-1120)
2016 Wins Over/Under: 89.5
Odds To Win 2016 NL West: +110
Odds To Win 2016 NL Pennant: +900
2016Los Angeles Dodgers Odds To Win World Series: +1400
Outlook: The Dodgers'season win total number entering last year was 92.5 so expectations appear to be tempered in Los Angeles. The Dodgers have one of the highest payrolls in baseball. But they have been plagued by postseason disappointments, winning just one series in their last five trips to the playoffs.
The biggest offseason change was the loss of Greinke to division rival Arizona. He had joined Clayton Kershaw to give the Dodgers the best one-two pitching punch in baseball. But the cupboard ain't exactly bare. Kershaw is still a multiple-Cy Young winner and true staff ace. Scott Kazmir has been more up than down in recent seasons. And if veteran lefties Brett Anderson and Alex Wood can simply be consistently average the Dodgers have a powerhouse bullpen to seal up a lot of close wins.
The Dodgers pitching won't be as overwhelming as it has been the past two seasons. That is going to shift the onus back to a lineup that has been tinkered with, tangled up, and turned over several times the past few seasons. Adrian Gonzalez is a stud in the middle. Yasiel Puig is as talented as any player in the sport. He needs to tone down the crazy and find a groove. But the Dodgers season may be defined by whether or not guys like Carl Crawford, Chase Utley and Andre Either go out there and earn the big-time salaries that their names have commanded.
Believe it or not, the Dodgers have done a great job building for their future. The front office has eschewed gutting its farm system in any desperate trade deadline maneuvering the past few seasons. Sure, that might have cost them an extra postseason victory here or there. But it has set up L.A. to be a force for years to come. They aren't going to win the World Series this year either. But as long as they are consistently competitive and relevant in the N.L. race you can't exactly say that they haven't been spending their money wisely.
San Francisco Giants
2015 Record: 84-78 (-70)
2016 Wins Over/Under: 88.5
Odds To Win 2016 NL West: +120
Odds To Win 2016 NL Pennant: +550
2016San Francisco Odds To Win World Series: +1000
Outlook: Well, it's an even numbered year so that means the Giants should be headed back to the World Series. San Francisco suffered a letdown last season after their title run in 2014. But now they are looking to add a third ring in five years this season on the back of a veteran core that's played in, and won, a lot of games together this decade.
Madison Bumgarner, Johnny Cueto and Jeff Samardzija might not be all that familiar with one another. But that trio gives the Giants an intimidating rotation to lean on in any series. Accomplished, though admittedly erratic and fading, veterans Jake Peavy and Matt Cain will try to stay healthy and solidify the back end of the starting staff. And a multidimensional and highly effective bullpen will be able to lend support as well.
San Francisco hits the ball a lot better than their scoring numbers suggest. They were fourth in the Majors last year in hits per game (9.16) and even out-hit much higher scoring attacks like the Blue Jays and Rangers. The key will be keeping the core healthy. Angel Pagan, Hunter Pence, and Buster Posey have each had their injury issues the past few seasons. But when they are healthy they join Brandon Belt and Brandon Crawford to form a lineup that led the National League in batting last year.
On paper the Giants are still a distant second to the Dodgers in this division. But anyone that's watched San Francisco the past few years knows that you can't quantify their chemistry and intangibles. This team just knows how to win. And even in a "down" season like 2015 they still won 84 games and were playing meaningful ball into the fall. I think they have the good to overtake Los Angeles, especially if their new starters regain their All Star forms.
Arizona Diamondbacks
2015 Record: 79-83 (+150)
2016 Wins Over/Under: 82.0
Odds To Win 2016 NL West: +450
Odds To Win 2016 NL Pennant: +1200
2016Arizona Diamondbacks Odds To Win World Series: +2500
Outlook: Last year at this time the Diamondbacks were +12500 to win the World Series and their season win total was set at 71.5. What a difference a year makes. Arizona made waves throughout the N.L. this offseason by nabbing Greinke and Miller, instantly upgrading their starting rotation among the N.L. elites. Add in some quality young hitting talent and Arizona could become the rare team whose noise in December translates into wins in July.
Greinke and Miller are the two new stars in the desert. But Patrick Corbin, Rubby De La Rosa and Chase Anderson are three more young arms that have shown potential for the Diamondbacks. They will benefit simply from the fact that they won't be forced to matchup with opposing teams' top starters every fifth day. The bullpen has some quirky pieces (Brad Ziegler, Josh Collmenter) but also has some upside.
Paul Goldschmidt might not be a household name. But anyone that follows the sport can tell you that there is nothing this guy can't do and he is one of the best players in the game. He is the linchpin for a lineup that was second in the National League in scoring (No. 8 in MLB) and first in hits per game (No. 3 in MLB). Wellington Castillo is one of the best catchers in baseball and Arizona has a lot of different ways to manufacture runs.
Arizona enters this season with a lot of hype. But unlike San Diego last year, Arizona's hype seems to be based on something solid. Their starting staff and bullpen are good enough to compete with the Dodgers and Giants. Their lineup can mash with anyone. And this young team now appears to have two things that any recent attempt to usurp control of the West lacked: confidence and momentum.
San Diego Padres
2015 Record: 74-88 (-1920)
2016 Wins Over/Under: 73.5
Odds To Win 2016 NL West: +2500
Odds To Win 2016 NL Pennant: +5000
2016San Diego Padres Odds To Win World Series: +12000
Outlook: The Padres were (predictably) the biggest bust in baseball last year. Entering 2015 their season win total odds were right around 84.0 and they were never even close. Fortunately the Dads were able to move on from some of their biggest blunders from last season. But that also means that they are right back to being the mediocre, barely competitive franchise that they were before last winter's offseason splurge.
Matt Kemp hit .265 with 23 home runs and 100 RBIs last year while hitting in one of the worst lineups in baseball. He was not a bust. But only one other guy projected to see serious at-bats this season, Yangervis Solarte, hit over 10 home runs last season. That's a problem, and it is not just because they play in one of the most pitching-friendly parks in baseball.
Speaking of pitching, the Padres surprisingly have a lot of it. Their top three starters - James Shields, Andrew Cashner and Tyson Ross - are all studs. Big-armed Brandon Maurer is also a nice piece at closer. If San Diego keeps those arms then they have a chance to at least be watchable. But it might be in their long-term interests to move as many of them as they can in exchange for high-end prospects.
As bad as San Diego has been throughout this decade, they really haven't been THAT bad. Yes, they have missed the playoffs for nine straight seasons. But even with last season's dud they have averaged nearly 76 wins per season over the last four years. That's not good. But it's not bottom feeding on the same level as, say, the Rockies. And yeah, that's about the nicest thing I can say about this mediocre team: it could be worse - they could be the Rockies.
Colorado Rockies
2015 Record: 68-94 (-1300)
2016 Wins Over/Under: 71.5
Odds To Win 2016 NL West: +5000
Odds To Win 2016 NL Pennant: +15000
2016Colorado Rockies Odds To Win World Series: +20000
Outlook: I'm not going to waste too much time on the Rockies. They have finished below .500 in five straight seasons and they are going to finish below .500 this year. They are pathetic on the road and the worst team in baseball in interleague play. The pitching stinks and the offense is erratic and this organization seems to be hockey's equivalent of the (Arizona).
Jorge de la Rosa deserves to be commended for the way he's battled in Denver all these years. But he is the fourth starter on any decent team, not the "staff ace" like he is for the Rockies. Nolan Arenado is an awesome player. He has taken the mantle from departed Troy Tulowitzki and oft-injured Carlos Gonzalez as "Guy You Wished The Rockies Would Trade To A Contender Because He Is Too Good For These Losers".
The Rockies stink. The only interesting thing about them will be the number of times that they come from behind at home to steal a victory as a +200 underdog this year.
2016National League West Picks and Predictions: Predicted Order of Finish
1. San Francisco Giants
2. Los Angeles Dodgers
3. Arizona Diamondbacks
4. San Diego Padres
5. Colorado Rockies
Doc's Sports is offering $60 worth of member's baseball picks absolutely free - no obligation, no sales people - you don't even have to enter credit card information. You can use this $60 credit any way you please on any of our top MLB handicappers. Click here for more details and take advantage of this free $60 picks credit today .
Robert Ferringo is a professional sports handicapper for Doc's Sports. He is considered one of the top MLB cappers in the country and has turned a profit in three consecutive baseball seasons (and six of his last eight). Robert closed 2015 with an amazing $11,400 in earnings over the last four months and this summer will try for four straight profitable years. He is looking forward to a great upcoming season against the MLB odds. Click here for more information on his MLB picks.
Read more articles by Robert Ferringo