Odds for New LSU Football Coach for Next Season
by Raphael Esparza - 9/30/2016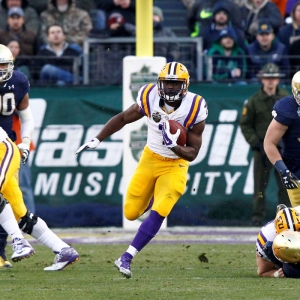 It has been about a week since the football program in Baton Rouge, Louisiana, fired Les Miles at LSU, and now the college football world and betting world are wondering who will coach LSU next!
It's no secret the Houston Cougars head coach Tom Herman is the betting favorite, but I don't see Herman leaving his situation at Houston to join a SEC team that has to battle Alabama and the rest of an SEC tough schedule. Some very interesting names are on this list, but some of these names have no chance of landing this best coaching job on the market.
Many thanks to the oddsmakers over at MyBookie.ag for providing the odds. And since these numbers have been posted, money has come in, of course, on Tom Herman, Larry Fedora, and Art Briles. These numbers will move throughout the weeks, and it wouldn't shock me to see other names added to list because throughout the rest of the college football season you figure other coaches will feel the 'Hot Seat' and get the axe.
TOM HERMAN -115
JIMBO FISHER +225
KLIFF KINGSBURY 14-1
GARY PATTERSON 15-1
BOBBY PETRINO 17-1
LANE KIFFIN 20-1
MIKE GUNDY 20-1
LARRY FEDORA 12-1
ED ORGERON 18-1
SONNY DYKES 40-1
TODD GRAHAM 40-1
ART BRILES 15-1
CHRIS KLIEMAN 55-1
BRYAN HARRISON 33-1
KYLE WHITTINGHAM 28-1
FIELD - ANY OTHER +350
I think a few names have great value or could possibly land this job are Jimbo Fisher, Lane Kiffin, Art Briles and of course the 'Field'. One name that has caught my eye and I believe should be on this list is Oklahoma Sooners head coach Bob Stoops. This Saturday Oklahoma travels to Amon G. Carter Stadium to play the TCU Horn Frogs, and if the Sooners lose this game they will be 1-3 and heads will be rolling in Norman. Maybe it's time for Stoops to find a new location and maybe Baton Rouge could be that destination. So, for a 'Free Play' I say take the FIELD at +350 because this number could get lower quickly.