2016 Preakness Stakes Betting and Handicapping: Pace Scenario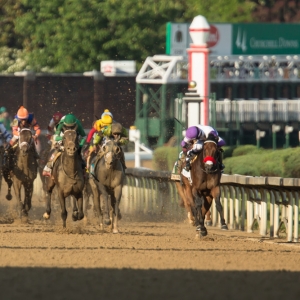 In the Kentucky Derby, the early speed was a big question mark. Danzig Candy had speed, but would he be pushed enough to move quickly and set the race up for others? Who would go with him? As it turned out, it was Nyquist, and though he ran fast enough early fractions to set the race up for closers the problem for them was that he never gave up the lead once he got it.
In the Preakness there is far less uncertainty about the early pace. There are a lot of horses who want to be on or near the lead, and some of them don't have anything to lose. We are almost certain to see early fractions - and that means there are going to be some important decisions that have to be made. Decisions that could ultimately decide the race.
To the lead
There are five horses in this race that, all things being equal, would prefer to be on the lead early on. Four of the five are serious long shots, so they aren't likely to be looking to save themselves. We should see brisk early fractions.
Let's look at each of the five in alphabetical order. Abiding Star has won his last five races and has been in the lead in every call in the last four races. Now, that was against a much lower level of competition and in smaller fields, but his preference is clear. Awesome Speed didn't exactly show awesome speed in the reasonably-slow Federico Tesio last time out, but he did lead right up until the wire. He has been on or right near the lead each time he has won, so should be looking to be there again. Collected won his last two and did so contesting the pace both times. The only time he wasn't right near the front was his worst race, so Bob Baffert should have him up front. Laoban is a maiden, so he has the least to lose of any horse. He has been leading right up to the stretch in his three best races. In seven career races Uncle Lino has never been worse than fourth and has been third or better in all but two calls. He is a speed horse pure and simple.
Now, all five of those horses obviously can't get the lead. None of them have shown a lot of versatility, though, so all five are likely to either fight for the lead or settle right off of it. It only takes two horses to start a speed duel, so it would qualify as a true shock if the early fractions were anything other than aggressive. The only thing I see that could potentially control things slightly is if the track is sloppy by race time. If the footing isn't great and the horses don't love it then that could have an impact.
Somewhere in between
Nyquist is, by a wide margin, the best horse in the race. The best horse often has the luxury of determining the race they want to run. He probably prefers being on the lead above all else - he wired the Florida Derby and pushed the pace early in the Kentucky Derby before leading into the stretch. He doesn't need the lead, though - in his second biggest win in the Breeders' Cup Juvenile he was middle of the pack before moving for the lead into the stretch. He's versatile and talented.
If the pace doesn't get crazy early then we could see him taking the lead or pressing someone else to. If it gets crazy early then he'll be happy sitting back and letting things settle down. All we know for sure is that he'll be in front of the closers and that unless he gets trapped by another horse he'll likely be just where he wants to be.
Stradivari is another horse that is likely to settle behind the leaders but could move forward if the pace doesn't explode early on. He has run only three times, so the sample size is small, but in both of his wins he has sat just off the lead early before exploding to massive wins down the stretch.
Closers
In the Derby it seemed like half the field was looking to close. While the pace is more spread out in this race, there are still plenty of closers. They could be in decent shape, too, since a strong early pace often plays to the advantage of the closers - providing that they can chase down Nyquist, of course.
Cherry Wine has never been even close to the pace early on, and there is no reason to think he will be here, either. Exaggerator was the best closer in the Derby. He was put closer to the lead earlier in his career, but his last two races have been his best and he has come from well back in both. Given the amount of early speed it would be surprising to see him placed forward early on. He has also closed very well on off tracks, so if the forecast does come to light then his stock will rise - and his odds will fall. Fellowship has never been aggressive early, and in his first race under new trainer Mark Casse last time out it didn't seem like changing that was a priority. Finally, we should see Lani closer to the back than the front. He wasn't always a deep closer in Japan, but though a poor start contributed to him being at the back of the pack early in the Derby he didn't seem uncomfortable and was closing pretty well once he got moving.
Doc's Sports wants you to try out our expert horse racing handicappers free of charge and is offering new clients $60 worth of free picks that can be used for any Triple Crown race. Click here for more details on this free $60 offer.
Read more articles by Trevor Whenham