2016 Preakness Stakes Field Early Look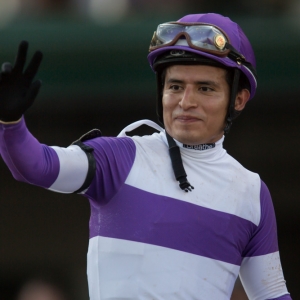 The dust has only barely settled, and it will still be a week or more until we know for sure what the Preakness field will look like. We do have early indications, though, and it seems like we could be heading towards a full field - the field is capped at 14 runners in the middle leg of the Triple Crown. Things are so volatile right now, though, that it also wouldn't be surprising if we wound up with a small field - a big favorite can scare off a lot of horses. While the real handicapping doesn't really start until the field is set, we can take a look at what we have so far and get started with our work:
All but certainly in
Nyquist: It goes without saying that the Derby champ is heading to the Preakness. In fact, as of Monday he is already in Baltimore getting comfortable. Confidence will, rightfully, be sky high for the connections heading into this race. The field isn't going to be as deep or strong as it was for the Derby, the distance is shorter and therefore more manageable, and the horse is clearly talented. He's going to be a very heavy favorite - and likely quite deservedly so.
Exaggerator: He was second in the Derby, and he was moving well down the stretch. His jockey claims that his progress was inhibited and that cost him the won. The replays don't make what he is talking about obvious, and the horse has struggled to beat Nyquist, but he'll be back for another shot. History is not on his side, though - since 1962 only Summer Squall in 1990 and Prairie Bayou in 1993 have climbed one step up on the podium and won the Preakness after finishing second in the Derby. It's a much tougher thing to do than the public is likely to think it is.
Stradivari: Todd Pletcher flopped with his two Derby runners, but he has a fresh hope for the Preakness. This horse has raced just three times, and only once this year. What a race this year's debut was, though - he won at a mile and an eighth at Keeneland on April 17 by 14 and a half lengths. Stunningly dominant. Given how raw he is, though, that effort all but guarantees he'll be an underlay.
Collected: In the best-case scenario Bob Baffert would have had three horses in this race. It's not the best case for him, though, so Collected is his only hope. He has three wins in four stakes tries this year, including victories in his last two. Given his trainer and his success and experience, the bettors will like him.
Cherry Wine: After a third in the Blue Grass the connections wanted this horse in the Derby, but he fell just short of making the field.
Laoban: Like Cherry Wine, he was entered in the Derby but fell just short of making the field. He's a speed horse who led the way in both the Blue Grass and Gotham, so his presence helps to guarantee a legitimate early pace. His biggest issue, though, is that he is still a maiden - he has never won a race of any kind.
Awesome Speed: He won the Federico Tesio, a traditional local prep for the Preakness. That's enough to make him interesting, but it's hard to see him as a major threat.
Fellowship: He was the actual bubble horse in the Derby field but was not entered and went in the Pat Day Mile on the undercard instead. He was just fourth, but that was enough to get him this shot. He's new to the Mark Casse barn, so we haven't yet fully seen what new training can do for him.
Uncle Lino: After being an also-ran on the West Coast Derby trail he took a step back and tried the California Chrome Stakes at Los Alamitos at the end of April. He finally won a stakes race this year, and that earned him another shot at the big boys.
More likely than not
Lani: The Japanese winner of the UAE Derby in Dubai was an underwhelming ninth in the Kentucky Derby, but after a lousy start he was moving pretty well mid-race. He's heading to Belmont for a while, but the word is that his connections are pointing him to the Preakness. The slightly shorter distance certainly won't hurt him.
Dazzling Gem: After finishing fourth in the Arkansas Derby and third in the Louisiana Derby - a rare double in this era of conservative race selection - he was trained for the Derby but fell short of the field. Now he brings his frustratingly unrealized potential to the Preakness in all likelihood.
Still possible
Gun Runner: He was third in the Derby and was a real threat. His jockey was hard on himself after the race, and I don't entirely disagree with him. He'll wait to see how the race sets up, but it would be no surprise to see him in Baltimore.
Suddenbreakingnews: He was absolutely flying late in the Derby. He finished fifth, but with two more strides to run he would have been third. With a better trip he could really be dangerous. Personally I'd wait until the Belmont, but this isn't a bad fit, either.
Sharp Azteca: Reports seem to indicate that the impressive winner of the Pat Day Mile is looking elsewhere, but the Preakness would be a reasonable fit, and it hasn't been ruled out.
Brody's Cause: I don't expect to see Brody's Cause, seventh in the Derby, in the Preakness field. He hasn't been ruled out yet, though, and since trainer Dale Romans already has Cherry Wine in the field he could look to double his chances.
Free Preakness picks? Doc's Sports has been a leader in Triple Crown handicapping for more than four decades, and we are offering new clients $60 in Preakness Stakes picks - there is no obligation for this offer. Click here for more details and to get your $60 in free picks.
Read more articles by Trevor Whenham