2016 Preakness Stakes Wagering Help: Handicapping the Jockeys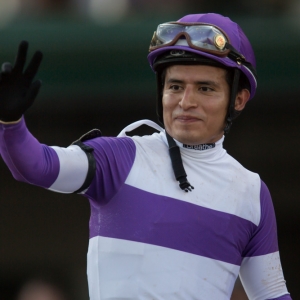 The story of the jockeys in the Preakness is different than in the Derby or the Belmont. Every jockey wants a mount in the Derby, and many of the top jocks are in New York anyway, so they are around to pick up mounts in the Belmont. Unless a guy has already established a mount leading into the Preakness, though, it is less common to see a high-level jockey pick up a spot mount for this race. The reason is simple - Pimlico is not a place top riders ride, and many would choose to stay at home at their regular tracks and ride in more lucrative races than the Pimlico undercard could offer.
That means that the Preakness often has more unfamiliar jockeys than other races - which is certainly the case here. In my eyes it's a very good thing. Here's a look at the 11 jockeys we'll see on Saturday.
Mario Gutierrez: Gutierrez doesn't have much experience in this race, but he also is unbeaten - he won aboard I'll Have Another in his only appearance. In fact, Gutierrez has a claim to fame that no one can even touch - he has won every Triple Crown race he has ever ridden in -- the 2012 Derby and Preakness and this year's Derby. He's well positioned to continue that remarkable streak.
Javier Castellano: Castellano is the three-time and reigning winner of the Eclipse Award for top jockey, and he has led the country in earnings each of the last three years. He knows his stuff, and he wins a ton of races. Despite a dozen years of big success - he won the Breeders' Cup Classic in 2004 for his breakthrough victory - his only Triple Crown win came aboard Bernardini in the 2006 Preakness. He is too good to only have one win but is in tough with Collected in this one.
John Velazquez: A top rider for longer than some guys in this race have been alive, Velazquez has 12 Breeders' Cup wins a Derby and two Belmonts, but he has yet to win a Preakness. There is no doubting that the very-raw but hugely-talented Stradivari is in good hands here.
Jose Lezcano: Lezcano is typically a Top 10 rider nationally by earnings. He has not yet won a Triple Crown race, though he did finish second aboard Ice Box in the 2010 Derby. He'll always have a spot in history aside Velazquez - when Velazquez was hurt during the 2013 Breeders' Cup in a fall, Lezcano stepped in and won the B.C. Mile aboard two-time Horse of the Year Wise Dan. It's the ultimate case of being in the right place at the right time.
Kent Desormeaux: Desormeaux started his career on the Maryland circuit. And what a start it was - in his first three seasons he led the country in wins. In 1989 he won 598 times - a record that still stands. That familiarity with Pimlico has helped him in the Preakness - in 13 mounts he has won twice and been second three times. He had some rough years early in this decade but is riding his best in a long time right now.
Corey Lanerie: Lanerie doesn't get enough attention. He has never won a Triple Crown or Breeders' Cup race, so casual fans don't know much about him. He has won 10 riding titles at Churchill Downs, though - and that's not an easy colony to beat. He also will win his 4,000th race later on this year. Don't get fooled if you are unfamiliar with him - Cherry Wine is in good hands.
Florent Geroux: Geroux, originally from France, has been riding in North America since 2007 but has only really broken through in the last couple of years. He has three Breeders' Cup wins in the last two years, so his talent is limitless. He is only starting to get Triple Crown mounts, but he was a solid third in the Derby on Gun Runner and will win more than one Triple Crown race before he hangs up his boots.
Yutaka Take: Take is a Japanese legend - probably the most famous jockey in the racing-mad country's history. He has won everything worth winning there multiple times and has had his share of success elsewhere, too. He doesn't have a whole lot of North American experience, and he's well past his prime these days, but it is both an honor and a privilege to have him here for this spot aboard Lani.
The first timers: Fernando Perez, Jevian Toledo, and J.D. Acosta are all less-experienced riders making their Triple Crown debuts here. Perez is from the same place in Mexico as Gutierrez, and he followed the same path - to Hastings Park in Vancouver and now at Santa Anita. He's talented, but still finding his way among the big fishes. Toledo and Acosta are both from Puerto Rico, and both went to the same riding school before heading to the U.S.. They are of different generations, though - Acosta is 34 while Toledo is just 21. Toledo rides in Maryland and has already established himself as one of the top riders on that circuit - he won his first meet title at Laurel last year. Acosta has been here since 2002 and has won nearly 2,400 races. He works very hard now, racing regularly at both Parx in Philadelphia and Charles Town in West Virginia - sometimes both on the same day. This is by far the biggest stage he has found himself on.
Read more articles by Trevor Whenham