2016 Sacramento Kings Predictions and NBA Futures Betting Odds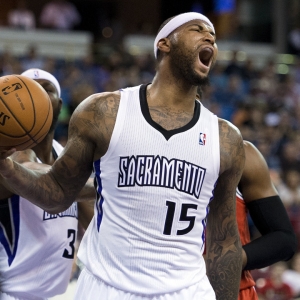 The Kings are burdened by a truly awful owner - a guy completely lacking in self awareness and willing to meddle in anything he wants to. He's a disaster, and the revolving door of coaches lately is just one symptom of the issues. Hiring George Karl was a horrible decision, but luckily it didn't last long. Now they have finally made what could be a very good idea. Because the front office in Memphis suffers form their own kind of insanity, they decided to fire a good coach in Dave Joerger. He was unemployed for less than 48 hours before signing up with the Kings. He is more than capable of good things here. Will the leadership stay out of his way and let him do his thing, though?
The first and most important task for Joerger is to get on the same page as DeMarcus Cousins. He's one of the best players in the league -- probably the best center. He and Karl clashed badly, though, and prior coaches have struggled to stay in sync with him. You can't win in Sacramento without Cousins performing at a high level, so Joerger's time in California's capital city will be determined by this relationship. He ran a very stable and disciplined team in Memphis - a sharp contrast from the constant circus in Sacramento. If he can win over Cousins and improve the culture then he'll make real progress. If not he'll be yet another body on the scrap heap of former Sacramento coaches.
2016 Sacramento Kings Betting Storylines
Joerger is going to enjoy coaching Willie Cauley-Stein. Joerger likes strong defense, and Cauley-Stein is almost one-dimensionally defensive. He has a year of experience now and could make a very potential frontcourt combo with Cousins - a scorer and a lockdown defender wreaking havoc together. The team was a disaster defensively last year, so Cauley-Stein could be focused on by Joerger as the key to a much-needed turnaround at that end of the court. Cauley-Stein could take a huge leap forward this year.
A guy I am much less optimistic about is Rudy Gay. He's far from the most efficient player in the league, and selfless commitment to defense has not been a defining aspect of his career so far. He also spent a good portion of the summer complaining about anything and everything. If he doesn't get on the same page with Joerger then he could be a distraction here and an impediment to what the team is trying to do. I'd love to see the team get rid of him, but they probably can't get as lucky as the Raptors did in finding a sucker to take him off their hands. My biggest issue with Gay is that he is a high-volume offensive player, but he's not an efficient one. He uses up a lot of possessions that could potentially be used in better ways. Joerger is a fan of efficiency, so he and Gay will have to find a way to merge their very different philosophies.
2016 Sacramento Kings Additions and Departures
The Kings have said goodbye to Rajon Rondo. I think they are very lucky to have done so. He produces a lot of assists, and did so last year, but he does so without being efficient. They are better without him, and his absence allows a more all-round positive presence in Darren Collison to take over again. Others gone include Quincy Acy, Seth Curry, Marco Belinelli, Caron Butler, and Eric Moreland. The new additions don't move the needle a whole lot. Arron Afflalo comes from New York, Matt Barnes continues his times with Joerger after coming from Memphis, and Anthony Tolliver comes from Detroit.
The team was very active on draft day. They drafted Marquese Chriss eighth overall but dealt him to Phoenix for two lower first-round picks - center Georgios Papagiannis in 13th, and Kentucky forward Skal Labissiere in 28th. They grabbed another first rounder - 22nd pick Syracuse shooting guard Malachi Richardson - in a deal for Belinelli. So they have a lot of young talent, but none that is certain to make an impact this year.
2016 Sacramento Kings Futures Odds and Trends
Sacramento was no better to bet on than they were to watch. They were 38-43-1 ATS, so there was no real money to make betting on them or against them. Totals were no better - they went "over" 40 times and "under" 41.
Sacramento Kings Futures Odds (from Bovada)
NBA title odds : +50000
Western Conference title odds : +15000
DeMarcus Cousins MVP Odds : +3300
Malachi Richardson ROY Odds : +5000
Season win total (from Westgate): 32.5
2016 Sacramento Kings Predictions and Futures Odds Picks
I have no idea how to judge this team. They aren't going to be great, and they won't make the playoffs. They could take a nice step forward and look like they are building something, or they could look just as lost and frustrating as always. It depends on how Joerger is accepted and whether Cousins wants to get along and work towards winning. I am cautiously optimistic that 35 wins is possible here.
Want $60 worth of member's picks absolutely free? No obligation. No sales people. Click here for details. Also, for a limited time only, you can get three handicappers NBA picks for the price of one! Click Here for more details!
Read more articles by Trevor Whenham