Super Bowl 50 MVP Predictions with Odds and Expert Betting Picks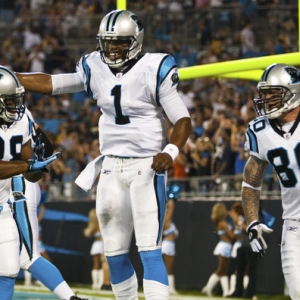 The Super Bowl MVP is typically a quarterback's award, as evidenced by the fact that seven of the last 10 winners have been under center. Cam Newton and Peyton Manning currently hold the status as the favorites to win this year's award, but there are a host of defensive players staring with Denver's Von Miller that hold excellent value for bettors. If Carolina manages to win the game, expect Newton to take home the trophy since the team's offense begins and ends with him. But what if Denver wins? At this point, fans and bettors can assume a Broncos victory won't be on the strength of Manning's arm. The key to wagering on the MVP award in the case of a Denver victory is to look on the defensive side of the ball. Let's take a closer look at the 2016 Super Bowl MVP odds and figure out which players have to most value to wager on.
Cam Newton -140 : Of course Newton will be the favorite entering the Super Bowl. The young quarterback will most likely have been awarded the regular-season MVP trophy by then, but history will not be on his side as no player has captured both awards since Kurt Warner did so back in 1999. However, do not over think things here. Carolina is the clear favorite to win the game, and Newton will be the reason why. Worth a bet? If you are looking for a straightforward wager at a decent price, take Newton to win the award.
Peyton Manning: +245 : Wagering on Manning in this spot might take a leap of faith. Yes, the quarterback is 60 minutes away from finishing off a legendary career with a John Elway storybook ending. However, is he really going to win the award? Would he have won it during the AFC Championship Game against New England? Denver has an elite and spectacular defense, and most scenarios concerning the way this game plays out, involve the Broncos shutting down Newton while scoring just enough to win the game. Worth a bet? Media voters would probably love nothing more than to hand Manning the award, so there is value at +245, but this might not be a great wager to make.
Luke Kuechly : +1400: Wagering on a quarterback is always the smartest play to make. However, if you are a bettor who is looking for some long shot value, a defensive player could be the way to go. Kuechly is a monster of a linebacker on an excellent defensive team, so there is a chance this matchup turns into a low-scoring affair. However, Newton's shadow will probably loom large over any Carolina victory. Worth a bet? If you are looking for value on a defensive player, there is a much better option at an even better price.
Ted Ginn Jr : +2200 or Greg Olsen: +2200: Neither of these options have much value, because Newton will be throwing the ball to both the wide receiver and tight end. Only three wide receivers have won the award over the last 25 years, and two of those involved spectacular catches thrown from Ben Roethlisberger (Santonio Holmes and Hines Ward), so do not expect either player win the award. Worth a bet? There is almost no value wagering on either guy. Skip the receivers during this year's Super Bowl.
Von Miller : +2200: Ding. Ding. Ding. This is where the value lies on the Denver side of the wager. Von Miller continues to be a wrecking ball on the defensive end. And if the Broncos are going to shut down Newton, the linebacker must have a huge game. If you believe Denver is going to win Super Bowl 50, Miller might be only way to wager on this prop bet. Worth a bet? Yes, we all love Manning, but there is no reason to bet on him here. Take Miller on the long shot value alone.
Doc's Sports has a great offer for new clients. You can get $60 worth of picks from any Advisory Board handicapper for any sport he handicaps. All with no obligation and no credit card needed. Claim your free picks today .
Read more articles by George Monroy