Weekly Big Ten Betting Report: Expert Predictions and Analysis
by Chris Vasile - 11/24/2016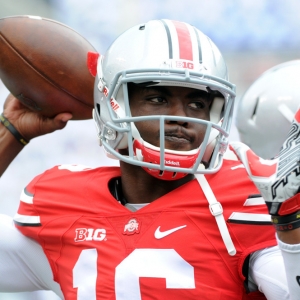 Week 12 of the college football season is in the books, and the Big Ten results came in exactly as expected. There were no major upsets, just scares. No. 2 Ohio State survived Michigan State by a 17-16 score, and No.3 Michigan got by Indiana 20-10. Judging by the efforts from those two teams, they were clearly looking ahead to this week's game against one another. Both teams are firmly in the mix for a spot in the College Football Playoff, and if both do get in it will be the first time any conference will have two representatives.
Week 13 is the last week in the Big Ten regular season and there are two key games that will likely determine who will be playing in the Big Ten Championship Game. Let's start with the West. Both No. 16 Nebraska and No. 6 Wisconsin are tied atop the division with a record of 6-2. Wisconsin holds the tiebreaker over Nebraska, so they control their own destiny. There is a strange set of circumstances surrounding these two games, however. Nebraska takes on Iowa on Friday night, while Wisconsin doesn't play until Saturday. This favors the Badgers because they will know what kind of result they will need in order to book their place in the title game. Obviously, teams try to win every game possible, but it won't be as dramatic a finish if Nebraska were to get upset by Iowa on Friday night. And in the East…
Michigan. Ohio State. "The Game".
There isn't much more that can be said in terms of hyping up this insane rivalry. Both these teams hate each other with a passion, and as a fan of football this should be everything you would want to see and then some. The stipulations are simple, yet complex. In order for Michigan to get to the Big Ten title game they must only win. Win and they are in. Ohio State's path to Indianapolis (venue for the title game) is a bit more complex. They must win and hope that Penn State is upset by Michigan State. That's something that I can't foresee happening. If by chance, both Ohio State and Penn State win on Saturday, Penn State would find themselves en route to Indy for a date with either Nebraska or Wisconsin. It's going to be an amazing week of college football.
Moving forward on a weekly basis I will be breaking down the weekly Big Ten slate. I will share with you my Game of the Week, teams trending up and down, key player matchup, best value line and the top underdog to watch just to name a few. Let's get to it.
*All lines courtesy of Bovada*
Game of the Week
Michigan Wolverines @ Ohio State Buckeyes -6.5
The Michigan Wolverines have steamrolled their way through the Big Ten for the majority of the season. However, once the calendar flipped to November they experienced an unlikely slip up that could cost them a spot in the Big Ten Championship Game. The Wolverines put up no fewer than 30 points in their first nine wins of the season, with the exception of a 14-7 win over Wisconsin. Over their last two games, however, they have averaged just more than 16 points per game and lost to a very weak Iowa squad. One could make a case that injuries are the cause of this shoddy play. However, in reality the offense is just as good as it was before the calendar flipped to November. The only real loss on offense has been Wilton Speight. The Wolverines quarterback suffered a shoulder injury against Iowa, and his replacement John O'Korn couldn't pick up the slack. He is a big downgrade from Speight, and it could be the weak link in an otherwise great Michigan team.
Ohio State, on the other hand, has been in more close games this year than in any year I can remember. They had a three-game stretch in October where they won two games by a combined 11 points and lost outright to Penn State. The defense, which is usually a strength of the team, has been made to look, at times, ordinary. How the defense plays on Saturday could be the difference between a spot in the CFP or a bowl game they have no interest going to. Buckeye fans can take solace in the fact that they will have the best quarterback in the game calling the shots for them. J.T. Barrett is a game changer. His ability to run and pass could give the Michigan defense fits. Barrett has accounted for 99 touchdowns in his time as a Buckeye, and that is a school record.
And then there are the coaches. Urban Meyer and Jim Harbaugh. Harbaugh has coached only one game so far in this rivalry, and that was last year's 42-13 loss at home. Since his arrival, however, Harbaugh has added more spice to an already spicy and tense atmosphere. Urban Meyer has beaten Michigan in each of his first four seasons as head coach, but this is definitely the biggest rivalry game he has been in to date. Michigan hasn't been relevant for a long time nationally, and so a win on Saturday not only means a big juicy bonus, but it will put another feather in his cap in terms of how good he can be as a football coach.
I wouldn't dare give you a prediction for this game as I think these two teams match up evenly across the board. The Buckeyes have the edge on offense, while the Wolverines have the edge defensively. If I had a gun to my head and was forced to pick, I would probably take the points with the Wolverines only because "defense wins championships". Or so they say.
Big Ten ATS Results
With the final games of the Big Ten regular season set to conclude Saturday night, I thought now would be a great time to go over who should have made you the most money this season.
The best ATS money maker this year was the Wisconsin Badgers. The Badgers own a 9-2 SU record with a 9-2 record ATS. Their only ATS losses came against Georgia State in September and versus Nebraska about a month ago. The Badgers were able to cover four games as dogs and five games as favorites. Not bad for a team that doesn't put many points up on the board.
Surprisingly, it was Penn State who was the second-best ATS team in the Big Ten. The Nittany Lions have a record of 9-2 SU and 7-3-1 ATS. Their only ATS losses came in September as they were just starting to work out the kinks in the systems. Since "pushing" as a three-point favorite against Minnesota on Oct. 1, the Nittany Lions have reeled off six straight covers. They have covered lines of +2 and +17.5 as dogs and lines of -6.5, -6.5, -14.5, -25 as favorites.
And finally, the worst team in terms of ATS this season was the Maryland Terrapins. The Terps covered only three games this season, which makes them 3-8 ATS and 5-6 SU. They are favored by 14 points this coming Saturday against Rutgers, so a cover isn't out of the question.
Maryland has failed to cover the spread in four consecutive games, losing outright in each game. Their last cover came on Oct. 22 against a Michigan State squad that was playing absolutely terrible football.