Weekly Big Ten Betting Report: Expert Predictions and Analysis
by Chris Vasile - 12/1/2016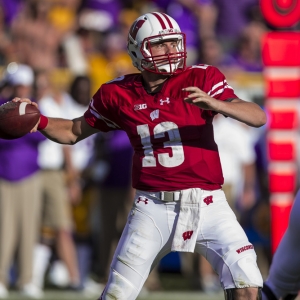 The Big Ten Conference wrapped up its regular season this past weekend, and the drama that it provided fans and bettors was outstanding. I can't think of another Big Ten regular season that had more twists and turns and left so much riding on the last few games. Before I get to the juicy stuff, you should know that three Big Ten teams got their sixth win of the season, thus making them bowl eligible. Maryland topped Rutgers 31-13 to finish at 6-6, while Indiana barely beat Purdue 26-24 and Northwestern trounced Illinois by a score of 42-21. The games of most importance commenced on Friday with Nebraska needing a win versus Iowa to keep their Big Ten title game hopes alive. Unfortunately, the Cornhuskers went to Iowa City and laid an egg, losing 40-10 - thus handing the Big Ten West division to Wisconsin by default. On Saturday, Wisconsin handled their own business by rallying late for a 31-17 win over Minnesota, which keeps their College Football Playoff hopes alive for another week.
The game that had everyone's attention ended in about as dramatic a fashion as you can get. Michigan and Ohio State needed double overtime to find a winner, and after Ohio State converted a fourth-and-one - albeit with some very friendly ball spotting by the officials - they were able to end the game on the very next play thanks to a 15-yard Curtis Samuel touchdown run. That result ended Michigan's Big Ten title hopes and conversely knocked them out of the Top 4 in the AP-College Rankings. Buckeyes' fans knew the "easy" part was done, but they were left waiting on the result from the Penn State/Michigan State game to see if they should book their ticket to Indianapolis.
The task for Penn State was now as simple as could be, on paper, of course. Beat Michigan State at home and you're in the Big Ten title game. Michigan State held a 12-10 halftime lead when the Nittany Lion faithful found out the result of "The Game". That gigantic boost propelled the Nittany Lions to a dominating second half and a 45-12 win, setting up a showdown with Wisconsin for the Big Ten Championship.
I'm going to break down the Big Ten Championship Game for you and give you my thoughts on what I thought the top three games were throughout the regular season.
*All lines courtesy of Bovada*
Game of the Week
Penn State Nittany Lionsvs. Wisconsin Badgers -2.5
Hands up if you had Penn State and Wisconsin in the Big Ten Championship before the season began. I'd be willing to bet nobody did.
Both Penn State and Wisconsin were expected to coast along and beat up on the bad teams in the conference and find themselves with six or seven wins and in a bowl game somewhere warm. Instead, both teams are nationally ranked within the Top 7 and have a legitimate shot at sneaking into the four-team playoff picture.
I'll start with Penn State. The Nittany Lions finished the regular season with a record of 10-2 and got in by virtue of beating Ohio State at home. That 24-21 upset was win No. 3 of their current eight-game win streak, and it really put the Big Ten on notice. The Nittany Lions are averaging 40.4 points during said winning streak and are led by sophomore quarterback Trace McSorley, who is enjoying a breakout campaign to the tune of 2,976 yards and 27 total touchdowns (21 passing, six rushing). The passing yardage is the fourth-best single-season output in Penn State history. His teammate, Saquon Barkley, also helped carry the load offensively and contributed 15 touchdowns and 1,219 yards rushing. Barkley suffered a right foot injury in Saturday's win and is questionable to feature in the Big Ten Title Game. That would be a huge blow for a Nittany Lions offense that is set to go up against one of the premier defensive units in the league.
The Badgers own a similar 10-2 record and are riding the wave of a six-game winning streak. They have done so by putting up plenty of points and playing solid defense against overmatched opponents. Speaking of the Wisconsin defense, they rank third nationally in scoring defense - allowing 13.7 points per game -- and rushing defense at 100.8 yards per game. They also boast impressive ball-hawking skills (21 total interceptions), with three players having four or more picks. The issue with the Badgers comes on the offensive side of the ball. Yes, Wisconsin has averaged 42.7 points per game of their last three games, but the quarterback carousel doesn't sit well with me. They deploy a redshirt freshman in Alex Hornibrook, who threw for 1,243 yards, eight touchdowns and seven picks and a senior, and Bart Houston, who has 912 yards passing, five TD's and three picks. Those aren't exactly the numbers that strike fear into opposing defenses. If Wisconsin finds themselves trailing by more than one score, it could be a mountain to climb with a banged up Hornibrook under center.
Penn State will be looking to win its first Big Ten Championship since 2008 and Wisconsin will be looking for their first since 2012. Given the unexpected nature of the two participants, I am going to go out on a limb and say this game goes to overtime with Penn State emerging victorious.
Top Three Games of the Big Ten Regular Season
No.1 - Michigan 27 - Ohio State 30.

The best game of the Big Ten regular season was this past weekend's Michigan/Ohio State game. From a football aesthetics point of view, it wasn't the greatest and smoothest game played this season, but it had so much on the line that it was hard to keep it out of the top spot. Not only was a spot in the Big Ten Title Game up for grabs, but a spot in the College Football Playoff was riding on the result of this game. Jim Harbaugh is now 0-2 against Ohio State and has to wonder what it's going to take to get his first win in "The Game"
No. 2 - Nebraska 17 - Wisconsin 23

It was a battle between two teams nationally ranked. No. 7 Nebraska traveled to No. 11 Wisconsin in a matchup that would ultimately crown the Big Ten West champion. Wisconsin needed overtime to get by the Cornhuskers despite turning the ball over twice and losing the time of possession by six minutes. The Badgers had a chance to avoid overtime, but Andrew Endicott's 45-yard field goal try went wide left with 1:43 left in regulation.
No.3 - Michigan State 21 - Indiana 24

Earlier in the year when Michigan State was perceived as a good football team, they went into Indiana and coughed up a 14-0 lead to the Hoosiers. Indiana QB Richard Lagow caught a touchdown pass and threw for two more as the Hoosiers benefited from a second chance in overtime thanks to a "leaping" penalty on the Spartan defense. That penalty wiped away what would have been a missed game-winning FG, and it gave the Hoosiers a fresh set of downs - something they did not squander.