2017 AL West Picks and Expert MLB Betting Predictions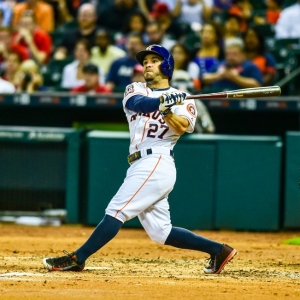 The American League West should again provide one of the most entertaining division races in all of baseball. With two-time defending West champions in Texas, potential powerhouses in Houston and Seattle, and under-the-radar spoilers in Los Angeles and Oakland, this division has a little bit of everything.
The West has had three different winners in the past four seasons. And the Rangers are attempting to become just the third West team in nearly 40 years to win three straight division titles. I don't think they will get there. Houston is poised for a monster season and Seattle is one of the biggest X-factors in the entire American League. Add in some genuine dislike between these franchises, and you have a division that is as intense and competitive as any in the Majors.
Here is a look at Doc's Sports 2017 A.L. West picks with some betting predictions:
Houston Astros
2016 Record: 84-78 (-950)
2017 Wins Over/Under: 90.5
Odds To Win 2017 AL West: -110
Odds To Win 2017 AL Pennant: +550
Odds To Win 2017 World Series: +500
Outlook: The Astros experienced a horrific rebuilding period from 2011-2013, losing at least 106 games in each of those three seasons. But since then they have been on the up and up. And after back-to-back seasons over .500, and a playoff berth in 2015, it looks like the Astros could be poised to make a major leap and actually compete for an American League pennant.
The Astros boast some of the top young talent in baseball. Carlos Correa (22), Jose Altuve (26), Alex Bregman (23) and George Springer (27) all each just entering their primes. Correa and Altuve may be the best double-play combo in the game and are both MVP candidates. But unlike last year, when management left the young pups a little too unsupervised and unsupported, the Astros have surrounded their young nucleus with some proven veterans to help build the locker room and provide stability. Carlos Beltran and Brian McCann are proven winners, and Nori Aoki and Josh Reddick are two more guys that are reliable veteran bats.
So really it comes down to Houston's pitching. Their team ERA spiked a half-run from 2015 (3.57) to 2016 (4.07). That was still good enough for No. 11 in the league, but the starters' ERA (4.37) wasn't nearly good enough. Dallas Keuchel was an avatar of their struggles and he fell off the map after his breakout 2015. Keuchel has to dominate. And righties Colin McHugh and Lance McCullers need to stay healthy for this team to reach its potential.
Potential really is the word with this group. They are bursting with it. But that's not enough. That potential has to turn into production. I love the move to add veterans to the clubhouse, and that should pay immediate dividends. And if Houston's pitching stabilizes then this could definitely be a team that wins more than 90 games and becomes a true threat to win the league.
Seattle Mariners
2016 Record: 86-76 (+100)
2017 Wins Over/Under: 85.5
Odds To Win 2017 AL West: +275
Odds To Win 2017 AL Pennant: +1800
Odds To Win 2017 World Series: +1500
Outlook: The Mariners, as a franchise, have never been able to handle success. And outside of a four-year run from 2000-2003 they are notorious for falling off a cliff after promising seasons. There have been seven times over the last 25 years that Seattle has answered a winning season with a below-.500 effort the following year. And after a 10-game improvement last year I have a sinking suspicion that Seattle will revert to its old form and come tumbling back this summer.
Seattle has reason for optimism. The rotation, anchored by King Felix, is strong. The bullpen is fully stocked. Seattle defends well and has a trio of top-end talents in Nelson Cruz, Robinson Cano and Kyle Seager. The lineup produced 223 home runs last year, good enough for No. 3 in the Majors, and they could be even better this season. Seattle was also active this offseason, shuffling around a lot of bit pieces in the hopes that something clicks.
However, there is no denying that their stars are another year older and likely on the decline. Seattle maxed out last year while attempting to fight their way back to the postseason. They came up short. And I wonder if they have the energy for another full-season push? The offseason trade of Taijuan Walker for Jean Segura could be a make-or-break move for this team, and it has left their rotation a little light.
I'm not as high on Seattle as some people are. I think they enter the season as the clear third-best team in this division. I am not confident that their offense, which hadn't finished higher than No. 19 in runs scored in over a decade and all of a sudden was No. 6, can match last year's production. And, finally, there is Seattle's track record of tailing off. Add it together and I think Seattle takes a slight step back, getting to .500 but not much better.
Texas Rangers
2016 Record: 95-67 (+2980)
2017 Wins Over/Under: 85.5
Odds To Win 2017 AL West: +300
Odds To Win 2017 AL Pennant: +900
Odds To Win 2017 World Series: +1200
Outlook: One of the fun things about baseball is that the overwhelming amount of statistical information usually gives way to some interesting anomalies and quirks. And the one number that really defined Texas' 2016 campaign - and the number that may doom them in 2017 - is .766. That was the Rangers' winning percentage in one-run games last year as they posted an obscene 36-11 mark - the best in modern history (since 1901).
"Luck" isn't usually a good explanation for statistical measurements in sports. But that's really the best that I, or anyone else, could come up with for Texas last year. Their run differential was just plus-eight last year, meaning that they actually performed like a .500 team rather than the 95-67 division winner that they actually were. That is unsustainable, and my big fear for this group is that when the numbers correct themselves they will do so swiftly and severely.
It is tough not to like the Rangers because this is the same group of guys that has won 90 or more games three times in five years and has been a consistent championship threat throughout this decade. Yu Darvish and Cole Hamels still anchor the rotation, and Adrian Beltre, Elvis Andrus, et. al, still provide the pop in this stacked lineup. So on the surface this looks like a group that is primed to defend its West crown.
I will be looking to bet against the Rangers this year. Their lineup has a lot of cagey veterans populating it. But there seems like something is missing. Also, I don't trust their pitching staff at all. Cole Hamels has logged a ton of innings on that left arm, and Yu Darvish is an injury risk. The back half of that rotation is definitely below average. I trust the numbers. And after last year's insane effort in one-run games, I think that the wheels will come off this summer.
Los Angeles Angels
2016 Record: 74-88 (-880)
2017 Wins Over/Under: 79.5
Odds To Win 2017 AL West: +1200
Odds To Win 2017 AL Pennant: +3000
Odds To Win 2017 World Series: +10000
Outlook: Mike Trout is a once-in-a-generation talent, a modern day Mickey Mantle. But even he isn't enough to drag this second-tier team into contention. Last season was Anaheim's worst campaign since 1999 and just the third time they won fewer than 80 games this century. But without many upgrades this offseason I don't see how this team will expect to be much better this summer.
Besides Trout, a two-time MVP at the ripe age of 25, there's not a lot to love about the Angels offense. They were just No. 17 in scoring last year and among the eight worst teams in the league in OPS and home runs. Albert Pujols, who is still owed a comical amount of money, has been rock solid but is on the back nine of his career. C.J. Cron, Kole Calhoun and Yunel Escobar are all solid pro hitters, but they hardly strike fear in opposing pitchers.
Injuries ravaged the Angels' pitching staff last year and 11 hurlers started at least five games for the Halos. Los Angeles was last in the league in strikeouts and No. 25 in both WHIP and quality starts. This year's rotation looks like another hodgepodge, and the hope is that someone from this mediocre pile - Los Angeles had 12 guys competing for starting slots in spring training - can break out.
We could be entering the end of an era in Anaheim. Mike Scioscia is the longest-tenured manager in baseball, entering his 18th year. But the Angels have made the postseason just once in the last seven years, and they don't seem to be moving in that direction this year. A lot of that has to do with foolish maneuvers from the front office (the Pujols and Josh Hamilton deals come to mind). But regardless, if the Angels continue to miss out on October baseball how long will Scioscia stick around?
Oakland Athletics
2016 Record: 69-93 (-1550)
2017 Wins Over/Under: 73.5
Odds To Win 2017 AL West: +2000
Odds To Win 2017 AL Pennant: +6300
Odds To Win 2017 World Series: +19000
Outlook: In a way it is kind of a shame that the A's are uncompetitive in Major League Baseball these days. Oakland always injected a little fun into the summer with wild winning streaks and genuinely exciting play. But after back-to-back seasons with fewer than 70 wins, and no clear improvement heading into this season, the A's appear likely to spend another summer dwelling in the cellar.
There really just isn't a scenario that has Oakland competing in this division. And the big storyline will be exactly what they can haul in once they trade Sonny Gray. Oakland will also need to focus on how it handles young arms Sean Manaea and Jharel Cotton. Both starters showed some promise last year. But big jumps in their workload could doom them in injury. The bullpen is a plus. But most of their relievers will likely be trade bat come July.
Oakland's lineup just really isn't even close. They scored the third-fewest runs in the Majors last year (and were only five runs away from being No. 29). And they haven't improved at all. How much more do they need to see from guys like Jed Lowrie and Marcus Semien, one-note hitters that lack anything close to consistency? Khris Davis smacked 42 home runs and looks legit. But it is easy to predict a lot of 1-2-3 innings out of this lineup.
Unless Oakland's rotation suddenly morphs into Hudson-Zito-Mulder 2.0, there is no way these guys are going to threaten .500. They can't hit. They aren't great defensively. They still play in the worst ballpark in the pros. And there is still really nothing to get excited about with this group. I do think this team will improve its record for a second straight year. But overall it should be another long, boring slog by The Bay.
2017 American League West Picks and Predictions: Predicted Order of Finish
1. Houston Astros
2. Texas Rangers
3. Seattle Mariners
4. Los Angeles Angels
5. Oakland A's
Doc's Sports is offering $60 worth of member MLB picks absolutely free - no obligation, no sales people, no credit card information. You can use this $60 credit any way you please on any of our top MLB handicappers. Get your free baseball picks now . Also, for a limited time only get three MLB handicappers for the price of one. Click here for details . Get free baseball picks today at Doc's Sports baseball predictions page .
Robert Ferringo is a professional sports handicapper for Doc's Sports. He is considered one of the top MLB cappers in the country and has turned a profit in three consecutive baseball seasons (and six of his last eight). Robert closed 2016 with an amazing $11,400 in earnings over the last four months and this summer will try for four straight profitable years. He is looking forward to a great upcoming season against the MLB odds. Click here for more information on his MLB picks .
Read more articles by Robert Ferringo