2017 Big Ten Conference Tournament Predictions with College Basketball Betting Odds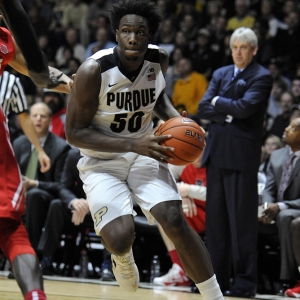 Perhaps no conference in the country experienced the talent drain that the Big Ten endured during this past offseason. The result has been a parity-driven league that saw several big-name programs rise and fall (and vice versa) throughout a harried conference campaign. But that parity and inconsistency has had another consequence: it has made the Big Ten Tournament one of the most intriguing conference championships in the country this week, with a host of storylines and a seemingly endless crop of teams fighting for NCAA Tournament berths, along with a league banner.
The Big Ten Tournament opens on Tuesday, March 8 and will conclude on Sunday, March 13. The games will be held in the Verizon Center in Washington, D.C. Here is Doc's Sports 2017 Big Ten Conference preview and predictions:
The Favorite: Purdue (+130)
The Boilermakers won their first outright regular season championship in over 20 years and enter as the tournament's No. 1 seed. Purdue bludgeoned its opponents with their one-two interior combination of Isaac Haas and Caleb Swanigan. Swanigan, in particular, is a matchup nightmare and a likely All-American. Those two work the inside while the Boilers surround the perimeter with shooters, forcing teams to pick their poison. Purdue has been solid and dependable this year. But there are also some indicators that suggest this team won't win this tournament. First, they only had to face Wisconsin, Maryland and Minnesota - the No. 2-4 seeds - once apiece this season. And two of those three games were at home. Second, the Boilermakers haven't been great on the road, losing at Michigan, Nebraska and Iowa and barely escaping Penn State and Ohio State with victories. So this team isn't a lock for anything this week.
The Contender: Wisconsin (+300)
The Badgers choked away the regular season crown by bumbling to a 2-5 mark down the stretch. Wisconsin played like the best team in the Big Ten for most of the season. But they are another team that, when you really dig into their schedule, didn't play many difficult games and lost to the few good nonconference teams they faced. So how good is this squad? Ethan Happ is overrated (there is no way he should have made the final Wooden Award list) but solid. And Bronson Koenig and Nigel Hayes have been big money players for Bucky over their four-year careers. Wisconsin has four senior starters and they won this tournament two seasons ago. But watching the Badgers the last couple weeks it appears that there might actually be some chemistry issues; these guys just don't look comfortable with one another and that is an issue considering how much they've actually played together. We will see if they continue their descent or if they can make one final run to close out their Big Ten careers.
The Dark Horse: Maryland (+500)
The Terps are a bit of an odd bird. They are still adjusting to life in the Big Ten after decades in the ACC. But they get this tournament in their backyard and that could make a difference for this young team, which starts three freshmen. Maryland was overrated after their 20-2 start and benefitted from the easiest conference schedule in the league. They went 1-3 against the other top seeds and six of their 24 wins this year have come by three points or less or in overtime. Most of that has been thanks to Melo Trimble, who has been one of the best clutch guards in the country this year. Maryland's best game plan has been to try to keep games close and then let Trimble win it for them down the stretch. So far so good. But I think that this can be a real boom or bust team this week in D.C.
The Spoiler: Michigan (+1000)
The Wolverines looked NIT-bound at 14-9 overall and 4-6 in Big Ten play after a loss to Ohio State on Feb. 4. But they have gotten hot at the right time, winning six of their last eight games - including wins over Wisconsin and Purdue - and look like a team on the rise. John Beilein's teams always chuck a lot of 3-pointers - over 45 percent of their shots this year came from behind the arc - and if they get hot from the outside this team can absolutely get on a three-day roll. Seniors Zak Irvin and Derrick Walton would love nothing more than to cap off somewhat disappointing and erratic careers with a league championship and, much like Maryland, they could go boom or bust. Michigan will have to face a desperate Illinois team in their first game and then get a shot at top-seeded Purdue. That's a chance to make some noise.
Bubble Team To Watch: Iowa (+2500)
The Hawkeyes have seemingly come out of nowhere to play their way onto the NCAA Tournament bubble. Winners of four straight, including road wins at Maryland and Wisconsin, Iowa is arguably the hottest team in the league heading into the tournament. Like Maryland, Iowa starts three freshman and has an incredibly young roster. And like the Terps, Iowa leans on a star upperclassmen - in this case senior Peter Jok - to make all their big plays down the stretch. Jok is a stud and one of the top players in the league. But is he going to be enough to carry Iowa to the two wins they likely need - Indiana and then Wisconsin - to punch a ticket into The Big Dance? It will be one of the most intriguing storylines of the weekend.
Early Round Matchup To Watch:
No. 7 Iowa (-4.5) vs. No. 10 Indiana (6:30 p.m., Thursday, March 9)
If Michigan isn't this week's big spoiler in the Big Ten tournament it is likely going to be Indiana. The Hoosiers beat Kansas and North Carolina in the first month of the season but have been massive underachievers in league play. The Hoosiers are just 2-6 SU in their last eight games and have essentially played their way out of the NCAA Tournament. However, this is still a team that no one wants to play because of the way they can score the basketball and because Thomas Bryant, Robert Johnson and James Blackmon are all capable of going off. Indiana's defense and shot selection have both been major factors in their erratic play this year. But if they get it going they could pop Iowa's bubble and then take it to sagging Wisconsin. This game is a rematch of an OT win by the Hawkeyes in Ames on Feb. 21. And with both teams desperate for a win, this should make for an exciting 40 minutes.
Big Ten Conference Tournament Predictions: This conference has experienced a pretty big drop-off from last year. It isn't nearly as top-heavy and, really, I don't see any powerhouse teams or a true Final Four contender. I think Purdue is a soft No. 1 seed, and I think that they, along with the other top four seeds, are ripe for an upset. Not only are the top four teams in this league a little wobbly but I think that there are a host of lower-seeded teams - Indiana, Maryland, Michigan, Michigan - that are capable of getting hot and winning three or four games to cut down the nets. The No. 1 seed has only won the title one time in the last four years, and a team seeded No. 4 or lower has made the finals in six of the last nine seasons. I think both things happen this year.
Robert Ferringo is a member of the Basketball Writer's Association of America and a professional sports handicapper for Doc's Sports. He is considered one of the best college basketball handicappers in the country and he is on an unbelievable run right now, more than doubling his clients' bankrolls in the last six weeks while earning $11,800 in profit! Robert has banked 10 straight winning college basketball regular seasons and his $100-per-Unit bettors have taken home over $40,000 in winnings so far this decade. There is no better moneymaker in the nation and Robert is looking forward to another amazing March Madness. Click here to get two days of college basketball picks for free - no hassle and no credit card needed.
Read more articles by Robert Ferringo