2017-18 Charlotte Hornets Predictions and NBA Futures Odds Picks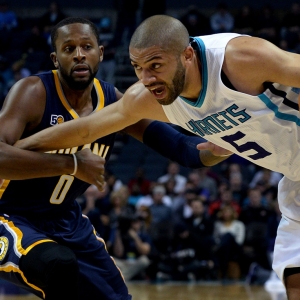 I'd love to do a survey of people who identify themselves as at least casual NBA fans. I would bet that a pretty strong majority wouldn't be able to tell you who Steve Clifford is. He is about to begin his fifth year as the head coach in Charlotte, but he is a very anonymous guy for a team that is surprisingly anonymous given the owner. His first and third seasons were winning years, but his second and fourth were disappointments. If the pattern continues then this should be a playoff team this year - one that will lose in the first round. But can they rebound from a 36-win season last year that followed the 48 wins the year before?
2017 Charlotte Hornets Betting Storylines
Part of the reason why this team is not among the most exciting or best known is the style of play. They focus on quietly disciplined defense, and they succeed when they are healthy and able to maximize that approach. Last year injuries, to Cody Zeller and others, limited their effectiveness and got in the way of their plans. Zeller is healthy, but they made a bold move to further add defensive depth to the center position. They have added Dwight Howard, who joins his third team in three years. There is plenty not to like about the move. Howard has been a shadow of himself the last couple of years, and he is far from a perfect citizen or likeable guy. He's a risky addition to a locker room. Even at where he is now, though, he adds some rim protection and general defensive strength that will be useful to the team. And if he can finally grow up and get over some issues then he could see a resurgence. He has a lot of miles on his tires, but he's still only 31 so he doesn't have to be done just yet. Clifford will have a challenge figuring out how to split his minutes up front, and the downside is real, but there is definite upside here as well. It will help, perhaps, that Clifford was an assistant in Orlando for the last five years Howard was there, so they have a long relationship and hopefully some trust. Maybe Clifford can get through to Howard like the last three coaches haven't.
Nicolas Batum is going to be out for two or three months, and that's a real problem. Batum is like a Swiss army knife - he can do a bit of everything. He can play in so many different ways and gives a coach several lineup options. Depth has been a concern in the backcourt for this team, but Batum solved a lot of those issues because of all the holes he could fill. It's a lot for this team to overcome out of the gate.
Marvin Williams is just a fascinating player to me. When he came out of college he seemed like a can't-miss player. And he hasn't missed exactly, but he certainly hasn't capitalized on his immense talent. He's 12 years in now, and he has started every game he has played for Charlotte over the last two years, but you didn't have to squint too hard last year to see signs of decline. He's penciled in to start at the No. 4 again this year, but it remains to be seen how well that goes. We could see Frank Kaminsky moving into a bigger role than he had last year.
2017 Charlotte Hornets Additions and Departures
The Howard deal was the big splash. They traded away Miles Plumlee and his less-than-ideal contract and Marco Belinelli for Howard. It's the kind of deal that will seem great if Howard bounces back but won't be hugely regrettable if he doesn't work out. Aside from that it was mostly about depth. Michael Carter-Williams came in to be the backup at the point. And Ramon Sessions, Brian Roberts and Briante Weber were allowed to walk. They focused on shooting guard depth in the draft, adding Malik Monk from Kentucky 11th overall and then swapping their second-round pick for the rights to Dwayne Bacon of Florida State, who went 40th. Both picks represent nice value, and there is upside - though expecting an immediate splash is too smart.
2017 Charlotte Hornets Futures Odds and Trends
Charlotte Hornets Futures Odds
NBA title odds ( from BetOnline ) : +25000
Eastern Conference title odds : +10000
Dwight Howard MVP Odds ( from Bovada ) : +25000
Malik Monk ROY Odds : +2500
Season win total (from BetOnline): 42.5 ("over" is favored at -125)
Pessimists did very well betting on this team last year - they were a dismal 35-44-3 ATS. There was less money to be made on the totals, though - they went over 44 times and "under" 38, so the profits on the over were small.
2017 Charlotte Hornets Predictions and Futures Odds Picks
It all comes down to Howard, and I still can't decide how I feel about it. If he is going to get on track anywhere it will be here, but after flaming out in his hometown last year I'm just not convinced that the desire to be great is there anymore. I think Kobe Bryant may have broken him. That being said, they should be better than they were last year, and they have a legitimate shot at a bottom four playoff spot in what is a wide-open race in the East. The season win total feels fair but doesn't offer any value.
Get $60 worth of member's picks absolutely free - no obligation, no sales people. You can use this $60 credit for of our top NBA handicappers. Free NBA predictions here. Also, for a limited time only get three top NBA handicappers for the price of one! Click Here . Get free NBA basketball picks today at Doc's Sports basketball predictions page .
Read more articles by Trevor Whenham