College Football National Championship Game Expert Betting Advice: Alabama Keys to Win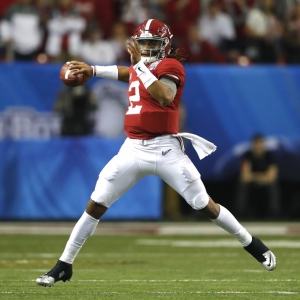 On Monday night Alabama could lock down their second straight national title and their fifth in eight years. Just think about that for a second - it shouldn't be possible. Not in this climate with so many teams spending so much money to contend and so little margin for error. Clemson deserves less credit but still plenty for being back in the title game for a second straight year as well. Last year Alabama's win was too close for comfort for their fans and the program - and fatally close for those who bet on them. The Tide obviously are entirely focused on winning again and making it look easier. To do that they need to ride these four keys to success:
Get Hurts Working: Jalen Hurts was a disaster in the semifinal against Washington. There is no way around it. He completed just seven of 14 passes for 57 yards, he wasn't particularly effective running, and he looked uncomfortable at every moment of the game. He wasn't needed on the day because of the defense, but teams can't rely on that every day - even with a defense this good. Lane Kiffin took a lot of the blame for the performance, but it obviously won't be his fault this time around. Steve Sarkisian now needs to find ways to get Hurts into the game early and to help him be effective from the start. The threat of a deeper dart from Hurts is enough to keep opponents on their back feet, but Washington never had to fear that. If Alabama can't find a way to get Hurts involved - and against a better defensive line - then it could be a long day for them.
Establish the run: Ohio State struggled very badly to establish the run right out of the gate. Curtis Samuel had one big run that led to nothing, and he did absolutely nothing else in just five other carries. Mike Weber carried only five times, and his two fumbles were only barely eclipsed in yardage. A team that needs to run to win, and has done so very well in the past, was completely neutered by Clemson's defense. Against Washington, Alabama did a great job of establishing the run, with Bo Scarbrough going off for 180 yards on just 19 carries. Because they were running so well it didn't matter that Hurts was struggling, and it eased the strain on the defense. Alabama needs to be able to run here as well. Last year Clemson did a solid job of containing the run - the Tide rushed a massive 46 times but yielded just 138 yards. Simply put, Clemson needs to do what they did against Ohio State, and Alabama needs to be sure that the tone for this battle will be set early on, and more than any other it likely determines the outcome of this game.
Punish Watson: Last year Deshaun Watson had an incredible game against Alabama - 405 yards passing and 73 more on the ground with four touchdowns. It wasn't enough, but a similar day against the Alabama offense may indeed be enough. Of course, this is a different Alabama defense, too - they were good last year, but they are truly special this year. Watson is more mature and poised as well. It's an epic showdown. Last week Alabama made J.T. Barrett, who was mentioned before the season along with Watson as a Heisman favorite, look like he would rather be literally anywhere else on earth. They need to do the same with Watson here, and they need to do it early. Watson is riding an incredible wave of confidence right now. He can still make mistakes, though, as the two picks against the Buckeyes showed. And earlier this year he was not playing with any confidence at all, and he looked like just a shell of the player he is. If Alabama can get inside of his head early and rattle him then Bad Deshaun can make a return and he won't be a factor. Last year Alabama almost let Watson beat them. This year their goal has to entirely be to make someone else have to try to do so.
Be relentless: The biggest thing Alabama has going for them is just how ruthlessly punishing they can be. Their defense is almost unfair. They have three running backs that could be starting at any school in the country. They have weapons everywhere and weapons behind those weapons. What the Tide need to do here is to calmly and methodically show Clemson that they don't measure up. They need to be at their best on the first snap and on each subsequent snap. If they can be at full Alabama power from the start then Clemson, like other teams before them this year, will eventually realize that they are outmatched and the game will be well over well before the confetti flies. Last year Clemson got the sense that they belonged early on and they never lost it, and that led to a tense outcome. Alabama at their best can stop that from happening again but only if they are relentlessly focused on doing so.
Get free picks from any Doc's Sports handicapper - there is no obligation for this offer and no credit card required. Just sign up for an account, and you can use the $60 in free picks for any Doc's Sports Advisory Board handicapper and any sport. Click here to get started now .
Read more articles by Trevor Whenham