2017 College Football Season Win Totals Predictions: Hardest Teams to Handicap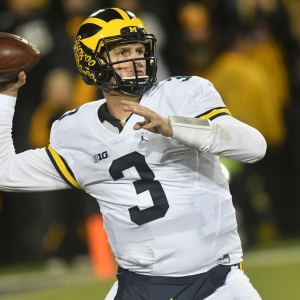 College football season win totals are starting to pop up, with CG Technology again being the first to post numbers to be used in sportsbooks. They haven't posted for every team yet, but for the most part the most interesting teams have numbers. Whenever you look at a list like this for the first time, things split into a few groups. They are the ones that seem easy - the ones packed with value. There are the ones that just hold no interest - you don't know or don't care. And then there are the ones that are very interesting but for which the right side isn't immediately obvious.
It's that last, frustratingly-tough group that we are going to focus on today. These are the six toughest college football season win totals at this point:
Michigan "over/under" 9 wins: The Wolverines had more players drafted this year than any other squad, so they are facing a tremendous amount of change. That's especially true on defense. They have plenty of depth and talent, but chemistry is never guaranteed, and there could be a steep learning curve early on. And while QB Wilton Speight is returning, he's far from guaranteed to be the starter all year. The conference is deep right now, so it's tough to know how tough games against teams like Penn State, Michigan State and even Ohio State are going to look. And the team has gone through an overhaul in the coaching staff as well, adding two key coaches on offense and likely changing the look of that offense as a result. There is a lot of talent, and they have strong leadership, but until we see them play we can't really judge whether this is a big year or a year of transition.
Michigan State o/u 6.5: Last year started with tremendous promise and got ugly in a hurry. Really, really ugly. And then they had a lousy recruiting year to top it all off. It's easy to be very skeptical about this team. But then it was easy to write this team off a lot of the last decade or so, and yet they have had many strong, overachieving teams in that time. Mark D'Antonio faces perhaps his biggest coaching challenge ever here, but you can't totally rule out his chances. The team could win three games. Or they could win eight. And you couldn't really be too surprised if either happens. And it doesn't help that teams like Michigan and Penn State in the conference are tough to judge as well. This is a very hard team to judge right now.
UCLA o/u 6: The Bruins have lost some key talent. The truth, though, is that this team has found ways to disappoint for year regardless of what talent they have on board. They have gone through coaching changes, too, bringing in Jedd Fisch from Michigan on the offensive side of the ball. They have Josh Rosen at QB, so they should be decent, but then they haven't managed to shine with him at the helm up to this point so why would this year be different? The Pac-12 is even tougher to call than the Big Ten right now, so there is a chance that the team will not play a hugely-challenging schedule - at least not as challenging as last year, for example. The team isn't going to be great, but they could conceivably win eight or nine games. Or they could really go downhill and win four or five - in large part thanks to a head coach that has no business still being in charge.
Alabama o/u 10.5: The team is perennially superior, and there aren't a lot of reasons to doubt that. The one reason that makes me pause, though, has absolutely no impact on what we can expect this year. The team is having a really tough job recruiting for 2018 - oddly tough. They are far behind where they normally are. Those players will be in high school this season, so they won't impact things on the field. Recruits see things from the inside, though, so their uncharacteristic hesitation to climb on board could be a good signal that things aren't as they are supposed to be in Tuscaloosa. I'm not suggesting doom and gloom, but the over here isn't nearly as automatic as it would be in other years.
Kansas State o/u 7.5: Bill Snyder, at 77, is the oldest coach in the game. And he is dealing with throat cancer. We can't know what his involvement with the team will be this year, and we have seen in the past that this is a far different team with him around than with him absent. By my eye that uncertainty alone makes this number almost impossible to judge.
Utah o/u 6.5: Kyle Whittingham is one heck of a coach. One of the very best. I understand that he is going through some significant roster changes, and that could be a real problem for a team. But the guy deserves more respect than most, so if anyone can maximize things it is him. Those two conflicting realities make the possible range of results for this team very wide, and that makes knowing what to do with this number very tough to figure out.
Doc's Sports has a great offer for new clients. You can get $60 worth of picks from any expert handicapper for any sport he handicaps. All with no obligation and no credit card needed. Claim your free picks today .
Read more articles by Trevor Whenham