2017-18 Los Angeles Kings Predictions and Futures Odds Picks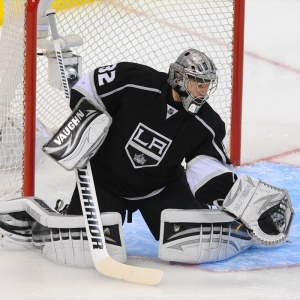 I live in a town where Darryl Sutter was both GM and head coach, so I am very familiar with the pattern that played out in L.A.. Sutter has a very specific manner and style, and initially players buy into it. When they do the results can be very impressive - the Kings won two Cups. Eventually, though, his gruffness, rigidness and lack of personality grow old, and players tune him out. For a while he keeps the revolution in check by jettisoning guys who don't buy in. The results wane but don't totally tank. Eventually, though, he can't stay on top of things, and it's time for him to go. The guy can coach, but he has the people skills of an angry wasp.
Free $60 in Member MLB Picks No Obligation Click Here
That time to go came this summer with the Kings - which was actually a year too late. The team cleaned house - sort of. They fired Sutter and GM Dean Lombardi but oddly stayed in house for both replacements. New head coach John Stevens, who once coached the Flyers for parts of four years, had been an assistant for Sutter since 2010. New GM Rob Blake, a former star for the Kings, had been assistant GM since 2013. And new team president Luc Robitaille, another former Kings superstar, spent the last decade as the team's president of business operations. It remains to be seen, then, just how fresh this start is. What they had been doing as an organization just wasn't working - since winning the Cup in 2014 they have missed the playoffs twice and lost in ugly fashion in the first round the third time. If the new faces bring new ideas then the pieces are here for a resurgence. If they are loyal to the ideas they have been a part of, though, then it could be more of the same.
Los Angeles Kings Offseason Moves


Aside from the shakeup in leadership, the team did very little. The closest thing to a splash they made in free agency was signing Mike Cammalleri, who was bought out in New Jersey after two disappointing offensive seasons, to a $1 million deal. He could help a team that needs scoring, but it's unclear how much he has left. The team had to deal with their backup goaltending situation after short-term rental Ben Bishop moved on to Dallas. To do that they brought Minnesota backup Darcy Kuemper in for very cheap. That is far from an exciting move. They couldn't make more of a splash, though, because the team is hung with really bad contracts to Marian Gaborik and Dustin Brown, and a $10 million deal that sure didn't feel like a bargain last year. Lombardi left behind a top-heavy, aging roster that is far from the speedy model preferred by teams these days.
The team had their highest draft pick in years, but when they took center Gabe Vilardi 11th overall they knew he was probably a year or two away from being ready. He was a steal at 11, though.

Los Angeles Kings NHL Outlook

Scoring is a concern. Anze Kopitar had just 52 points last year, which was nine points lower than the previous low of 61 he had in his rookie year in 2007. He is being paid $10 million per year until 2024, so he just simply has to be much better. Last year was his first year as captain, and you have to wonder if that made a difference. Brown is declining, and Gaborik is a shell of his best self. Tyler Toffoli was banged up and largely ineffective. And while they have some young talent coming along, they lack real difference-makers outside, perhaps, of Vilardi when he's ready. It's hard to see how this team has improved dramatically on offense.
Goaltending is another question. When healthy, Jonathan Quick is among the best goalies on the planet. He was limited by injury to just 17 games last year, though. They absolutely need him healthy and back in top form or there will be trouble. If the team needs to rely on Kuemper for an extended period then they are doomed.

Los Angeles Kings Schedule

We'll know what this team is by the end of October. They finish out the first month of the season with a six-game eastern road trip, with each game against a strong playoff contender. If they don't fare well there then it could be another long season for the Kings.

Los Angeles Kings NHL Futures Odds


Bovada has the Kings at +2200 to win the Stanley Cup, which ranks them 14th in the league. That seems far too optimistic to me. BetOnline has the Kings at +1100 to win the Western Conference, which ties them with the Sharks for seventh. Again, that seems optimistic. And they are the fourth choice to win the Pacific at +400. Not to be redundant, but optimistic. The season win total is set at 40.5. Last year they won 39 games.

2017-18 Los Angeles Kings Predictions


I just don't see it. The offense should be a little better, but not good enough. I don't trust Quick to last a full season. They aren't getting any younger - at least not fast enough. And I'm not convinced that they made enough of a change to a team culture that was clearly broken. They will be one of many teams in the wild-card hunt, but feel more likely to be out than in. I see no betting value.
Want free NHL betting picks? Doc's Sports is offering $60 worth of picks - any handicapper from Doc's Sports expert stable of NHL hockey experts - and this offer contains no hidden fees and no credit card is required. Just sign up for a free account and start using your free $60 credit today ! Also, for a limited time get three hockey handicappers for the price of one! Click here for our 3-for-1 NHL picks offer .
Read more articles by Trevor Whenham