March Madness Projections & NCAA Tournament Bracket Predictions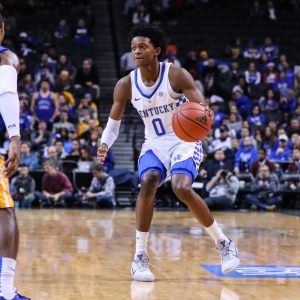 Let The Madness reign!
The most glorious month of the sports betting calendar is upon is. For 31 days the college basketball-loving world will be inundated with buzzer beaters, back-door covers, bubbles bursting and big shots everywhere. It can be a gambler's paradise - or a nightmare. But either way, it is always an adrenaline-addled thrill ride that encapsulates everything we love and loathe in terms of sports, competition, gambling and Life on Earth here, now, in this Year of Our Lord 2017.
Free $60 in Member March Madness Picks No Obligation Click Here
Most people correlate March Madness with the NCAA Tournament. But that's not all there is to it. We are already knee deep in Madness as the conference tournaments have begun. Teams are playing win-or-go-home games already, and over the next week the NCAA Tournament field will crystalize based on what happens in these neutral-site conflicts across the country.
So let's project the Field of 68. Mainly because speculation is almost as fun as realization and secondarily because knowing which teams have the most to play for over the next week will give us a foundation for our wagering as we head into Championship Week.
Here is the basic math:
- For some strange reason (money) the NCAA Tournament field is 68 teams, rather than the more symmetrical 64-team field that we all grew up on.
- There are 22 conferences that will earn just one automatic bid into The Big Dance. These are leagues like the Atlantic Sun and Big Sky.
- There are currently 28 teams from major conferences that I have as absolute "locks" for the field. These are teams like Villanova, North Carolina, UCLA and the like. They will either win their conference tournaments or accept an at-large bid.
- That means that there are 18 open spots remaining. And that is what makes up the "bubble" people are talking about. I currently have about 24 teams - and that is pretty generous - competing for those final 18 spots. And when you dig in a little deeper you see that the true bubble is really more like 17 teams going for the final 11 spots.
There will be surprises and wrenches thrown into the works over the next week as conference tournaments take center stage. After all, this is March: nothing goes 100 percent according to plan. There are two mid-major leagues - the WCC and the Missouri Valley - where bids could be "stolen" from teams that are essentially locks for the field. And there is always the chance that some team comes out of nowhere to win one of the major conference titles and thus "steal" another bid.
There are generally not more than one or two bids that get lost to Cinderella conference tournament runs. However, with such a crowded field one or two slots can make a mammoth difference.
Here are the seven bubble teams that I think are relatively safe right now : Oklahoma State, Virginia Tech, Syracuse, Seton Hall, Arkansas, Marquette and USC. If any of those teams win their final regular-season game this weekend they will be all but assured a spot in the field.
The remaining 17 teams going for the final 11 spots are (in no particular order): Michigan State, Illinois, Iowa, Providence, Xavier, Utah, California, Rhode Island, VCU, Illinois State, Kansas State, Houston, Texas Tech, Wake Forest, Georgia Tech, Central Florida and TCU.
I really don't think Central Florida, Georgia Tech or TCU have a prayer. And Illinois State is probably wishful thinking. So that would basically leave all but two of the other teams listed with a bid in the Field of 68.
So when you hear people talking about bubbles over the next nine days, these are the teams that are jostling for position. And with that in mind, here are my full 2016-2017 NCAA tournament projections, version 3.0:
* = Projected tournament team
# = Primary teams competing for finalsix at-large bids
American Athletic (Projected Teams: 2)
Locks: Cincinnati*, SMU*
Bubble: Houston, Memphis, Central Florida
Skinny: Realistically, Houston, Central Florida or Memphis would have to win the AAC Tournament to play their way into the field. UCF's win over Cincinnati last week was the only win by any of those three teams over either SMU or the Bearcats this year. And none of them did enough in the nonconference to warrant much serious consideration.
Atlantic-10 (Projected Teams: 3)
Locks: Dayton*
Bubble: VCU*, Rhode Island*
Skinny: I've felt pretty good about VCU's position in the national hierarchy over the past few months. But not any more. They lost two of their biggest games of the season in the past week, falling at Rhode Island and at Dayton. The Rams need a statement win over George Mason on Saturday and then probably need a couple A-10 tournament wins to shore up their resume. Rhode Island - which can lean on a nonconference win over Cincinnati - is starting to peak. They've won eight of 10 and manhandled VCU last Saturday. They need to beat Davidson and then avoid being upset in the A-10 tournament, and I think that they will end up being more deserving than some of the other teams from major conferences. However, the Rams will have to overcome their lack of name recognition. And if you think the selection committee doesn't consider stuff like than when deciding between a Rhode Island and some squad from the ACC or Big Ten then you don't know anything about the NCAA.
ACC (Projected Teams: 9)
Locks: Virginia*, Duke*, Notre Dame*, Louisville*, North Carolina*, Florida State*, Miami*
Bubble : Virginia Tech*, Syracuse*, Georgia Tech, Wake Forest
Skinny: Much like the Big Ten (more on them in a minute), the ACC is just too much to sort out in this finite of a space. And I don't know if any conference tournament in the country will be as consequential for such a large amount of teams. The ACC tourney is a 15-team, five-day Franken-tournament as it is. But the action is going to be intense, with national implications, when these teams get together in the Barclays Center next week. I think Syracuse will punch its ticket with a home win over Georgia Tech on Saturday. And if Virginia Tech beats Wake Forest in Blacksburg, they should be good as well. But if either (or both) lose then expect all hell to break lose in NYC early next week in the ACC tournament.
Big 12 (Projected Teams: 6)
Locks: Kansas*, Baylor*, West Virginia*, Iowa State*
Bubble : TCU, Texas Tech, Kansas State*, Oklahoma State*
Skinny: I honestly think that this is the worst crop of bubble teams. And I honestly don't believe that Texas Tech, TCU or Kansas State deserve a bid. These guys have embarrassing nonconference resumes. The best win between the three of them was TCU beating Illinois State at home. Seriously. Texas Tech's nonconference strength of schedule was the worst in the country! That's right: No. 351 of 351 teams. Kansas State's wasn't much better at No. 309. Yes, all three have pulled a couple of upsets over Baylor and West Virginia in league play. But none of them will finish over .500 in Big 12 play and Texas Tech and TCU are currently 6-11 in the league! Oklahoma State, on the other hand, is legit. They are 10-2 in their last 12 games, went 5-1 against their bubble counterparts, have nonconference wins over Wichita State and Arkansas (as well as a No. 70 nonconference SOS) and a shot at Kansas at home Saturday. Win or lose, the Cowboys should be in and those other losers should be in the NIT.
Big East (Projected Teams: 6)
Locks: Villanova*, Butler*, Creighton*,
Bubble : Seton Hall*, Marquette*, Xavier*
Skinny: Every year there is one team that is a lock in January and February but then somehow goes in the tank and plays their way out of the field. This year that team may be Xavier. They have lost seven straight games after an 18-6 start and perch in the Top 20 had them in the field! But Edmond Sumner was lost for the year, Trevon Bluiett got hurt and isn't 100 percent, and then the wheels came off. Now if they lose their final game - at lowly DePaul - I think they are cooked. Seton Hall should be in better shape than prognosticators think. They have wins over Iowa, Cal and South Carolina in the nonconference, which is better than a lot of other resumes. A win over Butler or a conference tournament win should solidify things. If not then this team will be sweating Selection Sunday.
Big Ten (Projected Teams: 8)
Locks: Wisconsin*, Purdue*, Maryland*,
Bubble: Northwestern*, Minnesota*, Michigan*, Michigan State*, Illinois, Iowa*
Skinny: This league is a train wreck. And there's a great chance that some random bubble team is going to win the Big 10 tournament and cash its own ticket. It is really tough to sort through the mediocrity of this league. And since everyone stinks, it is almost impossible to go through all the different permutations. I'm not going to try. The bottom line is that six teams - the three locks and then Northwestern, Minnesota and Michigan - are all pretty much set. Whomever makes the best run at the tournament out of the other three teams will likely play their way in.
Missouri Valley (Projected Teams: 1)
Locks: None
Bubble: Wichita State*, Illinois State
Skinny: I feel extremely confident that Wichita State would make the tournament if they didn't win Arch Madness . But I've seen the NCAA Tournament selection committee make more egregious errors concerning mid-major teams, so I can't say the Shockers are a lock. Illinois State is going to be a really interesting call. But I think they have to win the tournament to get in.
Pac-12 (Projected Teams: 5)
Locks: Arizona*, Oregon*, UCLA*,
Bubble: California*, Utah, USC*
Skinny: USC was just about a "lock" two weeks ago - and then lost four straight games. They righted the ship against Washington State this week, but they have to seal the deal against Markelle Fultz-less Washington on Saturday to punch their ticket. Wins over SMU and UCLA should go a long way. Cal is a little more precarious because they haven't beaten any of the top teams in the Pac-12. They have a ton of close losses. But close losses aren't wins. And wrapping up the season in Colorado against a resurgent Buffs team is no small feat. Cal still has work to do. Utah simply didn't play anyone nor beat anyone in the nonconference. They didn't do much in league play, either. I know they blasted Cal on Thursday. But they also lost to them once. I don't see this Utes team having a legit gripe if they get left out.
SEC (Projected Teams: 4)
Locks: Kentucky*, Florida*, South Carolina*,
Bubble : Arkansas*, Georgia
Skinny: The Razorbacks have played their way into the field by winning five of their last six games. They would get a huge boost if Fort Wayne, UT-Arlington, Stephen F. Austin, North Florida and/or North Dakota State all won their conference tournaments! The Razorbacks have a huge home game against Georgia on Saturday as the Bulldogs have wrangled up some bubble talk. But I think that's a pipe dream. If they had beaten Kentucky and Florida - both of whom they lost to in overtime - they would have a case. But they are without their best player, Yante Maten, and they would have to win at Arkansas and then make a major SEC tournament run to really have a case.
WCC (Projected Teams: 2)
Locks: Gonzaga*, St. Mary's*,
Bubble : None
Skinny: This league could have a potential bid-stealer if neither Gonzaga nor St. Mary's won the league tournament . But the odds of that happening are about 50-to-1. The biggest competition is clearly BYU, who just bumped off Gonzaga last Saturday. But to win the tournament they would have to go through both St. Mary's and Gonzaga, and that isn't going to happen.
Automatic Bid Leagues (Projected Teams: 22):
America East -Vermont*
Atlantic Sun - Florida-Gulf Coast*
Big Sky - Weber State*
Big South -Winthrop*
Big West - UC-Irvine*
Colonial - UNC-Wilmington*
Conference USA - Middle Tennessee State*
Horizon -Valparaiso*
Ivy League - Princeton*
Metro - Monmouth*
Mid-American - Akron*
MEAC - N.C. Central*
Mountain West - Nevada*
Northeast - Wagner*
Ohio Valley - Belmont*
Patriot League - Bucknell*
Southern -East Tennessee State*
Southland - Houston Baptist*
SWAC - Texas Southern*
Summit - Fort Wayne*
Sun Belt - UT-Arlington*
WAC -Cal-Bakersfield*
*Denotes team projected for the NCAA Tournament.
Robert Ferringo is a member of the Basketball Writer's Association of America and a professional sports handicapper for Doc's Sports. He is considered one of the best college basketball handicappers in the country and has a streak of 10 straight winning regular seasons. Robert's $100-per-Unit clients banked $16,900 in profit last year alone and there is no better moneymaker in the nation. You can sign up for his college basketball picks and get more information here .
Read more articles by Robert Ferringo