NBA Betting Advice: Are the Washington Wizards a Legit Contender?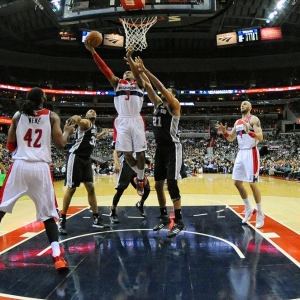 There is a team that started the season 2-8 and seemed completely, hopelessly doomed. It seemed like it was time to tear the whole thing apart and start over. And there is a team that has won 14 of their last 16, is arguably the most exciting team to watch the league right now, and is right in the middle of the playoff picture - not just making it but contending. Remarkably, both teams are the Washington Wizards.
They were just awful out of the gate, but they have turned things around so effectively that they have moved into third in the East and are becoming much, much easier to believe in. So, what has happened? And can bettors believe in what we are seeing? Here are seven factors to consider when considering those questions:
The big two: John Wall and Bradley Beal are the two stars at the core of this team. Leading into this season, and into the first month, the storylines were largely about how they didn't really get along personally and how that lack of chemistry could be an issue. Well, they have certainly found a way to co-exist. Wall is again an all-star and the team's leading scorer, and Beal is matching him in points and is having a career year. They are a dynamic backcourt, and for 35 minutes or so a game they make everything work. When these two are playing at this kind of a level then the team is in good hands.
Fun to watch: This team has been a whole lot of fun to watch lately. They score well, they don't get too stressed out about defending, and their games often end in thrilling ways. Their reputation is growing quickly, and they are getting more and more public attention. As that happens, combined with the increased interest in the NBA as the season draws to the end now that the football season is over, there is going to be more and more public action on Washington games as long as they keep winning. The more the public bets on a team, the more we need to be aware of how lines are set and how they move because this is when crazy things can happen.
Home cooking: This is a team that loves to play at home. They are 24-7 in D.C. - the most home wins by any team in the league. When a team has that many wins at home and is still mortal, though, it means that they likely have troubles on the road. Washington sure does - they are just 9-14 away from home. That's a real problem - you can't win in the playoffs by winning only at home. The trend stretches over to the betting realm, too - they are a strong 20-11 ATS at home but a dismal 11-12 ATS on the road.
Markieff Morris and Otto Porter Jr.: You can't have a successful team driven by just two players, and Morris and Porter above all others have really stepped up to help this team shine of late. Porter is very good at having plays created for him. He gets to the basket and winds up with the ball, and he is doing it at a high level of late. Morris, meanwhile, is much better at creating his own shot, and he's doing it particularly well. He's also turned into a very strong defender - something he certainly wasn't earlier in his career. These two are a big part of the reason for the recent success, and neither is doing things that aren't sustainable. In other words, they can keep this up, and that's very good news for the team.
Bench: We have been mostly so positive so far, but it's time to get negative. As nice as the team is playing right now, they have real issues with the bench. Former college player of the year Trey Burke is exceptionally frustrating when he replaces Wall and tries to do too much. Backing up Beal hasn't been any easier to do effectively for the team. Injuries and inconsistencies have been a big issue off the bench at center. This starting lineup can compete, but the bench is scary for fans and bettors and only gets scarier the closer the playoffs get.
Coaching: The pattern for Scott Brooks in Washington is a familiar one. He made a lot of changes - cultural as much as tactical - in the offseason. He met resistance early on, and the results were terrible. Now, well into his first season, his systems are in place and players have bought in, and the results are spectacular. Brooks is a very good coach, so this can't be a massive surprise. Of course, what matters now is if Brooks can have more postseason luck than he had in Oklahoma City where he regularly seemed to fall just short of expectations when it most mattered. Generally, though, Brooks has so far been true to that old saying - all coaches look horrible early on, but the difference is that the good ones don't stay that way.
Betting performance: Even with the dismal performance away from home , this team is 31-23 ATS, the third-most-profitable team in the NBA all season behind only Philadelphia and Houston. Thanks to the weaker defense, they are also a very good bet on the totals - they have gone "over" 34 times and "under" just 20. They have been a pleasure to bet on. That has remained through during the recent hot streak as well - they are 12-4 ATS in the last 16 games and have gone over 10 times.
Want free sports betting picks? Doc's Sports has you covered - get $60 worth of picks free from any of Doc's Sports expert handicappers. Click here for free picks (new clients only) .
Read more articles by Trevor Whenham