NBA Betting Advice: Jimmy Butler Trade Impact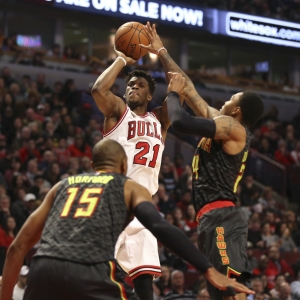 At first glance, the Bulls trading away Jimmy Butler was one of the worst deals a team has made in a long time. And at second, third and fourth glance as well. It seems bizarre that the Bulls would choose to trade their lone truly attractive asset at a steep discount compared to what they could have gotten at last year's trade deadline or the next. It seems like gross mismanagement of the kind that can cripple teams for years. But was it really? (Short answer - yes). And, more significantly, what is the impact of this deal for bettors next year? Here are four factors to consider when pondering those questions:
Free $60 in Member NBA Picks No Obligation Click Here
NBA Betting impact: Needless to say, the oddsmakers and the betting public aren't too fond of this move from the Chicago perspective. The Bulls sit at +25000 to win the East, which places them ahead of only Brooklyn, Phoenix and Sacramento. I don't know about you, but I would take the Suns and Kings and their young talent over the Bulls in a heartbeat, and even Brooklyn has more inspiring youth on board right now. The Wolves are much more popular but still aren't the heavily-bet squad some might expect. They sit at +4000, which has them behind heavy favorites Golden State, Cleveland, Boston, San Antonio, and Houston - and tied with Washington and the Clippers. In other words, they are comfortably in the second tier of contenders but far from the class of the inevitable Warriors or the valiant Cavaliers.
The T-Wolves aren't done: Minnesota now has one heck of a core with Butler joining Andrew Wiggins and Karl-Anthony Towns. It is a formidable group - especially because the two who were already there are still under 23. Those three alone aren't enough to win, though, and they don't have enough other pieces that they will need to maximize this group. There are three key areas that need to be addressed - shooting, the point, and depth. Wiggins and Butler are both underwhelming shooters, so they are not going to get a lot of three-point production from the wings. They need to find a way to counter that, and they don't currently have the ideal type of shooter on the roster. They do have Ricky Rubio on the point, but he is perhaps more valuable as a trade asset than he is actually manning the point. A guy like Kyle Lowry joining the team as a free agent would be amazing - and they could then trade Rubio to address some other needs. And finally, they need to worry about the bench. What they have just isn't good enough to support what is likely to be a very good starting lineup. Luckily, attracting free agents to Minnesota at or below market value just got easier than it has been since Kevin Garnett was in his prime. Nothing that the team has left to do is at all impossible or even hugely difficult. It just needs to be done, and we can't really judge this team fully until they have it done.
Minnesota still plays in the West: This would be a fundamentally different discussion if Minnesota was closer to the East Coast. In the West the Wolves have to deal with the 10 million ton gorilla that is the Warriors, the Spurs and Rockets and their power, and other squads on the rise like Utah (depending on what Gordon Hayward does) and the Lakers. It's just a brutal conference, and that makes all of their remaining moves even more important. In the East they would instantly be the third-best team in the conference, and if free agency played out well for them and less well for Boston they would be second best in a heartbeat. In the West they will be very lucky to be the home team in the first round of the playoffs.
The Bulls have gambled in a huge way: I'm trying to find a way to describe the deal from the Chicago side without using the words "idiotic" or "stupidity". It's a tough thing to do. They have acquired Michael Carter-Williams and Cameron Payne in recent times, so the logical thing to do was obviously to add another point guard in Kris Dunn. Dunn has upside, but he was just plain awful as a rookie and is far from a guaranteed success. Zach LaVine is fun to watch, and he has lots of upside, but he is also coming off a serious injury, so anything could happen. And they swapped picks with the Wolves to move up to draft Lauri Markkanen. He's a nice player but far from a guaranteed star. And here's the problem - it is highly, highly unlikely that, even in the best-case scenario, one of these guys moves up to be even close to what Butler was. It would take a miracle for this to wind up as even just a bad trade. The floor is far, far below that. And that's in the long term. In the short term they are sitting on a team that would be able to do almost nothing, and it will be very tough for them to do anything about it in the short term. To put it really bluntly, it would really, really, really suck to be a Bulls fan right now.
Want free sports betting picks? Doc's Sports has you covered - get $60 worth of picks free from any of Doc's Sports expert handicappers. Click here for free picks (new clients only) .
Read more articles by Trevor Whenham