NBA Betting Trends: Totals Report for Hot Over and Under Teams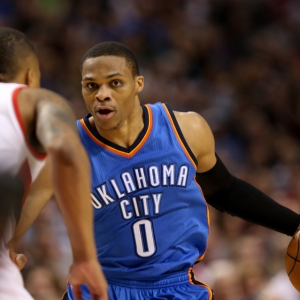 The NBA All-Star Game and break are in the rear-view mirror. As a fan of basketball, I have to say I'm glad to see things back to the normal instead of seeing the zero defense from the All-Star Game. The competitions on Saturday night have more entertainment value to me than the actual NBA All Star Game.
As they seem to always do, things are leveling out as far as the year-to-date numbers. The over is hitting at a 51.47 percent clip on the year, which is down quite a bit from where it was a month ago. The under is actually 27-16 in the past week. The under was 7-0 in the NBA on Monday night.
Doc's Sports has done an NBA Totals Trends report in the past, and we'll be doing it again this season. This will be a bi-weekly article here on the site. We'll highlight the Top Five 'Over' and the Top Five 'Under' teams of the past couple weeks in each article. Because the NBA season is a very long, there can be some impressive streaks inside the season, and catching one of these can help build your bankroll. The statistics for this article are for games from February 8 through February 28.
Top Five 'Over' Teams (Over Listed First)
1. Oklahoma City Thunder (6-1) The Oklahoma City Thunder have won all three games since Enes Kanter came back from his injury. Kanter is an important part of this offense. The Thunder need him healthy, because without him they have very little scoring threats in the frontcourt, which puts that much more pressure on Russell Westbrook. The Thunder are Top 10 in the NBA in offensive efficiency in their last seven games. They are Bottom 10 in the NBA in defensive efficiency.
2. Cleveland Cavaliers (5-2-1) The Cleveland Cavs offense is firing on all cylinders right now. After a slow start with his new team, Kyle Korver is producing in a big way of late. He is averaging better than 17 points per game in the Cavs last four games. Korver is shooting an amazing 51.2 percent on the season from three-point range. The over is 5-0 in the Cavs last 5 road games overall.
3. Brooklyn Nets (4-2) Brooklyn has actually slowed down their tempo just a tick from where they were earlier in the year, but their defense has been so bad that the over has still been a good play. Brooklyn is such a different team this year. Take a look at Brook Lopez as an example of how much change has come to this team. Lopez had attempted a grand total of 31 shots from long range in his first eight years in the NBA. So far this year, he has 272 three-point attempts! The numbers will continue to be extremely high for Brooklyn's games, but unders are scary here.
4, Utah Jazz (4-2) Here is a case where the numbers finally got a little too low. The Jazz are clearly a team where the totals have to stay low. Utah plays at the slowest pace in the NBA, and they have a Top 5 defense in the league. Still, in today's NBA it can be hard to consistently stay under totals in the 190s. I'm very curious to see what kind of total the books put on Utah's game at Houston on March 8.
5. Minnesota Timberwolves (5-3) One of the games during this period was a 142-130 loss for the Timberwolves against the Rockets. It has to be discouraging to shoot 52.1 percent and score 130 points, but lose by 12 points. Minnesota has underachieved so far this year, but it won't surprise me if they make a push for the No. 8 spot in the Western Conference playoff race.
Top Five 'Under' Teams (Under Listed First)
1. Sacramento Kings (7-1) Sacramento is only two spots out of the playoff race in the Western Conference, but that is about to change in a hurry! This team is going to be atrocious without DeMarcus Cousins or Rudy Gay on the floor. The Kings were crushed at home by both Minnesota and Charlotte after the Cousins deal. There might still be value for a bit if the books keep putting high numbers up on Sacramento games.
2. Atlanta Hawks (5-1-1) The Hawks scored 90 points or less in three straight embarrassing losses before turning it around with an impressive win at Boston in their last game. Atlanta has been a really inconsistent team on the year. The Hawks are in the Bottom 5 in the NBA in offensive efficiency in their last five games. They need Paul Millsap to start shooting the ball better.
3. Dallas Mavericks (5-1-1) Dallas made a really good trade deadline deal to pick up Nerlens Noel. He should help this team's defense a lot. Dallas plays at such a slow tempo as well, and I expect them to have a lot of low-scoring games. The oddsmakers are quickly adjusting their totals lower, though, so I'm not sure how much value the under will have going forward. After a horrible start to the season, Dallas is only 2.5 games out of the No. 8 spot in the Western Conference playoff race.
4. Charlotte Hornets (6-2) Charlotte has fallen apart in recent weeks. The Hornets have lost six of their last eight games. Two of those losses came in games where they blew a lead and then lost in overtime. Interestingly, the two overtime games are the only two games that have gone over the total for Charlotte in their last eight contests. Charlotte is playing good defense, but their offensive numbers have been awful of late.
5. Toronto Raptors (5-2) Toronto will be an interesting team to keep an eye on without Kyle Lowry in the lineup. Will the Raptors slow the game down? In their first few games without him, they have played at a slow pace. Toronto has improved a lot in recent weeks on defense, but their offensive efficiency numbers are way down. The Raptors play Washington twice this week, and they should be two good games.
We would like to offer you $60 of member's predictions free - no obligation, no sales people - you don't even have to enter credit card information. Click Here for $60 in free NBA predictions. Also, for a limited time only, you can get three handicappers NBA picks for the price of one! Click Here for more details !
Read more articles by Aaron Smith